Home is the place where you spend most of your time. People want it to be perfect as per their lifestyle. If you want to get some ideas about home construction or renovation based on the latest trend, you are at the right place.
Everyone is aware of granite stones, quartz, and marble for home decoration. Granite slabs or kitchen countertops enhance the appearance. Out of all the stones, black galaxy granite is gaining significant attention from homeowners and interior designers.
If you love dark themes and want to give a tremendous yet modernized look to the entire living space, black granite is the right choice for you.
What is this Heavenly Black Galaxy Granite?
Black galaxy granite is a black-colored stone with tiny golden flecks and blotches all over it. The stone is a unique form of granite which is also known as star galaxy due to its unique texture and appearance.
Similar to other granite stones, it can also be used in different areas including kitchen countertops, bathroom vanities, and back splashes.
This unique stone is sourced from the Ongole area of South India. On the scale of hardness and strength, it is ranked as 4.5 indicating that it is the harder material for construction.
In the contemporary era of high living standards, people love this type of granite as it is a versatile stone and gives a lavishing look to the home.
The metallic flecks on the entire surface are the unique and distinguishing factor making it worth considering for countertops. The flecks come in varying styles or grades including small, medium, and large grains.
These grades depend on the fleck size of the galaxy stone. When installed in the bathroom, you will be stunned by the mesmerizing look and amazing feel.
Black Galaxy Granite Detailed Guide
The aesthetics created by the installation of black galaxy granite to your home construction stands out perfectly. The appearance of different flecks and swirls on the surface and its combination with kitchen and bathroom accessories develop a style statement that is luxurious and unique.
If you want to give a striking look, black galaxy granite is the best choice for sure as it compliments well with the design of the home including sinks, flooring, cabinets, and even outdoor areas like poolside and garage.
However, it is to be kept in mind that the granite stone requires maintenance in which regular cleaning stands first.
Have a look at some tips and guidance to maintain the stone and to enhance its lifeline.
Due to the deep dark appearance, spills on black galaxy stone should be wiped off immediately in order to avoid discoloration of the stone.
It is strictly prohibited to use acidic liquids near black granite as any accidental spill will result in a big loss. Acids can cause damage to the stone and will tarnish the overall look.
In order to maintain the luster and gloss of the stone, you can polish the surface using the recommended polishing material only. You should avoid using any random substance as it can damage the stone.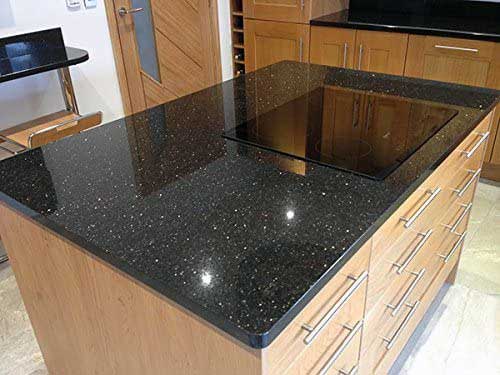 Black Galaxy Granite Inspiration Guide
Black galaxy granite always gives a captivating appearance with its unique background and deep dark color. Either glossy or matte, both look stunning when contrasted with one shade of lighter furniture and decoration items.
You need to invest in this stone very carefully after analyzing its combination with your preferred home décor things. Nevertheless, the versatility of this stone makes it an easily adjustable option.
This stone comes in different styles and colors. The most loved and preferred colors of black granite slabs include Cambrian black, titanium, absolute black, Agatha black, impala black, and black pearl.
This type of stone is best suited for different areas. Let's discuss the best-suited combination with black galaxy granite.
Kitchen Countertops
This stone is an excellent choice with wood cabinets or creamy color kitchen shelves. It gives a sophisticated appearance to the kitchen.
Bathroom
Black granite for bathroom vanities with steel designing elements is the perfect overall look. Since the stone is heat, water, and humid resistant, it is the best-suited option for bathrooms.
Living Area
If you have big glass windows in your living area, trust me, this is the best thing so far as it blends perfectly with such a design element.
In short, black galaxy granite is a flexible and multipurpose stone that gives a luxurious feel to the house.
Final Thoughts
Finally, it has been inferred that black galaxy granite is a beautiful deep dark-colored stone that is durable. It gives a perfect look to both indoor and outdoor spaces.
If you want to give a sophisticated and classy modern appearance, this is a perfect choice. You can invest in its installation and would not regret the decision.
However, please be cautious about the maintenance of this stone in order to increase its life and stability.
For more home remodeling information and professional help, please contact Boston's Countertop at 978-447-1001
Related Questions
Is black granite real granite?
Black galaxy granite is a commercial stone however, it is not a real granite as it does not fit the criteria of granite i.e., 20% quartz at least. It is rather a gabbro similar to basalt.
Is Black Galaxy granite expensive?
Black galaxy granite is not expensive. It is commonly found in the market with price ranges from $20 to $70.