Colonial White Granite [All You Need To Know]
Imported from quarries in India, colonial white granite speaks volumes about the beauty it holds, accentuating every bit of corner that it lies and adorning your home with peppy modern richness.
Granite have been a popular choice when it comes to contemporary kitchens. The reason being that they are durable and accentuate every space so well that it gives that oomph factor to your home or workplace, adding up for that fabulous outlook that makes one gush about among their friends.
Colonial White Granite Color Highlights
White colonial granite come in different shades and highlights with brown, red, golden, blood-red, and almost black accents.
It depends on the style of your space that you want this luxury beauty on in your house. Polished granite with black speckles is a charmer; hard to go wrong with it.
For someone who is looking for a café crème look, white granite, particularly the Buckingham white granite variety, are what you need.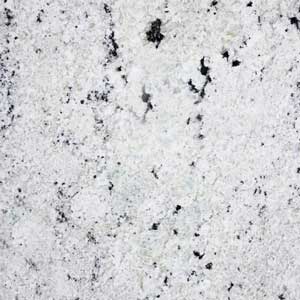 What Gives Its Color & Features To These White Granite Stones
Depending on the mineral content, granite has a soft cream color to them. You cannot get a perfectly white colored granite as when it comes to natural stone products, there are always some flaws, but that is what makes them unique and exceptionally beautiful.
White granite colonial is found abundantly in South India and has a ton of varieties. On the top of the list are Indian Blanco and Buckingham white granite.
Popular granite hues are a mix of pale whites and gray. In fact, the black forest granite offers more of black than white. It has a base of black, with streaks of whites, that makes it an exceptional beauty. 
Our favorite choices are the creamy off-white granite and platinum white granite which are premium granite. Exquisite creamy, off-white stones make up for an ideal kitchen.
These inviting kitchens make the atmosphere so lively and increase the resale value of your homes as well. All in all, granite countertops are a good investment if one keeps the long-term prospects in mind.
White granite with pink mineral deposits can have tones from reddish-brown to slightly brown speckles spread all over the surface. The color variation in granite slabs is what makes the concept of a dream kitchen come to life.
Due to mineral deposits, different color highlights emerge on the stone, either in the form of streaks or speckles throughout the white granite stone. According to the mineral composition, the price of white granite stone varies.
The one with black speckles is an evergreen variety; the demand never wears out, and you never have to worry about the accessories of your kitchen or bathroom.
Spare yourself from the trouble of choosing dark cabinets or cream kitchen cabinets.  These white stones make up for a perfect bright kitchen design, illuminating your kitchen space marvelously.
Colonial White Granite Applications
Granite is the most durable rock, and because of the resistance it provides, this bedrock makes it perfect to use on exterior floors or interiors of a place.
Colonial granite countertops in kitchens or well-processed white granite slabs in bathrooms, living room, or using granite with backsplash of a kitchen are a beauty in itself. They fill the place with so much elegance.
According to the color of granite, from beautiful cream-colored granite with a reflective finish to crystalline white bedrock, these gorgeous stone surfaces can be used anywhere that you like.
The most common picks for this particular stone are for using them in kitchen countertops, pools, decoration for the living room, stairs, fountains, exterior accent walls and other design projects.
The job of installing these stones is no hassle at all. So you don't have to worry if the process will be too time-consuming. As the color is white, creamy, pale-white, or gray tones, white colonial granite are best suited in combination with either dark or light furniture.
In short, you can never go wrong with these Indian granite tiles.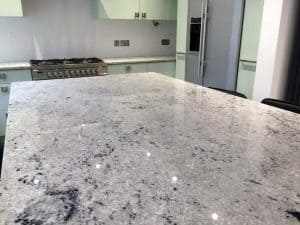 Why Colonial White Granite Countertops Are A Good Choice
White is the color of simplicity – to put it precisely. For people who like to keep their spaces managed with little to no clutter, white is definitely to go for, especially while designing or renovating kitchens and bathrooms.
White countertops have been in demand lately, especially the market for Indian Blanco Colonial White Granite variety is booming this season with orders coming back to back with a plethora of kitchen countertop selection ideas.
Another reason to go for these countertops is the easy maintenance and repair. Should there be any repair of the stone, professional granite repair is available quite easily, and you don't have to spend so much.
A granite repair person from an expert granite dealer will ensure that your stone stays as good as new, leaving you an eclectic kitchen with a mirror-like finish or the textured finish – the way you like.
How To Maintain Colonial White Granite
Tonal variations on slabs make it much easier to maintain the granite; a hundred times easy. You don't have to worry so much if you screw up. Plus, professional help is always round the corner.
Just like another natural stone, you do need to take some precautions. Harsh detergents can leave a stain on your stone and affect its lifespan. Use good quality granite cleaners so that the original shine doesn't fade away with time.
Always keep your stone dry if you want to avoid rusting of stone.
Hot, soapy water is ideal for washing these colonial granite. Don't be too rough. A good quality cloth with this simple solution is enough to maintain the stone healthily.
Final Thoughts
Chic living space, bathroom spaces, indoor use or outdoor, the beautiful surface of these natural granite stone, the light cream bedrock, goes well with almost everything.
Match your furniture with the variety of white granite you would like and see wonders happen. With loads of features, these stones add that oomph factor that makes the ambiance of a place reach another level.
If you are looking for an excellent service, Boston's countertop experts at RSK Marble & Granite are your guys.
Contact them at 978-447-1001 or requesting a quote here and get professional assistance for this quality Indian bedrock.