There is always a way to design a home in a better way. People want both comfort and appearance in their living place.
While designing your home, some specific countertop details are essential to be understood by homeowners.
Out of all the aspects, you may get confused about countertop overhang while remodeling your home.
Most homeowners are concerned about countertop overhangs as it affects the entire look as well as the total cost of the slab.
In this style and fitting guide, let's discuss the ideal countertop overhang along with different styles that enhance the look of the house.
What Exactly Is a Countertop Overhang?
The countertop overhang is a part of the countertop. It is basically the distance that extends from the edge of the countertop to the base cabinets. It covers the cabinets and drawers.
Countertop overhangs are essential as it keeps the spills of liquids and crumbs from falling down from the edge of the slab.
The standard countertop overhang is about 1 to 1 1/2 inches from the edge of the cabinet.
Another reason countertop overhang is essential is the ease of working more comfortably. You can easily do your work with countertop seating as an ideal overhang gives enough space to bend your legs.
In short, you don't only have to think about countertop stones and colors, countertop overhang also needs keen attention as it also covers the junction between cabinets and countertops.
Styles Of Countertop Overhangs
There are a wide variety of overhang edge styles. You are free to choose the one that looks commendable in your kitchen.
You can visit our Countertop Edge Visualizer Tool to see what this would actually look like.  You can find it by clicking here
Different styles of countertop overhang include:
Straight Beveled
In this style, the top corner of the countertop is inclined to a 45-degree angle that further leads down to a straight line to the thickness of the stone.
These simple lines are very easy to clean and give an elegant appeal to the countertop.
Basic Eased
It is one of the most commonly used countertop overhang styles. It gives a very practical look. It gives a rectangular shape with soft edges that prevents breakage.
The corners of this style are not round yet not too sharp.
Ogee
The ogee countertop overhang style gives an elegant and modern look to the kitchen. It has a S-shaped rounded bottom.
Due to its unique edges, it seems like a large slab. However, it takes a lot of your time to clean and maintain the appearance
Demi-Bullnose
This countertop overhang style is also very common among homeowners. The curving of the countertop overhang focuses on the thickness of the stone.
Overall, it gives a soft, warmer look to the kitchen. It is one of those styles that are easy to clean.
Bullnose
A bullnose countertop is known as the rounded version of the demi-bullnose style. It is a very balanced design.
It makes the countertop look thinner and more elegant as compared to any other style. Similar to demi-bullnose, the cleanliness of this style is also very easy to maintain and doesn't take much of your time.
Mitred
In order to make Mitred edge countertop overhang style, the designers cut the slab at a 45-degree angle to create a waterfall effect.
It gives a modern and luxurious look to the entire kitchen. You will not have to make extra efforts to clean and maintain the appearance.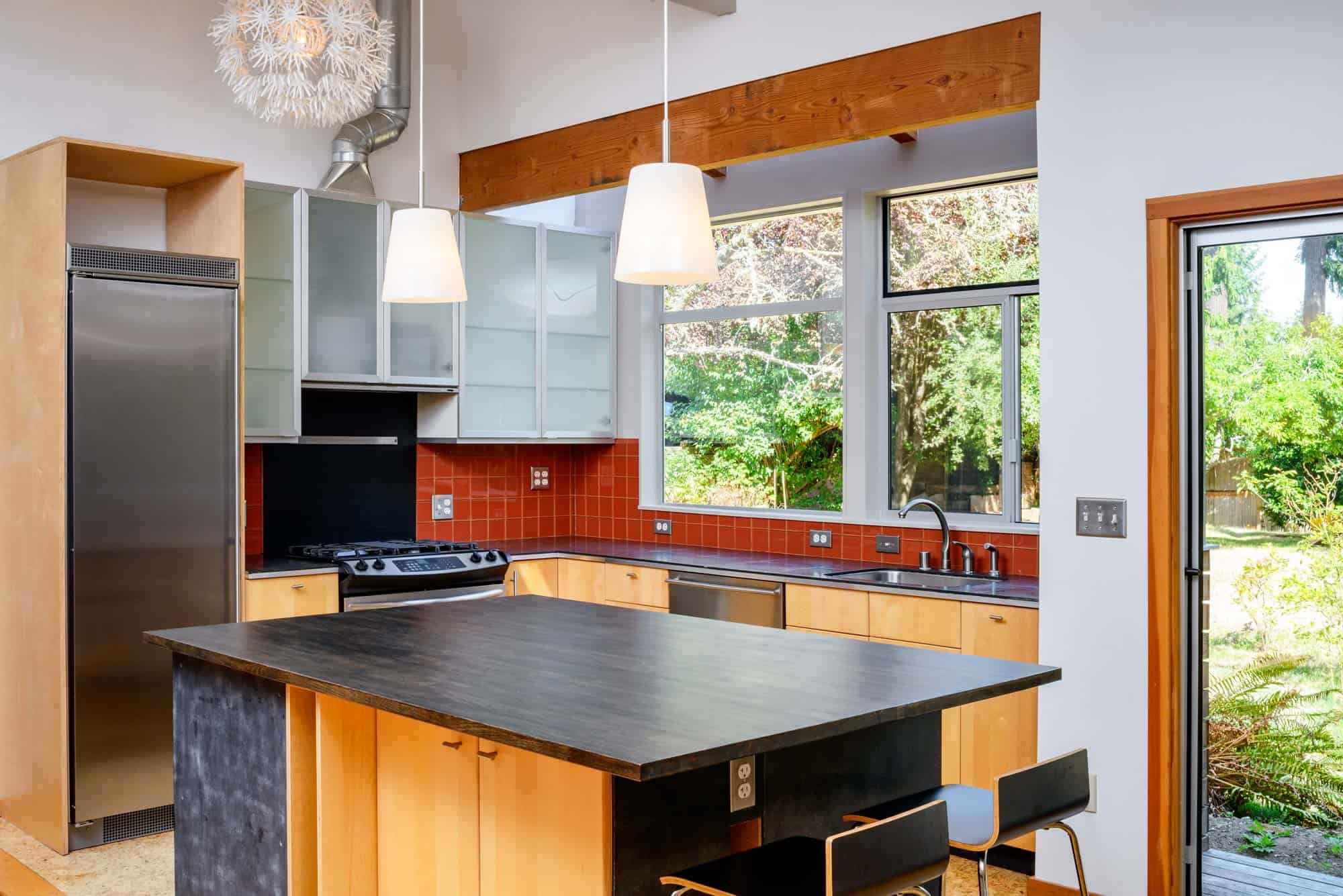 How to Choose the Best Countertop Overhang?
Planning to install a countertop means checking and measuring the quality and design as per the desired look of the kitchen or bathrooms.
If you want to analyze the best way to choose a countertop overhang, you need to understand its importance and exact uses first.
Countertop overhangs have multiple benefits, including protection against spills falling into the cabinets and drawers, providing enough space to stand and work comfortably, and also giving a beautiful yet complete look.
Before choosing the best countertop overhang, you need to finalize the design you prefer. Some people want kitchen island countertops a common place for their sink and appliances. It gives valuable countertop space.
Whereas, some use the space for a table or bar top with proper seating. The countertop overhang relies on the design you have in mind.
If you want to have proper seating, you have to increase the size of the overhang to get enough space for leg bending.
Whereas, if you have decided not to add seating, you can think of a different typical countertop overhang as discussed earlier.
However, the latest trend reveals a bar or table with seating where people prefer having their meals of the day.
How Much Overhang for Countertop Is Ideal?
As discussed earlier, countertop overhangs have various benefits along with adding style and beauty to the area of placement.
The standard countertop overhang measurement depends on the design people chose. The following is a guide to the ideal overhang with respect to the design.
Bar countertop overhang
Overhangs for bar countertop are around 8 inches. If you don't have enough space, you can minimize it to 6 inches.
However, an overhang of less than 8 inches for the bar would be too compact and uncomfortable.
Countertop table seating
Countertop seating ideally contains an overhang of about 10 inches. This is a standard island overhanging countertop. Some people prefer it to be 16 inches.
In that case, you need to have underneath counter bar overhang support for your solid surface countertops in order to avoid breakage.
Countertop against the wall
Usually there is no overhang where the countertop is adjoined to the wall either on the sides or on the back.
Leaving an overhang will allow dust to reside. It will tarnish the entire look of the kitchen.
Countertop against appliance
The ideal countertop overhang is 1/8 —1/4 inches where the countertop pushes against appliances such as the refrigerator.
Countertop on front or room side
A standard-sized countertop, i.e., 25 1/4 inches, the size of overhang will be 1 1/4  inches.
Final Thoughts
Overall, countertop overhangs are essential to get a complete look yet comfort while working. You need to finalize the design of the countertop first prior to deciding on the overhang size.
There are various overhang styles that add beauty to the place. For more professional assistance, you are free to contact us here at RSK Granite & Marble at 978-447-1001 or by reaching out online here.
Related Questions
Do countertops have to overhang?
Countertops do not have to overhang, but they should be at least 2 inches from the wall. If you want to install a sink, then the countertop must be at least 4 inches from the wall.
Is a 10-inch island overhang enough?
A 10-inch island overhang is enough for most people. However, if you are taller than 6 feet, then you may need more space.