People are always worried about different ways to design their houses. Specifically, the kitchen is the main area where people spend most of their time after a hectic day.
With the passage of time, different home renovation ideas emerge. The designers come up with beautiful ideas to construct commercial and residential buildings.
One such remodeling idea is the kitchen backsplash. A full height slab backsplash is gaining significant attention from people across the world.
It is believed that a full height backsplash style adds exceptional beauty to the entire kitchen. It makes your kitchen look more spacious.
You must want to know more about full height splash before investing in it. Let us discuss some essential aspects of this idea.
What Is a Full Height Backsplash?
Full height backsplash is also known as panel or slab backsplash due to its increased size. It goes from the top of the kitchen countertop to the lower part of the upper cabinets or even to the ceiling.
It is totally your choice to choose the height of the backsplash with respect to the upper cabinets. However, the full height is in trend these days.
Usually, people get 3 to 4 inches backsplash off the countertop. If you want to modify it, you can stretch it long up to 20 inches as per the area you have.
Standard vs. Full Height Backsplashes
There is an ongoing debate about the standard or full height backsplash among the designers and homeowners. Although both look amazing, however, there should be details elaborating both ideas.
A standard backsplash is mainly 4 inches in size starting from the top of the countertop. Whereas, a full height backsplash can go as high as the users want it to be.
You must know about the budget while deciding on any one of the ideas. A standard backsplash is more budget-friendly as compared to a full height backsplash.
You will have to go beyond your target budget if you want to get a trendy full panel backsplash.
It should also be noted that a full height solid stone backsplash makes the area look spacious and elevated more as compared to a standard backsplash.  A full height granite backsplash also adds more value to your space.
You should be wise enough in your decision with complete information along with pros and cons.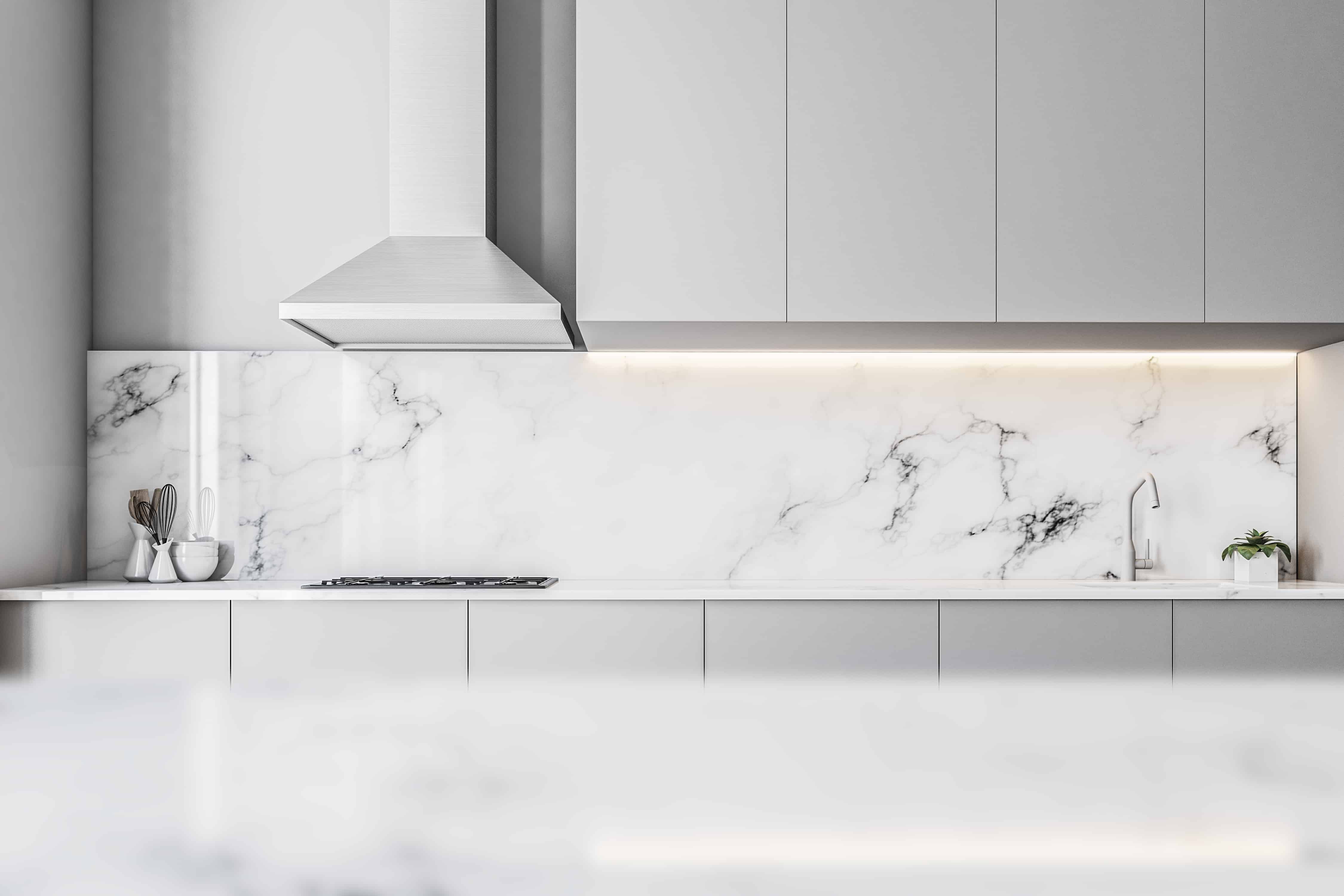 Pros and Cons of Full Height Backsplashes
Pros
Spacious Look
Full height backsplash enhance the beauty. It makes the area look brighter and more spacious while comparing it with a standard backsplash.
Protection to Walls
It is easy to clean the food splashes from the stone surface instead of a wall. In short, it gives protection to the walls not only in the kitchen but in the bathroom as well.
Aesthetic
Along with protection, a full height backsplash appeals viewers and adds splendid beauty as well that gives a luxurious overall look.
Cons
Expensive
Installing a full height kitchen backsplash is an expensive decision. You might get over budget as according to the height, additional stone and installing material would be required.
Cleaning Hassle
A panel backsplash would be tiring to clean the surface. It is an additional surface along with a countertop. You need to clean it daily like a kitchen slab to maintain the look.
Time-Consuming
The procedure of installing a full height backsplash is a comparatively a time-consuming process. This is due to size, adjustment with upper cabinets, and heavy weight of the stone.
How High Should a Countertop Backsplash Be & Which is Right for You?
It takes time to spruce up your kitchen with the most gorgeous stone on your countertop and backsplash. The varying height of the backsplash makes the decision intricate for the homeowners.
However, a standard height kitchen backsplash is 4 inches. Ideally, it should be this much longer. Whereas, it can stretch further as per the choice.
If you are one of those who want to have a beautiful yet spacious kitchen with no fear of budget, you should go for a full height solid slab backsplash.
There is no right or wrong decision, its all about the distinct preferences people have in their mind as every idea has its own benefits and drawbacks.
You should know your preference before making a final decision. If you prefer a classy look that is in the trend, you can assuredly invest in a gorgeous full-height slab backsplash.
You won't regret the decision after getting the final look.
Final Thoughts
Ideally, a natural stone backsplash is 4 inches in size starting from the top of the countertop. Nevertheless, with the advancement in the construction design, it can stretch up to 20 inches depending upon the preference of the users.
There is no harm in getting a full-height backsplash other than expense and cleaning. If you want to add beauty and elegance to your kitchen, you can invest in this unique idea.
We would love to help you with your next project.  Contact your Boston's countertop experts at 978-447-1001 or online here.