You must have heard the saying that the kitchen is the heart of the house. I have a firm belief in this saying.
This is the place where people have their family meals and share a good time together. For this reason, kitchen remodeling is the top priority of many people and a bit of tricky project.
We have helped so many homeowners that we have heard it all when it comes to picking out your next kitchen countertop surface.
You will find a comprehensive kitchen guide below where you can get some amazing yet classy information about Giallo ornamental Granite.
These types of granite are an elegant natural stone kitchen counter that will leave a warm glow to its location.
Giallo Ornamental Granite Origin
Giallo Ornamental Granite, also known as Giallo Santo Granite is a bright countertop. It is famous for its unique creamy golden texture that may match with your existing cabinet.
The white granite is quarried from Brazil with a creamy white base color & golden minerals and a blend of light gray and golden shades that looks elegant and classy.
Giallo Ornamental Granite is perfect for different areas other than the kitchen including the walls and flooring that will pop with a golden appearance.
We all know that the kitchen countertops need to be resilient and this is the best property of this stone & minerals. Giallo ornamental is famous for its strength and durability.
It is resistant to scratch and extreme temperature making it a perfect variation for the kitchen counters or a granite slab piece in a smaller area like a bar.
It can also be processed into shiny polished, tumbled, sandblasted, sanded, sawn cut, and so on.
Every granite has some unique and modern designs that appeal to people. Giallo Ornamental is no exception.
While searching for the best options for your kitchen remodeling, you will see thus light color natural granite adds beauty and a fascinating look to the kitchen. It is the best choice for a modern and aesthetic style statement.
In this modernized era, people prefer to have trendy and elegant countertops like the Giallo Ornamental granite.
The strengthening and anti-scratch properties along with the grace of this white granite make it is the perfect choice for the kitchen countertop.
Interior designers and house investors also add Giallo Ornamental Granite in their granite selections & granite slabs when they need a light granite.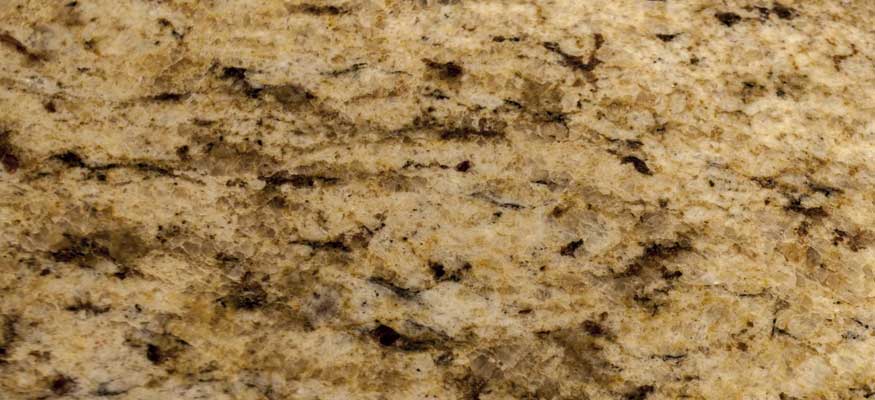 What Works Well with Giallo Ornamental Granite Counters?
Most seem to prefer dark-colored kitchen cabinets. However, while searching for the best kitchen countertop and its contrasting kitchen cupboards and cabinets, you may be confused as Giallo Ornamental Granite is a versatile stone.
It fits perfectly with every shade. If you love a vintage kitchen look or a modern appearance with a light cabinet color of white or cream, it combines with both exceptionally.
Let us discuss some different ideas that work well with Giallo ornamental granite in your space.
Light vs Dark
Giallo countertops are available in both light and dark versions with an intricate pattern. Giallo light contains cream bedrock along with brown specs.
In contrast, the darker version possesses white bedrock with a blend of even-flecked surface dark brown specs. Both forms are in a boom these days.
You need to choose wisely while keeping in mind the overall aesthetic of your kitchen space.
Backsplash: Giallo Ornamental Granite — Trend or Not?
Picking up the right backsplash with Giallo Ornamental Granite was not a difficult choice. The versatility of the stone makes it easier to contrast it with any material like ceramic or mosaic.
You may like it with mosaic however, it contrasts perfectly with other options as well.
Wooden Cabinets
Giallo stone looks flawless with wooden cabinets. The golden and earthy shade in a combination gives a luxurious and brimming effect to the kitchen.
You will be amazed by the smoothness and shine in the kitchen with this perfect combination.
White Cabinet Style
White painted cabinets remain in the trend. The combination of such kitchen cabinets with Giallo granite countertops reflects peace and warmth in the heart of the house.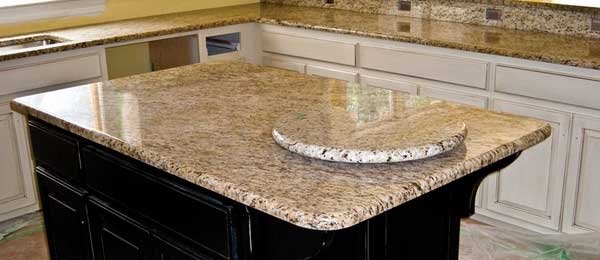 Is Giallo Ornamental Granite the Right Choice for You?
In the quest to remodel the kitchen, some key aspects need to be considered before taking an immediate step. Specifically, if the kitchen space is small, Giallo granite with white cabinet combination is the right choice.
This is because Giallo makes the kitchen looks brighter and spacious. It complements well with the kitchen area that is without natural lighting.
If you have any of the above issues, this stone is the perfect choice for you.
Other than this, Giallo ornamental makes the right choice due to its unique characteristics. Some distinct properties of these colored granite stones are:
Features of Giallo Ornamental Stone
It is a versatile stone that compliments well with every furniture or kitchen decor item.
The variant the color combination and its strength are some points that grab the attention of the people at a single glance.
If you want to give a luxurious look to the kitchen, it is the right choice as Giallo granite provides a high-end and rich appeal to any property.
Overall Care for Your Giallo Ornamental Granite Countertop
Granite is the densest stone which can stand the busiest kitchen with harsh condition quite easily.
However, irrespective of the type of granite you have chosen for your kitchen countertop, it is imperative to ensure proper care and maintenance. If you want to maintain the new look of your kitchen, some basic instructions need to be followed diligently.
Care and Maintenance Tips
It is important to use pH neutral cleaning agent for daily scrubbing. It will increase the lifespan of the countertop and will protect it from staining and decoloring.
In addition, the pH neutral cleaner will also protect the sealing of the countertop and will maintain the finish.
The fortified granite polish is highly recommended using on granite countertops as it restores the seal.
If you encounter a dark discoloration on your Giallo granite, fear not. There are specific cleaning agents that can do the job for you.
You just need to invest in the right material as suggested by your service providers.
Above all, you can just wipe the surface with soft cotton fabric with warm water. This will maintain the elegance and the shiny texture.
The low maintenance and easy cleaning will convince you to recommend it to other people on your social contact list.
Final Thoughts
Giallo ornamental granite is an elegant kitchen countertop choice.You will be happy with investing in this magnificent stone countertop for your next project.
This Brazilian-based granite will enhance the overall appearance of your kitchen.  It gives a sophisticated appearance with a natural warmth in the kitchen.
You can contact Boston's Countertop family experts online or by calling our RSK Marble & Granite showroom at 978-447-1001 for professional assistance.
Related Questions
What level is Giallo Ornamental granite?
Giallo Ornamental is a level 3 granite.
What backsplash goes with Giallo Ornamental granite?
The perfect backsplash with Giallo ornamental granite is ceramic or mosaic.
What color paint goes with Giallo Ornamental granite?
Giallo ornamental granite blend perfectly with wooden colors. Specifically, it goes well with lighter shades.