Granite bathroom countertops are becoming a popular option to increase the value of your home  Many people like the appearance of granite but don't know why it makes a good choice for a countertop.
These are just five of the many reasons why granite bathroom countertops are a great option if you considering a bathroom countertop upgrade.
1. Granite Increases the Value of Your Home
You have probably noticed that the first material that homeowners always ask for improvement is granite.   
All the popular home improvement tv shows proudly feature this prominent countertop material in their projects.  It is quite popular as a bathroom countertop.
While there a few materials that are highly desired, a stone like granite is always a safe choice. Granite makes a popular choice for a countertop since it is durable and has a natural beauty. 
Granite bathroom countertops also conveys luxury without making any other changes to the house.
You'll want to invest in projects that add value if you're considering selling your home in the next few years or simply want to add some value to your house.
In some areas of the country where the housing market is still recovering, what's in the house makes a significant difference when making a sale. 
It is even estimated that homeowners can expect to see a good investment on their return then they put in granite countertops. 
While this isn't the only selling point in the house, it can be a factor that makes or breaks a sale.
2. Granite Bathroom Countertops Have Great Style and Design
The benefit of choosing granite for your bathroom countertops is that it is a natural material. In fact, it's completely unique and no two pieces are going to be exactly the same.
Each granite slab and colors has its own charm and appeal. You can choose a variety colors from a rich earth toned slab to vibrant shades of blue, red, green, or yellow. 
There are also the traditional basic tones of gray which work well for a more neutral appeal. Regardless of your aesthetic, you can be sure to find a natural slab that will work well in your home. 
Many people think of their granite tops as being a type of art. Granite bathroom countertops can be the centerpiece of your bathroom remodel.
Additionally, you can find granite countertops in many dramatic shades and styles.  There are also many granite slabs available in a much softer tone. 
These granite slabs have less dramatic veins. You can choose white granite for your bathroom countertop if you like the look of marble but don't want to have to deal with the maintenance.
Most of these types of granite slabs are almost identical to marble, but have greater durability and also are easier to maintain.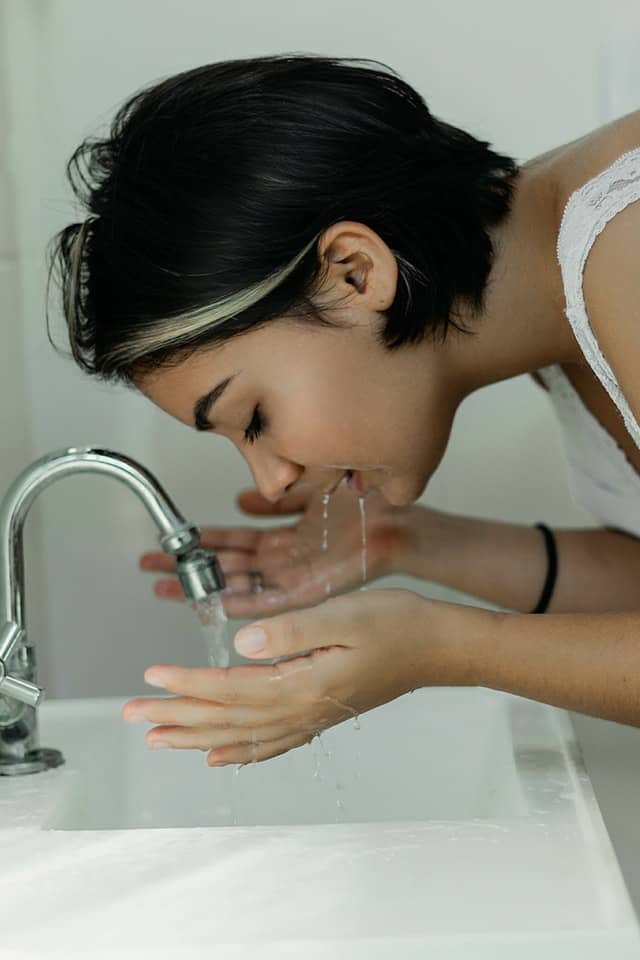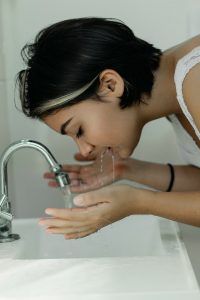 3. Granite is Stain, Heat and Etch Resistant
Granite bathroom countertops are going to be the best choice for you if you have children and want a material that's going to stand up to wear and tear.
The good news for homeowners is that granite simply needs a gentle cleaner with a soft cloth or sponge to maintain it.. 
That's all that you need in order to keep it looking good over time. Granite is tough and will resist staining, etching, and even heat. 
You can seal the granite bathroom countertop if you want to add an extra layer of protection.The process usually only takes a few minutes and then you will be worry-free.
Unlike formica or other countertops that develop stains over time, granite will resist any of these problems. 
This is especially handy when you don't want to have to spend time cleaning and maintaining countertops. 
You can choose a slab that has a varied pattern as well so you won't have to clean it as often. Granite that has natural tones often hides any spills or messiness well. 
Many people who don't enjoy cleaning find that granite is the right choice for them.
4. Granite is a Long-Term Investment
The good news about installing granite for countertops is that you won't have to replace them again. Granite countertops will last a lifetime and beyond as well. 
Over the next 30 years, many countertops that come at a similar price to granite will have to be replaced. Some of them may even have to be replaced twice. 
New bathroom countertops are not only an integral part of the design of a room but also the function. In both the kitchen and the bathroom, they take the brunt of daily routine. 
This is why it's important to choose a material that's going to stand up to the test of time. Choosing granite as your bathroom countertop means you won't have to worry about them breaking down.
5. Each Granite Piece is Unique
Although a man-made countertop is uniform, it won't be anything special. 
You will have to make a decision based on a small sample that may not accurately represent the larger size of the piece when you choose something that is crafted.
However, when you choose to install a granite slab, you have the option to preview entire pieces of granite and then select the piece that you want. 
Viewing the entire piece of granite will allow you to make an informed decision based on the distinct variations and veining which can vary widely.
Not only will you get a piece of granite that is unique but you'll also have a one of a kind granite countertop that suits your style. 
In many cases, people find that the granite countertop they choose becomes a focal point of the bathroom. Whether you're choosing a small or larger piece, you can find a piece of granite that will add to the room and be unique. 
Even if a friend or neighbor decides to choose granite countertop as well, their pieces won't ever be the same as your own.
It's a fact that granite isn't going anywhere. This classic look will remain in style for years to come while also offering the durability that's needed in order to sustain everyday activities.
When you choose granite, you can be assured that it will serve the purposes you're looking for while remaining a focal point in the home. 
These are five reasons why people are choosing granite but they're certainly not the only ones. However, you can use these reasons to consider whether granite is the right choice for your home.
Final Thoughts
Choosing the right granite bathroom countertop can be a tough decision to make on your own. If you are unsure about choosing a granite countertop, consider talking to the experts. 
The professionals at RSK Marble & Granite have over 15 years of experience. Located in Wilmington, MA, the pros at RSK can help you with all of your countertop needs.