Granite is among the top choice for bath or kitchen countertop thanks to its beauty and durability. This building stone also requires little effort to maintain.
Nonetheless, granite still requires some form of care and maintenance if it must stay in top condition. You don't want to spend thousands of dollars only to need to change them a few years forward. To ensure its continued use in the years to come, you'll need to clean it regularly. You might also need to remove stains and seal them when the need arises. 
In this article, we will examine the major talking points in granite maintenance and care. This will cover things you should do and things you should avoid. But just before that, let's check out what makes granite such a great choice.
Why is Granite a Great Choice?
You may be wondering why a granite countertop for your new home, well, it's a great choice with numerous selling points.
First, it's an excellent choice and comes off as a work of art. It also comes in multiple colors, so you have a wide range of options to pick from. Hence, regardless of your design layout or decor, you can be sure to get a fit.
Another advantage is that it's less porous than marble. As such, it's less likely to soak up spills and oils. Even more, it is usually sealed, meaning it's mostly resistant to stains.
It is also hard, resistant to heat, dent, and scratch. So, you can count on its durability for your kitchen activities.
Also, granite has a high resistance to bacteria. With it, you are more likely to stay healthy, mainly when used as a kitchen countertop.
What You Should Do to Maintain Granite Countertops
Taking care of a granite countertop requires active steps. You'll need to clean them regularly, remove stains when they occur, and sometimes seal your countertop.
Cleaning Your Granite Countertop
Often, we restrict cleaning to just wiping the surface of your countertop. While this is a part of sanitation, usually, cleaning involves more. You need to maintain a cleaning routine.
Daily Cleaning
You'll need to clean your granite countertop daily to preserve it. Use a microfiber cloth to wipe grime and dirt off its most-used surface.
Also, when spills occur, clean it using a soft cloth or paper towel. You may need to add a little water with a few drops of antibacterial or dish detergent to clean it properly.
Weekly cleaning
This is a more serious cleaning. You'll need to remove all items on your granite countertops.
Then use a pH neutral soap to cleanse your granite countertops, including its edges carefully. Ensure you remove all rubber around your containers and appliances
With this, you can maintain the condition and overall shine of your granite countertops.
Stain removal
Although dark granite is less susceptible to stains, granite with lighter colors stain more easily. Thus, to maintain granite countertops, you'll need to be prepared to remove stains from it.
However, to remove stains effectively, you'll need to know what exactly stained your countertop.
As such, to identify stains, you should have the following in mind.
Oil-based stains – for instance, tar and grease – usually darken your granite.
Organic dyes – for example, tea and coffee – often creates a pinkish-brown mark.
Afterward, you'll need to pick a suitable cleaning material. For instance, when you encounter oily stains, you might want to consider using a poultice made of baking soda.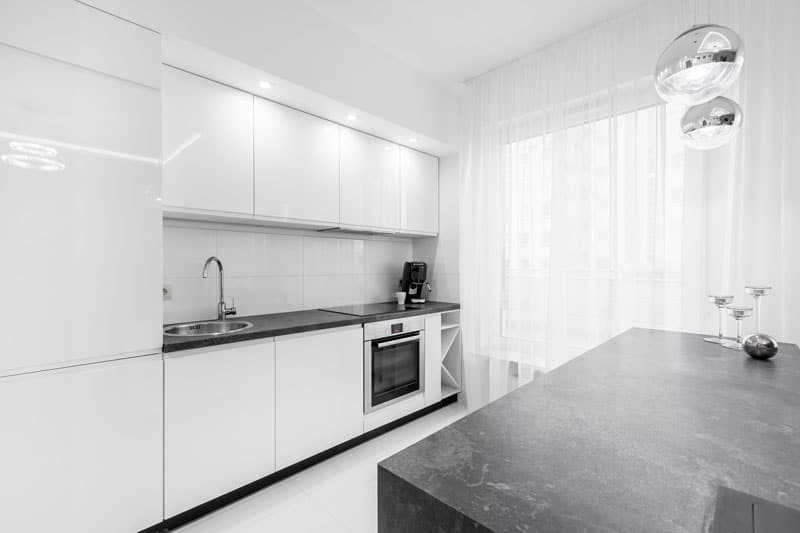 Sealing
This is a must-do – at least once a year – if you intend to maintain your granite countertop.
It provides extra protection to your granite countertop by making it more resistant to moisture.
However, you don't always have to seal, especially if your countertops come with a new house. They are usually already sealed.
Just in case you aren't sure that your granite needs sealing, here's a quick test that works.
Pour a small amount of water on your countertops' surface. Ensure you do this on the surface area that you use the most.
Afterward, look out for whether the water flows freely or rests in a bead-like form on the countertop. If it flows freely, then you need to re-seal your granite countertop.
Next, you need to pick a high quality and long-lasting sealant. Also, ensure that it's oleo-phobic (resistant to oil or fat and water-based stains).
Also, before you start sealing, adequately ventilated the area. Open the doors, windows, and maybe turn on a fan.
Then, clean your countertops' surface properly. Dry it with a soft and damp cloth. You might have to wait for at least 24 hours or use a fan if you don't have so much time.
After ensuring your granite countertops are dry, apply the sealant. Ensure you follow your manufacturer's guide on how to service your countertop with the sealant.
Do you need to polish your granite countertop?
You must know that the luster on granite countertops doesn't come from chemical application, cleaning, or sealing. Instead, it's a result of the production process.
As such, the shine on your granite countertop is a part of it, and you can't create one by applying a granite shiner or polish.
However, to improve your granite's shine and ensure it remains in top condition, you should polish it regularly.
Still, remember that this can't repair an already flat granite. In such cases, you'll need to get a new one.
Other Ways to Protect Granite Countertops
Maintaining granite countertops isn't limited to cleaning. It extends to things you shouldn't do. Whether when cleaning or during any other activity, here are few things to avoid:
Cleaning materials with any form of abrasive or acid might result in scratches or de-coloration of your granite countertop. As such, don't use such cleaning products.
Avoid standing, sitting, or kneeling on granite countertops, as this may result in cracks and break.
Don't place hot objects on granite countertops directly. This may result in cracking or discoloration, especially if you have a dark granite. As such, use objects like mats or trivet as a protective bar before placing hot objects.
Granite countertops are not invulnerable to scratches. As such, always use a cutting board and avoid using sharp objects on it.
Avoid wiping spilled liquids – such as milk or juice – off your granite countertops. This will cause it to spread across your granite countertop. Better, use a cloth to soak it up.
Final Thoughts
Finally, thoroughly inspect your granite countertop once in a year. And ensure there's no crack, break or chip at the steam.
In case you notice a chip, you can fill the hole with a matching epoxy. Or use clear acrylic to repair it.
Also, if there's an issue, remember to take action immediately. This way, you can prevent small stains and problems from leading to complete damage.
RSK Marble & Granite is here to help you with your granite countertops.  We are a trusted stone countertop expert in the Boston area.
Call us today at 978-447-1001 or by filling out our contact form here.