Before changing your kitchen countertops, you need to decide on the best material for the job. 
The countertop is one of the most important parts of the kitchen as it is the first thing that's seen when you walk in. 
It also plays a part in setting the tone & overall ambience for your kitchen. For this reason, choosing the material for your countertop should not be done lightly. 
As a homeowner renovating your kitchen, quartz countertops should be your countertop choice. These countertops are becoming more and more popular by the day, and for good reason. 
They are durable, appealing to the eyes, easy to care for and strong. 
Basic knowledge of how a quartz countertop is made can convince you that they are the best choice for your kitchen. 
What are Quartz Countertops Made From?
Quartz countertops are made from a material called quartz. The countertops are man-made and are made from a combination of materials. 
Quartz countertops contain ninety percent ground quartz with the other ten percent comprising of pigments, polymers and resins. 
Together, they make a strong surface that closely resembles granite. 
Where is the Quartz Found?
Quartz can be found in different types of rocks. It can be found in sedimentary rocks, igneous rocks and metamorphic rocks. 
The white sand at the beach is often made from the quartz. Quartz is very strong, solid material that does not deteriorate due to harsh weather or soil conditions. 
Over time, the rock that surrounds the quartz gets eaten away by harsh conditions and reveals the quartz. 
Quartz is very common and can be found in almost every country in the world, but the ones used for countertops are sourced from Brazil or the US. 
Man Made or Natural | How Quartz Countertops Are Made
As mentioned above, quartz is a common material that can be found almost anywhere. One would expect that it would be commonly used for all kinds of building projects. 
This is not so though, because just like the countertops, quartz needs to be combined with other materials before it can be used to build. 
Quartz is often bound with pigments or resins. The other materials added to the mix are done to give the countertop a distinct, captivating look. 
These other materials can be colored glass or other natural stones. Their addition can either make the surface of the countertop shine or give it a unique color. 
Suitable for Your Kitchen
When the quartz countertop is being made, chemicals are added to eliminate germs that might make it unsuitable for kitchen use. 
These chemicals remove bacteria and impurities. Industrial mixers are used to mix the different materials for the countertop together to ensure that it is properly mixed. 
If the countertop is designed to have different colors or materials, a number of mixers will be used to blend the materials. 
When it is well mixed, the material will be put inside a mold. This mold will be in the shape, size and depth of the desired countertop. 
When in the mold, the mixture will be compressed with vibration and a vacuum. 
Afterwards, the quartz countertop is placed in an oven to bake at a high temperature. The time in the oven makes it firm and solid. 
When it is well baked, the material is taken out and polished until it shines. This process ensures that the material is durable and functional.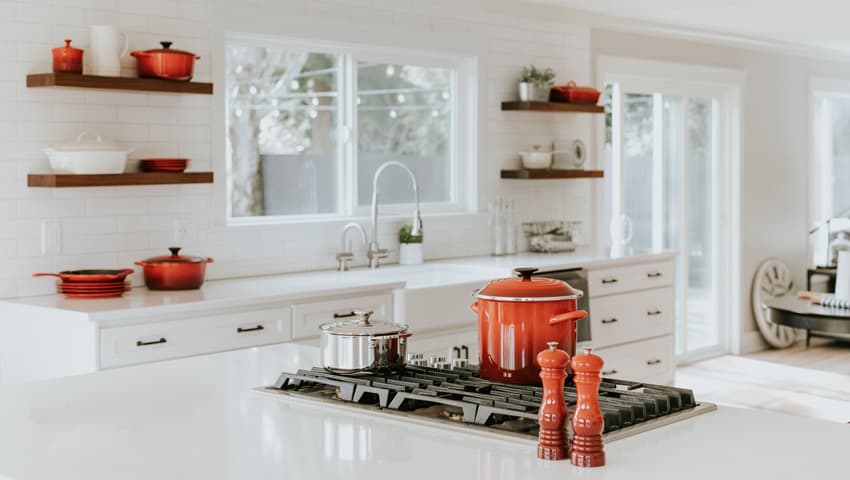 Benefits of Quartz Countertops

1 | Quartz countertops are durable and strong
Quartz countertops are a combination of quartz (90%) and other binding materials (10%). 
The high percentage of quartz makes the countertop hard and solid. The strength of the material makes it durable. 
You can use your countertop to chop vegetables if you wish and not worry about it breaking or cracking. 
Pots and pans tend to fall quite frequently and this countertop can resist being hit by utensils. 
Quartz countertops are also resistant to cracks, stains, chips and scratches. The countertop can last for many years until you are ready to remodel your kitchen again.
2 | Quartz Countertops are easy to maintain
Because quartz countertops are made from natural stone, they require little maintenance in comparison to other countertops. 
They do not require occasional wax coating like concrete or granite countertops. They are also very easy to clean. 
Quartz countertops do not absorb dirt, stains or moisture so a simple wipe down can have your countertop sparkling. 
You can do this with a lathered foam or cloth and clean water.
3 | Non Porous Surface Means Less Maintenance
Porous materials just require an extra step each year. They absorb fluid and will weaken if left untreated. 
Quartz countertops are a nonporous material. They do not have any holes or spaces that allow fluid sink into them. 
This makes the countertop resistant to fragility. You can spill water on your quartz countertop or clean it with a wet rag without fear of absorbance. 
Their nonporous feature also makes them more sanitary.
4 | Quartz Countertops are Great Investments
Quartz countertops make good investments because they last long. You will not have to worry about changing your quartz countertops years after purchase. 
They also come in a variety of color and style so you can choose a countertop you would enjoy having in your kitchen for years. 
Quartz countertops are also increasing in popularity so they will not be going out of style anytime soon. 
Final Thoughts
Before you purchase quartz countertops, it is important that you find a reliable company to purchase it from. 
This will help ensure that your countertop is made of good quality and will meet your expectations. 
Contact us at RSK Marble & Granite if you want to buy new quartz countertops. 
We provide you with strong, durable and attractive quartz kitchen countertops. 
Aside from providing you with the best countertops for your kitchen, we also give you expert advice on the best countertop choice for your kitchen décor. 
With over fifteen years in the kitchen countertop business, RSK Marble & Granite are the solid choice. 
You can find us at our showroom in Wilmington, MA area or call us at (978) 447-1001.