Of all of the different types of countertops you can have installed in your kitchen, marble countertops has one of the least expensive and least difficult to keep clean and safe for your cooking activities. We will explore how to clean your marble countertops to help maintain your new investment
Another amazing advantage of having them is their sturdiness. 
Marble countertops have astounding durability, as well as the aesthetic organization that adds to your kitchen. These are some of the reasons it has continued to grow in popularity. 
But, is it difficult to clean? Well… NO! In fact, it's one of the things in your kitchen you'll find fairly easy to clean from time to time. 
Then how do I clean mine? 
In due time, we'll explain everything you need to know in this article. No need to worry! 
I'm sure that after you've read and learned all you need to know to clean and maintain your marble, you'll always find it way easier afterward to clean your countertops whenever you have to.
So, let's hit the ground running…
Cleaning Your Marble Countertops
One of the reasons why you'd find marble countertops in, virtually, every house you enter is because it is quite easy to clean and maintain. 
No doubt, marble is really attractive. However, it needs regular and special cleaning to ensure that it stays beautiful and lasts long. So, what are the things you'll need for this simple cleaning mission? 
Soft plain cloth

Paper towel

Water (warm)

Spray bottle

Non-abrasive, non-acidic soap

Specially formulated stone cleaners.
Steps to Clean Your Marble Countertops
The first step would be to mix a drop (or more) of the non-acidic soap or any specially formulated stone cleaners with warm water in the spray bottle. Make sure the soap your using is not acidic.





To preserve the finish, try as much as you can to avoid anything that contains acidic contents like vinegar and lemon. (We'll be discussing some products you can use later) 

After doing this, spray the surface of your countertop with soap solution and gently scrub with a soft cloth.

Wipe the surface clean using a dishcloth to remove the soap from the counter.

Dry the countertop with a towel until it is completely dry.
For Difficult Stain Removal
Difficult stain removal depends on the substance that may have caused the stain in the first place. 
Knowing the stain type allows you to choose the products, instruments and/or materials you'll need for the cleaning.
Materials you'll need: 
Hydrogen peroxide solution

Bleach (in a very small quantity)

Special liquid cleanser

Soft sponge

Gloves

Plastic scraper

Clean cloths
Choosing Cleaning Products
Marble is very durable, yet it can also wear easily if not maintained properly. And one way of maintaining it is by regularly cleaning it, every now and then. 
Cleaning also requires special attention and care to avoid damaging its surface with the use of some strong and weakening products, especially cleaning products that are very acidic. 
Avoid common cleaning products like bleach, ammonia, vinegar and so on that are capable of creating marks and spots on the surface. 
Also avoid products that contain lime, lemon and other acidic contents like that. Cleaning products with these contents can damage the beautiful surface of your countertop. So avoid them completely. 
Avoid abrasive cleaners too.
You may come across some products presented online to be "marble cleaners" and are not really good for your marble. So avoid them too. 
Always check the constituents of any product you're buying to be sure you're not making a wrong decision purchasing them.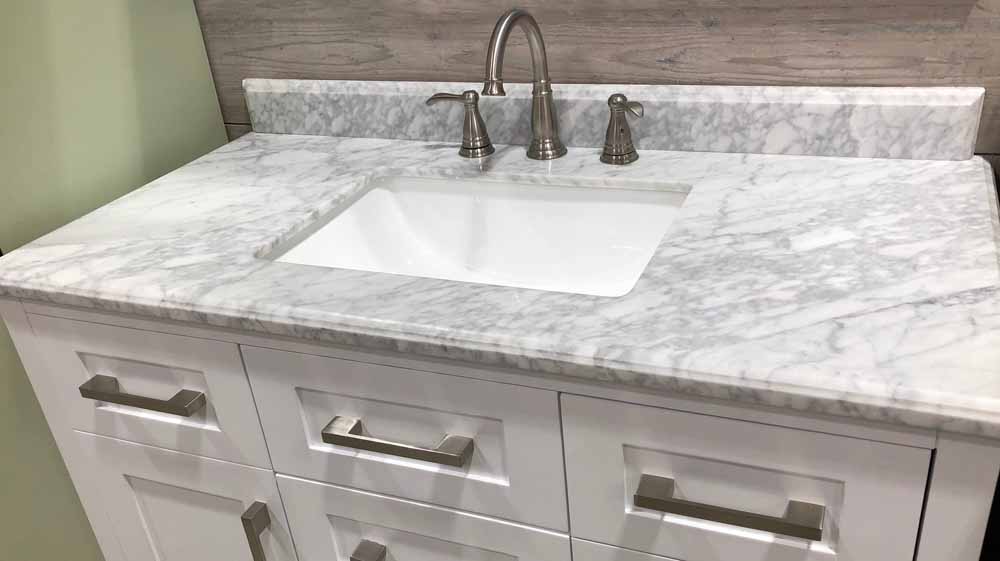 Benefits of Marble Countertops
Your kitchen should look beautiful and comfortable all the time. And how can you do that without draining your little energy and savings? 
Of course, you got it right! By fixing beautiful marble countertops! 
An interesting fact is that they are there to create a perfectly serene atmosphere in your kitchen and also make cooking a more interesting activity for you. 
Honestly, the decision to install marble countertops can be quite a difficult one to make. However, you have a lot of reasons to choose them. 
This is why we'll be providing you with some of the important reasons you can't say no to having them in your kitchen…
1.
Cost-Effectiveness
Among all the other materials of natural stone countertops, marble is the least expensive. Although it's a bit more expensive when you think of all the other alternatives you can actually go for, it's still, however, worth its price in gold. 
You can rest assured, with this particular type of stone countertops, you'll still have enough money in pocket to run other important things in your home as well. 
The costs of installation actually vary depending on the particular variant you choose or the thickness of the marble. 
So, bare that in mind.
2.
Sturdiness
One of the most important advantages, as mentioned earlier, is the durability you stand to enjoy. Naturally, marble is relatively more resistant to breaks, cracks, and scratches than other materials for countertops. 
Compared to granites, marble is even softer, and this makes it a lot easier for designers to fabricate a more beautiful design to make your kitchen comfortable all the time.
3.
Maintenance
One thing you'll enjoy marble for is its easy maintenance attribute. You'll definitely find it extremely easy to clean and maintain if installed properly. 
Proper maintenance also ensures that they last long. 
So, because of the ease that comes with maintaining them, you stand to enjoy your distinctly beautiful countertops for a long time, even longer than you may expect.
4.
Heat Resistance
Marble is the best if you want a countertop that stays cool all the time and won't catch fire. 
Nevertheless, if you want it to last longer, avoid placing hot pots directly on it. 
Even though marble is quite sturdy, it's best you preserve its shining surface by placing a protective material, like a trivet, before placing your hot pots and pans. 
This stretches its longevity.
Conclusion
Ensuring that your countertop is clean always is easy. However, it also comes with a price. And that's choosing the right products to use to avoid scratches and stains on the surface of your countertop.
Now that you know some of the important benefits of marble. The next action to take is to install them if you don't have them already. 
RSK Marble & Granite is the best choice for that installation. They offer extensive experience in the business and are always available to deliver expert fabrications to all of their clients every time.