Choosing the right material for your countertops is indeed a difficult task. There are loads of stone materials available in the market.
While redesigning your home, you must know every detail about a preferred stone in order to get the best one that elevates the beauty and aesthetics of the entire house.
Granite is a beautiful natural stone that comes in a wide variety of shades and patterns. As a home owner, you may get confused during the selection of entry level granite slabs.
One best available option is jaguar brown granite. It is one of the beautiful natural stones available for homeowners.
What Is Jaguar Brown Granite?
As we all know, granite is the most preferred choice of the people across the world. It comes in varying options.
Out of all the types, jaguar brown granite is known as gold granite stone. It is a medium-grained, golden-beige-colored natural stone.
The surface of the stone has occasional patches in grey and dark brown shades which makes a beautiful texture. You can easily pair it up with wooden underneath cabinets to elevate the beauty of the house.
Jaguar granite is suitable for residential and commercial areas. It is a durable natural stone that can withstand the weight and extreme temperatures.
This stone can also be processed into polished, tumbled, sandblasted, rock faced, sanded, sawn cut, and so on.
Jaguar brown granite is a beautiful natural stone. It has various features that attract homeowners and persuade them to invest in it.
However, the other side of the picture should not be neglected. Along with loads of benefits, there are some drawbacks as well.
If you are planning to install jaguar brown granite, you need to acknowledge both pros and cons to get long-term results.
Pros of Jaguar Brown Granite
Strength and Durability
Granite is a perfect stone for the areas where there is a high volume of foot traffic such as kitchen countertops and bathroom vanity areas.
The strength of the stone makes quality slabs for casual use as it can withstand rough handling.
Heat resistance
Jaguar granite doesn't only look attractive; its practical as well. This natural stone is heat resistant and can bear extreme heat up to 1200oF.
You can place your hot pans on the jaguar granite surface without any fear of damage.
Easy Daily Maintenance
This natural stone is easy to clean. You can wipe off the stains easily from the shiny surface of jaguar granite by using wet soft cotton fabric.
Versatile
The unique pattern over the surface of the stone makes it versatile. The veining like texture of grey and dark brown blends well with any type of the underneath cabinets and other furniture.
Cons of Jaguar Brown Granite
Resealing
The major drawback of granite stone is resealing hassle. You need to schedule resealing of the surface annually as it is a porous material.
The porous slab can result in seepage issues thereby, jaguar brown granite requires high maintenance.
Prone to Fading
It has been observed that this golden-beige-colored natural stone is prone to fading. Continuous exposure to direct sunlight can affect the color which tarnishes the overall look of the slab.
Heavy
Jaguar brown granite is a very heavy stone. It becomes difficult to get it installed as there are greater chances of cracks or even breakage.
If the underneath cabinets are not properly reinforced, it can cause damage to the wood as well.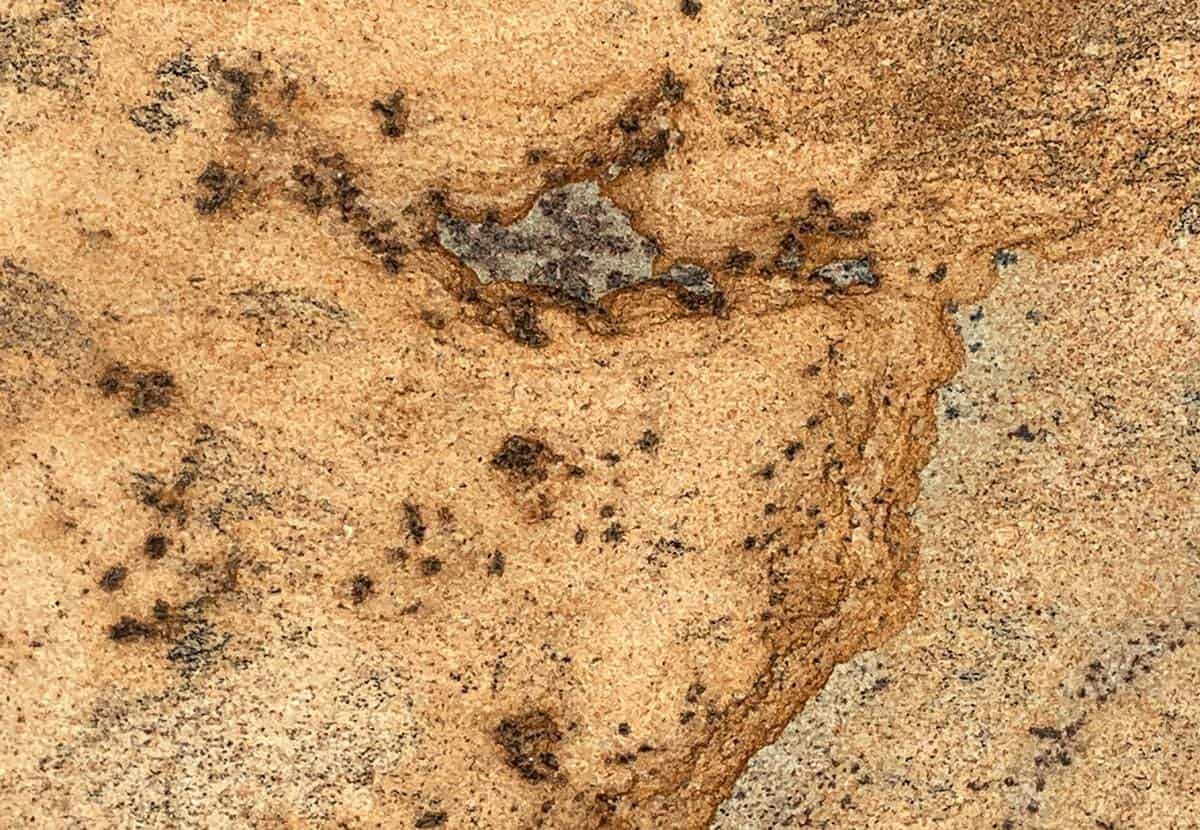 What Does Jaguar Brown Granite Work Well With?
Staircase
Jaguar brown granite is a fanatic stone for home remodeling. It has a unique texture that makes it compatible to be used in various areas specifically around the staircase.
It gives a classy appeal to the entire area. If you want to get a modern appeal, this is the perfect choice for your home.
Flooring
Jaguar brown granite gives a classical touch. The unique gold-beige color of the stone looks absolutely stunning in living areas.
Specifically, you can pair this stone-based flooring with dark chocolate brown furniture and light shaded curtains. You will love the entire area with such a mesmerizing look.
Countertops
This natural stone is durable and heat resistant thereby, you can consider it as a  kitchen countertop material.
You do not have to worry about stains or heat damaging the stone. Moreover, the designers also suggest it for bathroom vanities.
You can put your accessories and electrical hair tools on the countertop without any fear of heat damaging it.
Final Thoughts
Hopefully, you understand that Jaguar Brown Granite is a durable and a versatile stone that is a great addition to most homes. It comes in a unique gold-beige color making it the most beautiful option people have for their home remodeling.
If you want some more professional assistance, feel free to contact the expert for your countertop in the Boston area. You can reach us at 978-447-1001 or by clicking here.
Related Questions
Where does Jaguar granite come from?
Granite is a type of igneous rock that forms when magma cools and crystallizes in the Earth's crust. Granite can be formed at any depth below the surface, but most commonly form near the earth's surface.  Jaguar granite is mostly quarried from Brazil.
What is the most expensive granite countertop?
Most expensive granite countertop is called "Cristobalina" and costs $1 million dollars per square foot. This is one of the most expensive materials available today.  Jaguar granite is a much more economical choice for most homeowners.