Deciding on kitchen countertops can be tough. Kitchens are the hub of activity in the home, and the kitchen countertops are the principal focus of the room. With so many different materials to choose from, like quartz, marble, granite, or more, making the right decision can feel overwhelming.
Countertops are the focal point of the kitchen, so when choosing them for your kitchen, you need to consider your lifestyle and how you want your dream kitchen to look. As much as you may want to choose kitchen countertops based only on looks, there is more to choosing the right countertops than that.
Since picking the right kitchen countertop material can be a daunting task, you will want to start in the right place. In this article, we detail 7 tips when choosing your kitchen countertops.
1. Know Your Preferred Aesthetic
When choosing your kitchen counters, it is good to have some ideas of what you would like your dream kitchen to look like. Narrowing down what you like and what you do not like can make choosing your kitchen countertops that much easier. Before you set out to choose your new kitchen countertops, ask yourself what if the look you are hoping to attain?
Some countertops can give your kitchen a more traditional look, whereas others can give your home a contemporary vibe. If you prefer a modern kitchen, you may end up choosing unconventional countertop materials. The overall aesthetic that you are trying to achieve will impact the countertop material you choose for your kitchen.
2. Choose a Material That Matches Your Lifestyle
Some kitchen countertop options are better suited for certain lifestyles than others. If you have an active home with plenty of spills and accidents in the kitchen, then a white granite countertop might not be best for your kitchen.
Since some kitchen countertop materials are more porous or more prone to cracks and chips, try to think about how your kitchen will be used. This will help determine how durable the countertop surface needs to be. If you are not sure which material would be best for your lifestyle, talk to an expert. Countertop professionals will know which material will best suit your kitchen needs.
3. Think Long-Game in Terms of Maintenance
Considering maintenance when choosing kitchen countertops should be near the top of your list. Some kitchen countertops require more maintenance and upkeep than others. For example, granite countertops can require regular sealing in order to maintain their gorgeous look.
Granite kitchen countertops can also be expensive if they need to be repaired when damaged. But some other kitchen countertop materials like quartz and laminate are much more low-maintenance. These materials are also inexpensive to repair and can give your home a contemporary look without too much responsibility in terms of maintenance.
4. Consider Your Home Layout
Since the kitchen is the heart of the home, it should tie the whole house together. That being said, you should consider the style and layout of your home and try to create a style flow throughout your house.
It is important to make sure that all of the components of your open concept home work together to create a continuous flow throughout the space. If your home is open concept, then the style you choose in your kitchen should carry throughout your home. Similar finishes and color palettes will go a long way in making your home beautiful.
If your home is not an open concept, it still helps to have a connection between the rest of your house and your kitchen. Try to keep a simple color palette in mind when choosing your kitchen countertops.
5. Mind Your Budget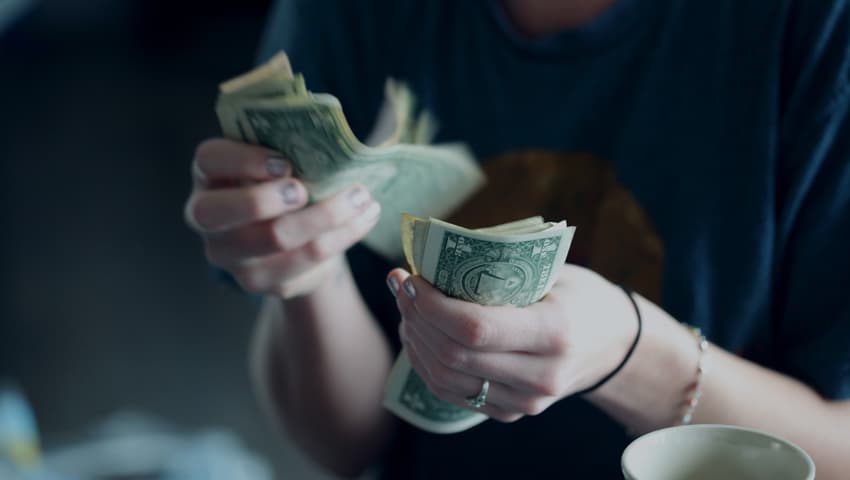 If you do not already have a budget, you will need one before choosing your kitchen countertops. Kitchen countertops can be a big expense, and so you should prepare your wallet in advance. Try to be realistic when setting your kitchen countertop budget.
Try to figure out which materials might best suit your budget and talk to an expert about choosing the perfect kitchen countertops for your home. Work within your budget to find high-quality kitchen countertop materials that will last you a lifetime. Meeting with a countertop specialist can help narrow down the countertops that work within your wallet.
6. Decide on a Preferred Sink Mounting
There are two popular ways to mount your sink to your kitchen countertop: under-mounted sinks and over-mounted sinks. When choosing your kitchen countertops, keep in mind the style of sink you want your dream kitchen to have. If you are not sure about the distinction between the two, we can break it down for you.
Under-mounted Sinks
With under-mounted sinks, the edge lip if the sink is actually mounted below the kitchen countertop. This sink mounting style creates a continuous flow from your kitchen countertop to your sink and can make cleaning up crumbs simple. Some materials are better suited for under-mounted sinks than others, like:
Granite
Concrete
Marble
Quartz
Other countertop surface materials might not be well suited for under-mounted sinks if they have too many seams or grout lines. Ultimately, if you like the under-mounted sink style, then you should choose a solid surface countertop material.
Over-mounted Sinks
Over-mount sinks are also called drop-in sinks because the installation involved dropping the sink into the countertop, unlike under-mounted sinks. This style of sink has edges that are placed over the kitchen countertop. Over-mounted sinks are the traditional style of sink that you commonly find in homes throughout Massachusetts.
7. Talk to an Expert
Talking to an expert can make choosing your kitchen countertops easy. Often, countertop professionals will know which materials best suit your lifestyle and needs. More than that, experts can work with you to help design your dream home's perfect kitchen countertops.
If you are looking to get new kitchen countertops and want to speak to an expert, reach out to us at RSK Marble & Granite. With over 15 years of kitchen countertop experience in the Wilmington, MA area, we will be able to help you with all of your kitchen countertop needs.