Granite remains on the list of famous countertops for bathrooms and kitchens for ages. This natural stone is durable in nature that attracts homeowners.
Granite stone is known for its less porous feature. This makes it suitable for residential use specifically for kitchen work surface.
It has been observed that people have varying choices when it is about home remodeling. Some prefer dark slabs whereas others like a light countertop.
Granite comes in both types of shades. There are different colors of Granite. It has a wide array of designs for the users. White Granite kitchen countertop is always in the demand.
Out of all the popular granite colors, let us highlight the top 10 light granite colors that are quite popular and trendy these days.
Top 10 Light Granite Countertop That Really Pop
1. Himalayan White Granite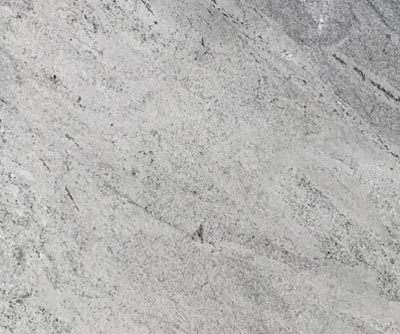 Himalayan White Granite is commonly used as a marble countertops substitute. It is one of the most popular light countertop materials.
The unique features of this stone include its versatility. It gets adjusted to any light-colored kitchen with white cabinets. It is a perfect choice for kitchen counters.
It is considered as one of the safest options and an excellent choice for the countertops as it is easy to maintain. The surface of the slab can be cleaned with regular soapy water instead of harsh liquids.
You will not regret the decision of investing in this stone.
2. Ice White Granite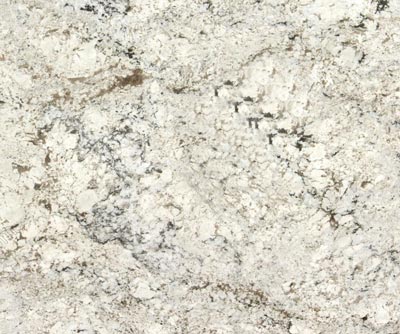 Ice White Granite has a hint of pale blue color. Together with this shade, the stone gives a turquoise appeal which looks elegant when installed in the bathroom vanities.
Other than this, the texture of this stone enhances the look of the area where it is placed. It gives a bright array making it the most sophisticated choice. It goes well with any color of cabinet.
Ice granite is a cheaper option with chic shade. The shiny and clean surface with consistent pattern is easy to maintain.
If you want to get modern and a classy ambiance, this is a perfect choice. Above all, it is a durable countertop and can withstand any harsh environment.
3. Delicatus White Granite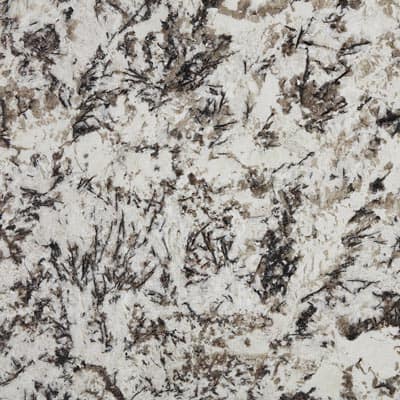 Delicatus white is a beautiful granite stone. It is a blended form of different shades like gold and white with black specks. These shades combine well and make a unique texture.
The surface of the delicatus white is something your kitchen is waiting for. It looks perfect with light cabinets. You will feel positivity and a happy environment while looking at it.
Many people claim that it is a style statement that adds intrigue and beauty while completing the perfect look.
However, you should clean the white countertop surface with wet soft fabric regularly in order to avoid stains and decoloring issues.
4. Kashmir White Granite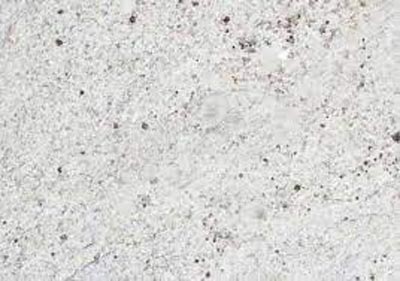 Kashmir White Granite is the perfect choice for those who prefer a salt and pepper look. It has minimal texture with tiny black and white freckles on a white base.
This light-colored granite countertop is a brilliant choice for kitchen countertops. You can match it up with a one-tone darker backsplash and medium tone wood cabinets.
One can feel the peace by just imagining the look. Some people feel its maintenance is a big hassle which is not the case.
It is very smooth and can easily be maintained by cleaning regularly with a wet sponge.
5. River White Granite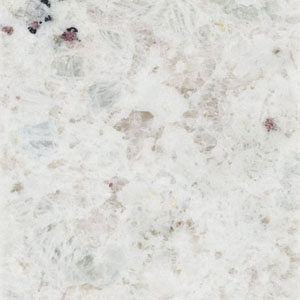 Similar to the current or waves of the river, you will find the sweeping lines on this stone that compliments the area of installation. It is the most attractive option.
Specifically, river white granite matches well with wooden floors. In the kitchen, you can get the perfect look with this granite stone and wooden cabinets and flooring.
Additionally, it makes a classic bathroom design. White walls with dark cabinets blends well with bathroom vanities where you can place all your grooming accessories on a wooden shelf.
It is a strong rock and a one-time investment as it lasts longer if maintained properly.
6. Alaska White Granite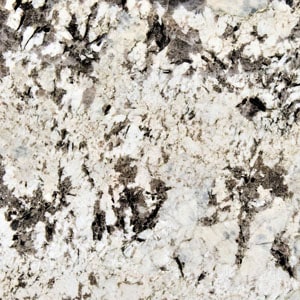 It is said to be the most dramatic one out of other white granite stones. It contains a heavy amount of onyx throughout the stone.
The gray patches on the surface of Alaska White Granite vary in size and color. Irrespective of the diameter of the patches, the stone looks elegant and gives an eclectic feel.
You will get a luxurious look if you install this in your bathroom and kitchen countertops.
7. Colonial White Granite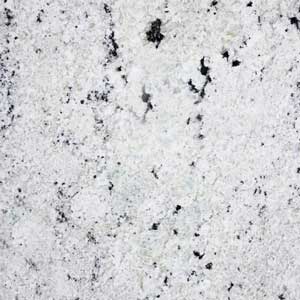 This off-white stone contains rose and brown-colored flakes along with smoky patches followed by black speckles. In short, it gives cookies and cream-type appearance that is attractive for the viewers.
The granules on the surface of colonial white Granite are no more than 0.5 cm in size. It gives a subtle overall look.
It is a perfect match with light-colored brown cabinets or other furniture items. If you want to get a bright look in the house, this is the right stone to invest in.
8. Andromeda White Granite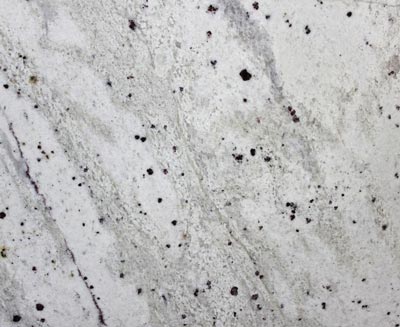 It is a stone with an ultra-modern feel. This type of Granite contains a gray veins-like texture on a beige and white base.
The unique texture and color suits both modern and traditional kitchen. Andromeda is commonly used for mosaics, kitchen countertops, stairs, pools, and fountains.
Specifically, the hotel industry largely invests in this stone as it is a sign of luxury and gives an elegant look that elevates peace in the environment.
9. Ivory Fantasy Granite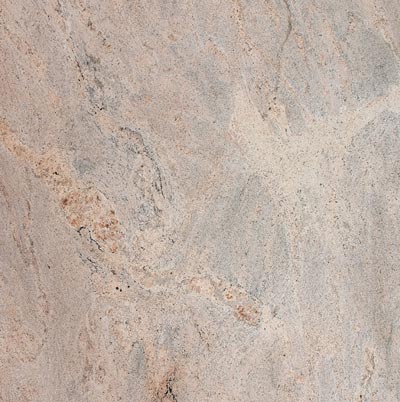 Ivory Fantasy Granite is mainly quarried from South India. It has a base of beige yellow color with light gray streaks on it.
It is commonly used in the kitchen, bathroom, staircases, and backsplashes. The maintenance of this stone is similar to other Granite options.
You should clean the surface daily while avoiding harsh chemicals that can damage the luster and its texture.
10. Thunder White Granite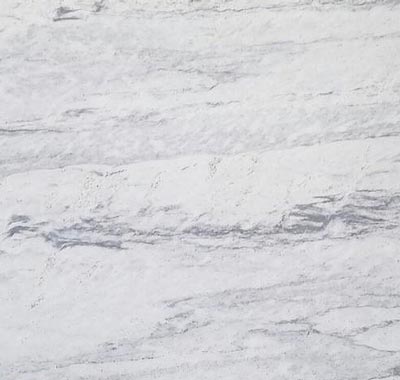 Similar to Ivory Fantasy Granite, Thunder White Granite is also quarried from South India. It has a pure white base with light gray patches, streaks, and bands.
Thunder Granite is known for its soft and creamy appearance that enhances the beauty of the house.
You will love the look of the kitchen design with Thunder White Granite Countertop along with wooden floors and shaker cabinets. It completes the look.
Final Thoughts
Concisely, Granite is the most popular stone that comes in a wide variety of options. Different shades and textures persuade people to consider it for their home remodeling.
Thereby, Granite selection is a tough nut to crack.
Even light color Granite countertop contain multiple relevant shades. If you want to add in more knowledge, you can consult with the experts at RSK Marble & Granite your Boston's Countertop experts here.
You can also reach us at 978-447-1001.