It is difficult for homeowners to make a decision about the right choice for their bathroom countertops. There is a wide variety of bathroom countertop material options that too in varying textures and colors.
Out of all the options, the spectacular veining and striking colors of marble are extremely attractive and catch the eye. It makes marble a great choice for both modern and traditional bathroom designs.
You need to develop a greater understanding of different facts like pros and cons along with creative ways marble can be used in the bathroom.
Your quest for ample information regarding marble countertops for the bathroom would be fulfilled by this article.
Is Marble Good for Bathroom Countertops?
Marble is a popular option for remodeling projects. It has been used by the designers for walls, floors, palace ceilings, etc. for ages. It reflects power and luxury and enhances the beauty of the place.
Specifically, marble is considered an excellent type of stone in the bathroom countertop market. This is because it makes a durable bathroom countertop and adds beauty to the vanity.
The primary reason marble remains in the constant demand for a bathroom is elegance. This stone has an alluring display of a variety of colors like gray, green, yellow, rose, and so on.
This makes a bathroom vanity unique and modern. You will have a luxurious feel if you have marble installed on the bathroom countertop.
Another reason marble is good for bathroom vanity is its strength. Bathroom countertops are exposed to continuous moisture and varying temperature. This beautiful countertop is believed to be the best option for such climatic extremities.
This elegant countertop is heat resistant and can withstand extreme temperatures. Thereby, you can easily put your hair-setting tools like dryer and straighteners directly on the slab with no worries of damage or stains.
If you want a durable stone for a bathroom that lasts longer, marble countertop installation is your one-stop solution. You will not regret the decision of adding both strength and beauty to the bathroom.
Pros and Cons of Marble Countertops
Every stone contains some positive aspects followed by drawbacks. You need to develop an understanding of both to analyze the suitability as per your preference.
Following are the pros and cons of this popular bathroom countertop material.
Pros
Elegance
Marble has a more lavish look as compared to other stones. This is the reason marble remains in the demand for countertops.
You will be amazed by the elegance and beauty it adds to the place of installation. In short, it is worth the investment.
Versatile
It is a highly versatile stone. You can blend the surface with any shade of cabinets or furniture.
This stone comes in varying shades. You can easily match the best one with your preferred home décor items.
Easy Cleaning
Cleaning the marble countertop is not a big issue. You can simply clean the surface using any soft cloth fabric.
Regular soapy water or specific countertop cleaners can be used to wipe off tough stains. The smooth and shiny surface gets cleaned easily with no extra hassle.
Heat resistant
Marble is an extremely durable stone. It can bear extreme heat with no fear of damage or cracking.
Even in brooding summer weather, a marble countertop in an outdoor setting will not get damaged.
This heat-resistant property makes it a long-lasting and attractive countertop for the kitchen and bathroom where high temperatures are more likely to happen.
Cons
Porous Surface
Marble countertop surface is porous which invites seep to pass through. The passing seep can end up leaving stains on the surface.
Specifically, when acidic liquids are exposed to natural countertops like red wine and lemon juice, the stains may get permanent due to porosity.
This is the reason some people avoid using it in the kitchens.
Discoloration
It is a known fact that marble stone gets discolored with time. This could be due to seeping or using harsh chemicals for cleaning persistently.
In order to maintain the polished marble countertop, you need to get it polished after few years.
Resealing
As you all know; marble is a porous stone. It gives room to seep. The marble countertop manufacturers suggest resealing the surface once every year.
This resealing sometimes becomes a hassle for the homeowners.
Expensive
Irrespective of all the benefits, marble is expensive countertop material. It is not affordable for people with a low budget for your project.
The wider the slab or countertop thickness, the greater will be the price. Don't forget, you have to reseal it every year as well. This makes a huge investment.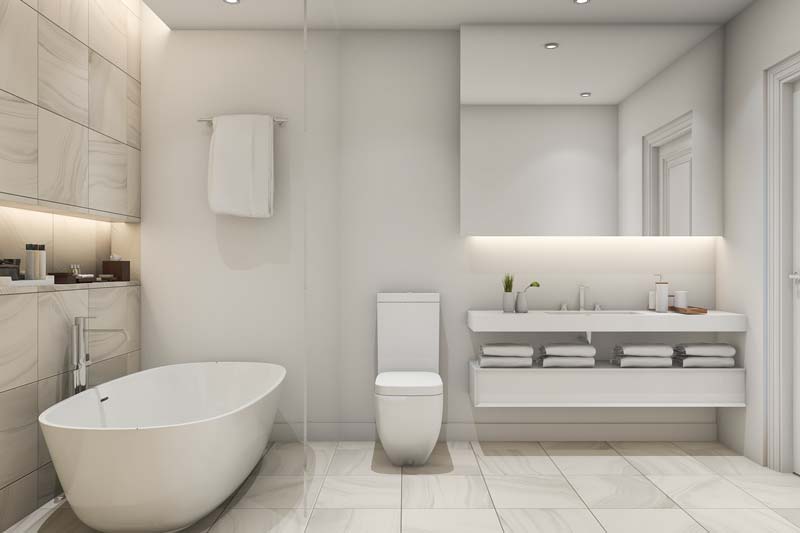 5 Creative & Unique Ways to Use Marble in Your Bathroom
Marble is popular natural stone bathroom countertop material. It is a versatile stone and can be used in different ways. There are hundreds of design options. Let's discuss some creative ways of using marble in your bathroom.
1.| Marble Vanity Slab
Marble bathroom countertops look amazing. Using marble vanity tops is the great idea of having an ecstatic and a luxury look.
2.| Marble Soap Dispenser
Marble-based soap dispenser is the latest design concept and in the boom these days. It is the most creative way of adding novelty to the bathroom.
3.| Elegant Marble Basin
You can install marble basins in varying shapes. Specifically, the oval vessel marble basin is tremendously alluring.
4.| Marble Bathtub
Marble-based bathtub with endearing little décor items is the unique way of getting peaceful bath time in a hectic routine.
5.| Marble Flooring
Marble flooring in the bathrooms remains in the trend. You can never get tired of the fabulous marble floors. It enhances the look and adds value to the investment.
Final Thoughts
Succinctly, marble is a natural stone that comes in a wide range of colors. It is a symbol of luxury and adds beauty to the place of installation.
You can use it in the bathroom with no fear of damage. However, you need to be cautious about its yearly maintenance as resealing is a must for a porous surface.
If you need more assistance, the marble countertop experts in Boston are just a call away. You can contact us by phone at 978-447-1001 or by contacting us online here.
Related Questions
What is better for bathroom marble or granite?
Both stones are perfect for the bathroom. The strength and heat-resistant properties make them the right choice for the bathroom.
How do you take care of marble countertops in a bathroom?
The key is to wipe the sudsy water and get the slab resealed. The surface is porous regular cleaning is a must thing.