A fireplace makes a home complete! Modern, elegant, or rustic: Any style you might be aiming for if there is a fireplace, all elements of the house highlight so well that it gives a perfect projection and a welcoming, heartwarming feel.
Now for a fireplace surround, natural stones are what makes them so extraordinary and distinctive. A marble fireplace surround that comes in different color choices, or a granite fireplace surround that makes up for one of the popular options in the market; all these natural stones add value to a home.
This article will put emphasis on some of the best natural stones that make up for an excellent choice for a fireplace.
Why Stones Make An Excellent Fireplace Surround
Do you wonder why use stones such as marble, granite, limestone, or cast stones for a fireplace surround?
A simple answer would be the durability, heat resistance, and exceptional beauty that none other than natural stones can offer.
From a statuary marble fireplace, the 19th-century style fireplace surrounds to the modern and contemporary ones; the choice is yours.
Natural stone has that luster, unique character, and feel to it, which is hard to find in any other material. To be precise natural stones sum up as a perfect option for fireplace surrounds and mantelpieces.
Also, one cannot overlook the fact that these stones make the maintenance and cleaning job honestly easy. Though one needs to seal these stones from time to time, overall, these stones are resistant to stains and cracks.
That means you can stay free from all the worries as your stone will last you a lifetime.
Marble Fireplace Surround
Overall
Fascinating green marble, those antique marble mantels, that luxurious beauty of Italian marble, the rustic charm of cedar marble, or that modern charcoal marble fireplace surrounds; there is no scarcity of choices here.
Depending on the choice of marble you make, you can create a unique fireplace where you can relax and spend time with your loved ones.
Think of that Sunday when your family is home, and there is a perfect setting to sit together and share memories by looking at that long-forgotten album sitting in your drawer.
How wonderful is that, isn't it?
Maintenance
The best part of getting a marble fireplace is that as the stone is resilient, durable to cracks, and repels stains, it stays young forever.
Provided that you have sealed the stone with a good quality stone sealer, marbles will look brand new each day, every time.
Pros
Best for those who want to add an elegant and luxurious feel to their living space.
Highly durable and heat resistant
A large variety of color schemes and color options available.
Stays young forever!
Cons
It requires to be sealed and checked over time if it needs a reseal again.
An expensive option as different marble varieties such as blue Damasco marble or black Marquina marble as well as other such varieties can be pricey.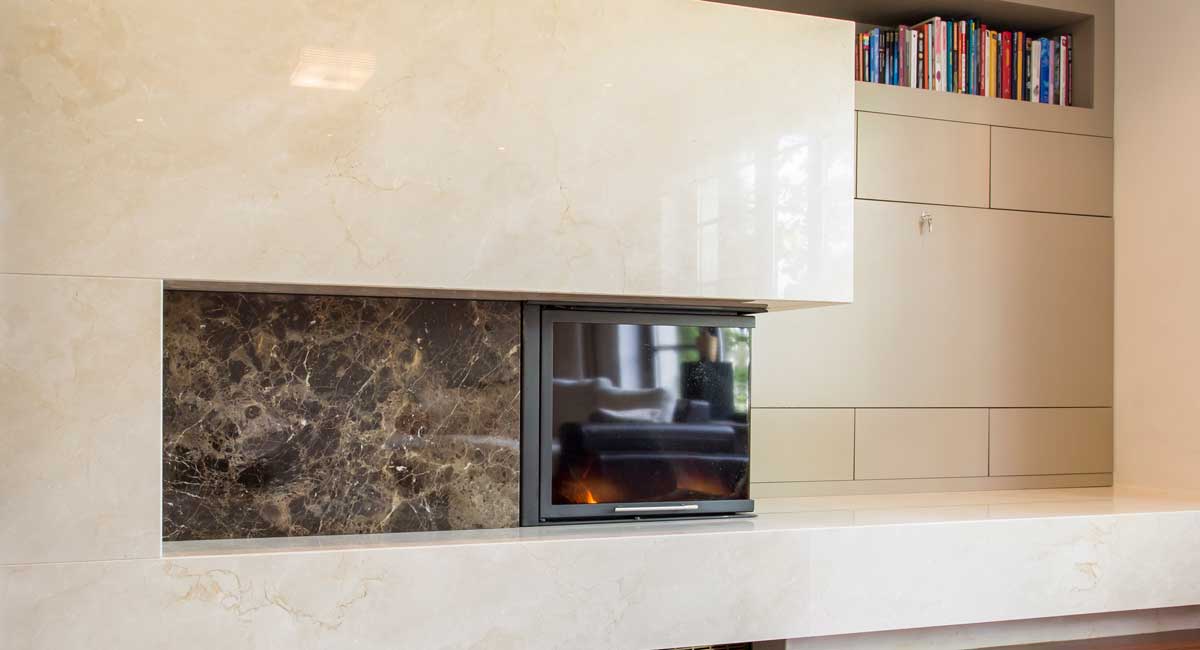 Granite Fireplace Surround
Overall
French style fireplace mantelpieces made of granite are so full of luxury that it never fails to catch the attention of a guest visiting your place. Granite are highly heat resistant, and out of all the natural stones, they account for one of the best natural stone choices for fireplaces.
Reasonable and yet precious, granite fireplace surrounds are most common in the market and a favorite choice of people who love dark tones and rustic look.
Giving an honest opinion and being in this industry for 15 years, I believe granite fireplaces can match any type of home irrespective of whether the decor of a home is classic or modern.
Maintenance
Like marble, granite requires sealer as well, as the stone is porous. Speaking of maintaining a granite fireplace, it is comfortable and hassle-free.
As the stone is resistant to heat and stains, a wet sponge is enough to clean the dust and charcoal ash away.
Pros
Color availability, which makes granite a suitable choice for any decor.
Fireplace mantel of granite stone never fails to draw one's attention.
Reasonably priced, so that leaves you with quite many options and a range of colors to choose from, making it a perfect choice.
Cons
Requires time to time sealer application to protect the stone from developing holes and rust.
Limestone Fireplace Surround
Overall
Specifically, in country-style homes, with earthy textures and designs, a limestone fireplace surround is the best choice.
Why?
Limestone is inexpensive compared to other natural stones; it is earthy as it is an organic sedimentary rock, and it comes in several neutral tones.
Limestone fireplace surrounds also sums up as an ideal choice for contemporary-style homes and never goes out of trend.
Maintenance
It needs to be sealed properly to protect it against stains. Apart from that, clean cloth and some neutral cleaner are enough to keep its surface clean and shiny.
Pros
This choice of stone gives you the option to style your fireplace in the country to contemporary style designs.
Limestone is inexpensive, which makes it an ideal choice.
It is durable and long-lasting.
Cons
It requires proper sealing, or else it can chip and is prone to stains, and that can force one to replace the whole fireplace entirely, as stains on limestones are hard to remove.
As it is available in only neutral tones, the color selection is limited.
Final Thoughts
Stone fireplaces never go out of fashion as they are evergreen. From low maintenance to several color schemes, these natural stones have that character that adds value to one's home.
Fireplaces are like that cherry on the top of a cake; you might not need one but having one makes a home complete.
Whether you are looking for a classic marble tile fireplace surround or aged granite fireplace, choose Boston's fireplace surround experts; you might get a stone that you have been eyeing on for long at affordable prices.
Call us at 978-447-1001 to get a spectacular fireplace surround in your living area or outdoor space.
Related Questions
What are the Benefits of Natural Stone?
Here are some beautiful and functional options for using natural stone for your next fireplace surround installation.
What is the best color palette for a rustic retreat?
Forest Green – Marble Collection – Full Slab For a bold infusion of color, there are several nonwhite options for marble.
What is Limestone?
Limestone is a porous stone; however, it is less likely to be exposed to liquids as a fireplace surround, and therefore will not require a high level of maintenance.
What is the difference between a honed stone and polished?
The honed stone is softer to the touch than a polished stone, which some homeowners find to be welcoming and unique.