Today, quartz countertops have found their way into the hearts of most homeowners. And this is thanks to its elegance, allure, and ease of use regardless of your purposes.
Even more, it is quite affordable, meaning almost every willing homeowner can now enjoy its use.
However, if you're hunting for that perfect countertop, you'll come across various options. For instance, there are top-quality brands and others that you would rather not patronize due to their low quality.
This can be quite challenging if you don't know where to look, especially since you need to get the right quality.
In this article, we'll introduce you to the top producers (brands) of quartz countertops. We'll also highlight some smaller brands that provide quality countertops. This way, you know what brand to look out for during your next quartz purchase.
What are Quartz Countertops
Just before getting to the brands, you might be wondering what quartz countertops involve. Well, it's countertops made of quartz.
Quartz is a human-made material that functions to replace the traditional countertops options. It's sometimes mistaken to be natural stone thanks to its strong resemblance. It involves a mixture of quartz crystals with resins and pigments.
Generally, while various companies have added a new flair to them, quartz countertops come from the Breton Company. Precisely their Bretonstone technology that Marcello Toncelli started 50 years ago.
Today, 52 companies have a license to exploit this technology and produce quartz countertops.
Also, this production comes with various benefits. And they include:
Distinctive feel and look
Exceedingly hard and durable compared to other countertops
Low absorption rate pegged at 0.5%, sometimes considered nonabsorbent
Largely heat resistant
Eco-friendly
It has a low maintenance requirement
Largely affordable
Offers variety
Top Brands That Provide Exceptional Quality
As already stated, 52 brands are presently licensed to produce quartz countertops. As such, you might find it tricky to pick a brand option. Here are the top brands you can always rely on.
Cambria
Cambria is among the top three manufacturers of quartz countertops. It's privately owned, meaning things are quite different for it. Unlike a publicly quoted company that'll be all about profit, Cambria can always focus on its design and production.
Today, Cambria is rooted in the United States of America, and North America at large. It has branches in various locations, including North Carolina, Illinois, Indiana, Wisconsin, and Minnesota. You'll also find branches in Canada.
Cambria provides exceptional designs of the best quality. And they offer a lifetime warranty for all their quartz countertops. This way, you can be fully confident in the quality of their products. Durability isn't the only priority as Cambria understands the requirement for beauty.
It offers various options such as Marwell, Huntley, and Golden Dragon. You only need to see them yourself to call them a work of art. They fit perfectly into whatever counter you decide to use them for.
However, the thing is that you can't purchase its products in big improvement stores. You can only buy it through architects, designers or builders or from bath and kitchen dealers.
Caesarstone
Another big name in the quartz countertop production industry is Caesarstone. And this company doubles as one of the oldest in the industry.
It's a publicly quoted company with its headquarters in Israel. It emerged to replace the faltering terrazzo tiles and now offers a variety of countertops.
Among this includes quartz countertops. They offer loads of exceptional style and design that's sure to impress you. It has two prominent collections – Concetto Collection and Motivo Collection.
The Concetto offers ten surfaces that include precious stones to its design. And they include agate, tiger's eye, petrified wood, and dumortierite.
The Motivo, on the other hand, provides deep embossing and covers lace textures and crocodile skins.
Silestone
Silestone is another member of the top three options. Produced by Consentino, who refers to themselves as the original quartz, its products are simply stunning.
Established in 1900, they continue to lead the market and produce beneficial countertops options, including quartz.
It provides a wide variety of tones, colors, and styles for your satisfaction. They come in vibrant colors and various series, including Life!, Stellar, Zen, and Mythology.
It also provides a 25 years warranty for its product. And with this, you can be sure of durability and a high resale price.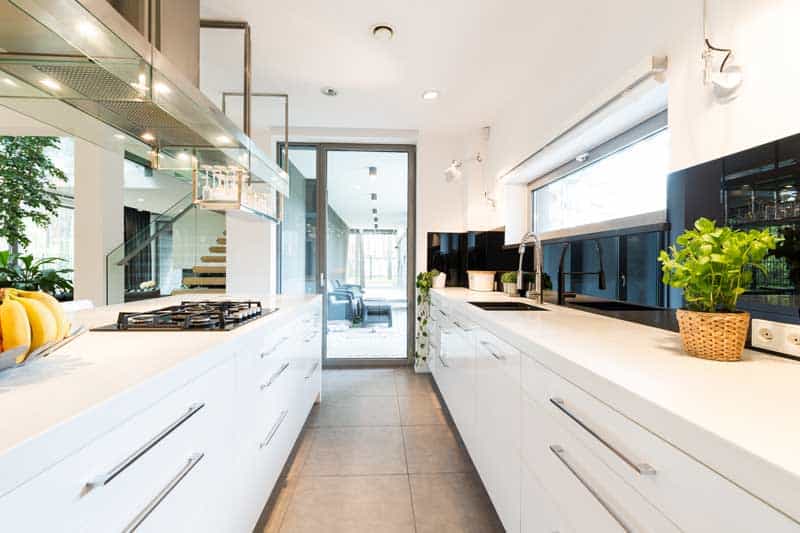 Top Brands Comparison
Design (colors)
Cambria: 133
Caesarstone: 53
Silestone: 142
Texture
Cambria: Fine, Heavy, Mixed
Caesarstone: Smooth, Satin, Matte
Silestone: Smooth, Volcano, Suede
Thickness
Cambria: 1 cm, 2 cm, 3 cm
Caesarstone: 3/4″/2 cm and 11/4″/3 cm
Silestone: 1.2 cm, 2 cm, 3 cm/1/2, 3/4 and 11/14 inches
Dimension
Cambria:  Jumbo size – 65.5" x 132"; Standard size – 55.5" x 122"
Caesarstone: 56.5 x 120"
Silestone: Jumbo size – 63″ x 128″; Standard size – 55″ x 120″
Warranty
Cambria: Lifetime to the first buyers, but not transferable
Caesarstone: Lifetime that's transferable for ten years, pro-rata basis, but only where the first buyer transfers the warranty
Silestone: 25 years that's transferrable, but only where the first buyer transfers the warranty
Smaller Brands That Offer Exceptional Quality
Although not as big as the brands above, there are still other brands that provide excellent quality for your use. And they include:
LG Viatera
Formerly part of the electronic company LG, this company offers industry-leading quartz countertops. It produces the renowned HI-MACS acrylic surface that provides durability and beauty.
It offers 51 colors through seven distinct collections.
It offers Musica, Terracotta, Woodlands, Legacy, Builder, International, and Urban Chic. It also provides a transferable warranty that spans 15 years.
Pental Quartz
This company has Seattle as its base and is generally more affordable than most brands. They also offer a variety of colors, patterns, and styles that appeal to the eyes.
They also deliver quality quartz countertops that spread across four collections – Bookmatched, Inspire Collection, Classic, and Natural.
It offers a 15-year assurance of high quality.
Daltile ONE Quartz
Located in Canada, this brand offers a cost-effective and beautiful quartz countertop for your use. Its offerings are also high quality and come with ten years of assurance. It provides 38 styles that are sure to leave you in awe.
DuPont Zodiaq (now Corian Quartz)
Based in Canada, this company also offers high-quality quartz countertops. And at a cost-effective rate. It has 54 colors offering that allows it to fit into technically most house designs.
Also, its slabs come at 63″ x 120″ with a thickness of either 2 cm or 3 cm. And it offers a ten years warranty that's transferable.
Final Thoughts
Various brands offer distinct products. And these products differ based on edges and design, slab size, warranty, and price. Regardless, when picking a quartz countertop, ensure your choice is a brand that's renowned for quality.
RSK Marble & Granite is the best place to buy quartz countertops.
We are a reliable stone material installer, fabricator and installer that provides stones and installs them in commercial and residential properties.
We sell quality, durable and appealing quartz countertops in varieties.
With over fifteen years in the business of fabricating and installing kitchen countertops, RSK Marble is the best company to buy your Quartz countertops.
You can find us at our showroom in Wilmington, MA area or call us at (978) 447-1001.