Quartz countertops have become the choice for most homeowners. Just like you, I enjoy its beauty, low maintenance requirement, and durability.
Still, I realized that during installation, one crucial consideration is the quartz countertop thickness. Unfortunately, most people find this confusing.
So, I've done a little digging. And in this article, I'll discuss everything you need to know about your Quartz thickness during installation.
Countertop Basics | What is the Standard Countertop Thickness?
When it comes to countertops, there are three standard thicknesses that fabrications utilize. Precisely, fabrication is available in 1.2cm, 2cm, and 3cm. Usually, each thickness fits better into a particular application. As such, your use will determine what thickness you opt for.
Regardless, here is what to know about the available fabrication.
1.2 Centimeters
This is the thinnest option that's available. And it's relevant to two applications.
The first application is in prefabs or, as also known, prefabricated countertops. These slaps come pre-polished and pre-laminated. Typically, they are cheap and time effective. However, they are fragile and require considerable support.
The second application involves using it as vertical wall cladding, such as shower walls, fireplace surroundings, and wainscoting. And this is thanks to their lightweight capacity. They are usually secured to a proper backing like drywall or plywood.
2 Centimeters
The next option is a 2cm countertop. And it is quite similar in application to the 1.2 centimeters countertop. As such, it's found as prefabricated countertops. Although, in recent times, some 2cm quartz doesn't come with laminated edges.
Also, this option is stronger. As such, it requires minimal support compared to the 1.2-centimeter option. Hence, they are an excellent option for a minimalistic and clean look.
3 Centimeters
This is perhaps the most desirable thickness for quartz countertops. And this is thanks to the size, flexibility, and durability that it offers. Precisely, you can fit in the 3cm thick quartz into various applications without the need for any support.
Also, unlike with the other options, you hardly find laminated edges with the 3cm countertop. They provide a thick look to kitchen countertops and homes.
Which Thickness Is Right for Your Countertops?
The reality is that in most cases, you will find the 3cm countertop your best choice. This is because it provides more flexibility when it comes to design. Even more, it offers a wide range of colors that you can maximize.
Again, you do not need a laminated edge. This is because there's no need to hide any plywood underlayment. Precisely, the 3cm countertop offers adequate support without the use of any underlayment.
On the other hand, you can also install the 2cm quartz countertop without any plywood support. However, you will need support for overhangs that are over 8 inches. Also, while it brings some aesthetics, it reduces your counters overall height by ¾ inches. Usually, you'll need some adjustments to get the appropriate height.
Finally, the 1cm option is your best bet if you're looking for a cheap alternative. Don't worry; it still brings some aesthetics wherever you apply them. However, this option is inferior to the 3cm and 2cm slabs. Also, there are limited sizes, which might result in seams that are otherwise avoidable.
So, if you're looking for an option, and you're not sure which is best, you might want to opt for the 3cm slab. It's the standard option offering durability and strength.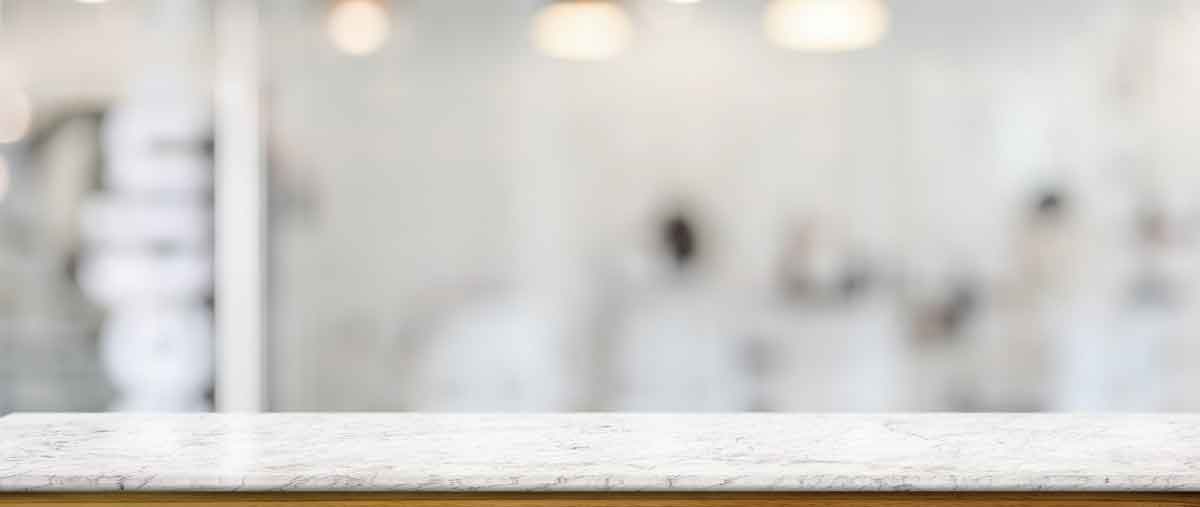 Pros and Cons of Using Quartz Countertops
As with every purchase, you're probably wondering why you should get a quartz countertop. And, of course, the cons that come with getting it. Well, here's what you need to know.
Pros
Getting a quartz countertop comes with various advantages that make them desirable. These advantages include.
Low Maintenance Requirement
One major benefit of quartz is the limited amount of time you need to spend maintaining it. All you'll need to do is clean them daily with a cloth and a non-abrasive scrub.
Bacterial Resistant
You also get to enjoy healthy living with quartz countertops. This is because they are nonporous. And stains, mildew, and mold can't penetrate its surface. In turn, they are more resistant to bacteria.
As such, you can be sure your kitchen has fewer bacteria that can affect your health.
Provides Flexibility
One thing you'll hardly find yourself short of is options when it comes to quartz countertops. They provide a wide range of options that you can take advantage of and fit into your home interior. They do all this while maintaining style and class.
Cons
While you would have loved them to be perfect, they aren't. As such, there are some cons associated with quartz countertops. They include:
They might come off as expensive
They might not be the best option for constant exposure to extreme heat
How Quartz Countertop Edges Come into Play?
Now, another thing you must keep in mind when selecting the appropriate thickness is your edges. And this is because some edges fit best with a certain thickness.
For instance, there's the eased style that's quite popular in homes today. It comes in a straight style. However, it's slightly eased or rounded to avoid creating a sharp point. There's also the ogee, Dupont, half-bullnose, and bullnose style.
Typically, while some of these styles go best with thin edges, others fit better with thicker edges. For instance, it would be best to use the Dupont and ogee style with 2cm countertops. And, as such, they are the best option for your formal bathrooms.
On the other hand, the bullnose works best with 3cm countertops. Hence, they are best suited for your kitchen countertops.
Final Thoughts
I believe you must have had loads of questions about the right quartz countertop thickness at the beginning. However, I'm sure you now know better about selecting the right thickness.
Well, don't let it stop there. Get right to choosing a quartz countertop. This way, you bring beauty and class to your home.
Being one of Boston Top Countertop experts, RSK Marble and Granite is here to help you out.
Call the experts here at  978-447-1001 or by contacting us here.
Related Questions
1. How Thick Should the Island Countertop Be?
According to industry standards, the thickness of an island countertop is 1.25 inches. And this allows the countertop to remain stable and durable without the support of plywood.
2. Is 2cm or 3cm quartz Better?
Typically, this depends on its application. For instance, a countertop of 2cm fits best into vertical applications as it weighs less and might be more susceptible to damage.
3. What Is the Best Thickness for Quartz Countertops?
Usually, three centimeters represents the desired thickness for quartz countertops. This is because it offers size flexibility and durability without requiring additional plywood support.