Quartz countertops come with an allure that has etched it into the heart of most homemakers. From stain resistance to durability and minimum maintenance requirement, it represents one of the top choices.
An icing to its cake is that it can also be colored to appear like other natural stones such as marble. Wondering what its potentials to look like marble are? In this article, we'll introduce you to five quartz countertops that look like marble.
How is Quartz Created?
The first thing you'll most likely hear about quartz is that it's not naturally occurring. Instead, it is the creation of humans in a factory. 
But, have you ever wondered how you can come across such a beautiful creation? Here's something to satisfy your curiosity.
Quartz is created by combining around 10% pigments and resin with generally 90% quartz mineral. Although the exact percentage varies depending on the type of brand, the process is similar.
The adhesive binds the quartz minerals into that beautiful slab you now see.  This is a bit different than natural kitchen marble stone, but it still looks like it at a fraction of the cost.
Why is Quartz Such An Excellent Choice?
Quartz countertop wasn't always a top choice among homemakers because it was not a natural stone. In fact, until recently – the 1960s – it didn't exist.
Since then, it has taken the industry by storm and is now a top engineered stone countertop for homeowners that look like marble. 
This is because of its amazing features and qualities that give it its marble look. They include:
1. Durability
Quartz is a fantastic choice due to its strength. It possesses top resistance to dirt, stains, and scratches. You don't even need to use a sealant with it.
It's also less likely to break or crack. Doubt it?
You shouldn't. It usually comes with a lifetime warranty.
2. Variety
Quartz is a top choice because it affords its buyers with a wide range of options. As variety is the spice of life, it comes in various colors, designs, and patterns. 
You can also personalize it to suit your taste and fit in perfectly to your kitchen or bathroom. Even at this, it comes with a touch of beauty and elegance.
3. Low Maintenance Requirement
Unlike other natural stones, quartz allows you to save valuable time on maintenance. It doesn't require a frequent or comprehensive cleaning routine.
Using a clean cloth, you can regularly wipe its surface, and you're good to go.
4. Hygienic
Quartz countertops are great as it does not accommodate bacteria and other microorganisms that are harmful to the body.
Especially in homes with children, it ensures extra hygiene and prevents illness or sickness.
5. Eco friendly
Beyond all this, quartz is also an eco-friendly choice. Thanks to its major element – quartz minerals – you can be sure that your use does not harm your environment.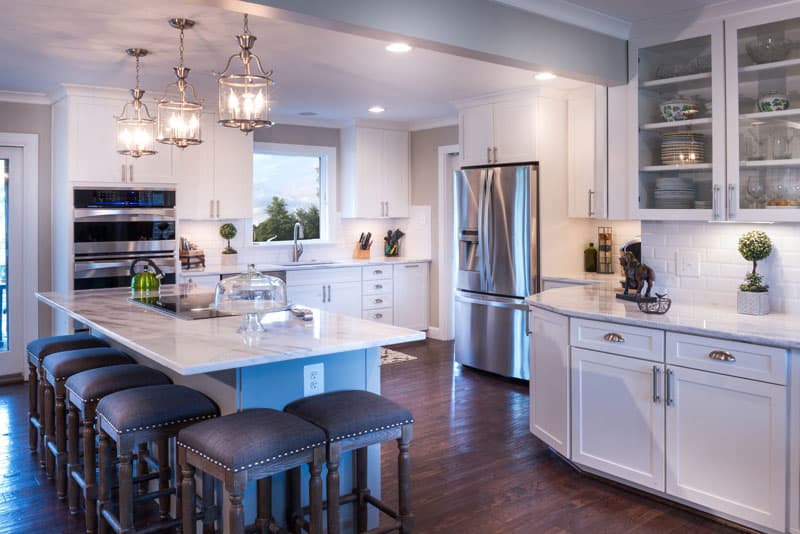 Five Quartz Countertops That Resemble Marble
In case you're attracted by the looks of marble, yet want all the benefits of quartz. Not to worry, quartz allows you to have both. You can effortlessly get a quartz countertop that looks just like a marble.
So, you can get right on to picking, here are five choices that'll get you what you want.
1. Misterio Pental White Quartz
Misterio is from the renowned quartz producer – Pental White Quartz. It has a delicate veining and soft movement throughout its surface that simulates white marble. And it also comes in a variety of sizes and thicknesses.
It is processed through 90 to 93 percent quartz minerals and 7 to 10 percent pigments and polyester resins. And thanks to this, it is less porous and keeps out dirt and liquids.
So, with it, your home continues to look neat.
As an advantage, it provides the beauty and elegance of the marble. And then, it adds the durability of the quartz.
It's also eco-friendly and mostly recyclable. And like every quartz, it avoids the downside of an extreme and time-wasting maintenance requirement.
2. Minuet Quartz 
Minuet is a quartz countertop manufactured by LG Viatera. It takes the appearance of the Carrara marble but guarantees the perks of the quartz. 
It comes with a grey veining that's both subtle and bold. Precisely, it has a perfect mix that ensures you enjoy the sight of your home.
It has a polished finish and is usually 2cm or 3cm thick. Thankfully, it's also not porous, so it doesn't absorb residue of unhygienic substances on your countertop.
Like others, you can also count on its durability and ability to withstand stains. It comes with a 15-year warranty duration.
3. Recoco Quartz
This is another quartz countertop that comes from the producer – LG Viatera. Made in Georgia, quartz minerals and resins constitute it in a ratio of 93 to 7.
It has a delicate veining that floats and swirls effortlessly on the marble-like canvas. It then has a thickness of 3cm, which is non-porous and resistant to germs and bacteria.
It comes with a polished surface and looks just like the Calacatta marble. However, its durable, eco-friendly, and resistant scratch and stain.
You also enjoy a 15-year warranty with Rococo quartz.
4. Cambria's Ella
Cambria is a foremost manufacturer of quartz countertops. It offers a wide range of quartz countertops – 30 – that looks like marble, among which is the Ella. 
Ella has a spatial web – dove-gray surge – that runs through a cloudy backdrop. It's available in two versions – Cambria matte and high gloss.
It has excellent depth, subtle veining, and movement that makes it a fantastic choice. In case you want something that's both classy and subtle, then Ella is the right pick.
Also, like every other quartz, Ella hardly needs polishing or sealing to maintain top condition.
Also, so you can be confident about your choice, Cambria provides a warranty duration of a lifetime. 
5. Cambria Brittanica
Brittanica is one of the many beauties created by Cambria that looks like marble. 
It comes with a creamy background that has peninsulas meander and gray island engraved on it. It adds gloss to the design by embedding it amidst entwined ashen veins dotted with charcoal speckles.
It's similar to the Torquay, although it has a more evident gray veining. It's available in three distinct versions -standard, gold hues, and warm. 
You also get a lifetime warranty when you purchase it. This way, you're sure of its longevity. And if otherwise, you can always get a free replacement.
Like all quartz, it's also resistant to stains and durable. You also don't require an in-depth cleaning routine to ensure it stays in top condition.
Final Thoughts
Quartz countertops provide the beauty of marbles but avoid its disadvantages. Unless you tell your visitors, they'll most likely not even realize it's not marble. 
We have shown you five of the best quartz countertops that look like marble. However, there is still a wide range of options to pick from.
So, based on your preference, choose one and enjoy the best countertop experience.
RSK Marble & Granite is one of the top choices for Boston Quartz countertops.  Our experts will help guide you to help you with your next project.
Please contact us today at 978-447-1001 or by submitting a form here for a quote.