If you're looking to design a new home, one of the things you'll be thinking of is your kitchen countertop. Luckily, a quartz countertop is an attractive option. It's a synthetic stone – made with resins and the quartz mineral – that's used in place of the more natural stones like marble and granite.
However, if you're new to kitchen countertops, you might have trouble picking the perfect quartz countertop. Even with experience, you might still find it challenging to pick. Thankfully, by considering the price, maintenance requirement, aesthetic, and functionality, you can be sure to make the right choice.
In this article, we'll explore quartz kitchen countertop considerations. We'll show why quartz is a choice that will bring you some value to your home. This way, you know what you're getting.
Why Quartz Countertop?
You might be considering picking a kitchen countertop for your new home. Or better still, looking to make an upgrade. And you're wondering why you should choose quartz.
Don't let off because you're in the right direction. You need to consider what you'll be getting in return for money expended.
Here's a few things that should be top of your list when making that decision.
Durability
You need to be sure about how durable quartz countertops are. Here's a guide that will help.
Pros
Quartz countertops are as durable as they come – technically, they last for life. Thanks to its resin component, it's less vulnerable to breaking or cracking than other alternatives like concrete and granite.
It's also resistant to scratches and stains. So, you don't have to think about sealing it for extra protection. Thus, if you're looking to purchase a long-lasting countertop, quartz might be the one for you.
You also get to enjoy an extended warranty – usually lifetime – from its manufacturer. So, in case you encounter any defect or accident sooner than expected, you can sleep soundly knowing you're covered.
Cons
Quartz countertops are vulnerable to heat. Although it's less likely to be affected by a temperature that's not up to 300 degrees, hotter items can damage it.
As such, if you decide to go for it, avoid exposing it to extreme heat. A trivet or mat under hot pans should come in handy.
It's also susceptible to cracks and chips from substantial impact close to its protruding edges. You'll need to watch out for that.
However, generally, quartz comes out tops in durability. If you're looking for a durable option, you might want to stick with quartz.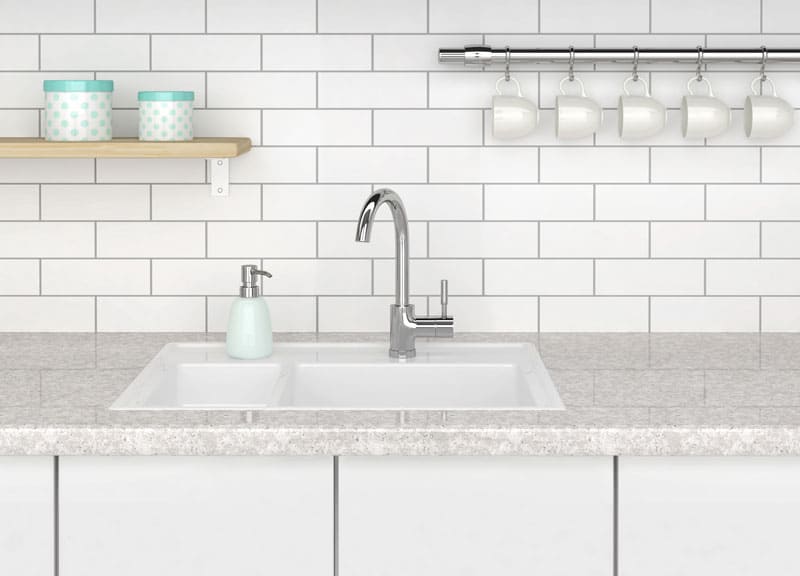 Maintenance requirement
You also need to consider how easy or hard it will be to maintain quartz. Here's what you need to know.
Pros
You don't have to worry so much about maintenance when it comes to quartz. Unlike other stones that require a time-consuming routine, quartz maintains its beauty and shine with minimal maintenance.
All it needs is some form of cleaning with a soft cloth, mild cleanser, and water. As such, if you're a hectic type, then quartz might be the better option.
Also, people with physical challenges fare better with quartz countertops.
Cons
You'll need to avoid some chemicals when cleaning as they can affect the surface of your quartz. Worse, they can destabilize the bond between the resins and quartz and lead to cracking.
So, you'll need to avoid alkaline-based and highly acidic chemical bleach or cleaners.
However, quartz generally requires low maintenance.
Aesthetics
Again, you need to consider how beautiful quartz will make your house. Here's what you should know.
Pros
Quartz is available in various designs and colors. Since it is manufactured, it has a broader range of paint than other naturally-occurring stone. So, whatever pattern or design you need, it's got you covered.
Just in case you're looking for uniformity in the pattern, quartz is still the one for you. Manufacturers ensure its models are perfectly sized and, of course, uniform.
Even more, you can buy a quartz countertop with a sandblasted, embossed, or honed treatment. As such, whatever look you want – matte limestone, glossy granite, or textured slate – you are assured quartz can give it to you.
Cons
Since it is not naturally occurring, quartz lacks the complex variation in veining and pattern of other natural stones. It can also come in slabs, so its seams may be visible just like other natural stones.
Regardless, if an aesthetic appeal is what gets to you, quartz remains an excellent countertop, thanks to its variety.
Health considerations
You need to consider how hygienic the choice is. Here's a rough guide.
Pros
Unlike natural stones with microscopic fractures that encourage the growth of bacteria, quartz possesses more resistance to bacteria.
As such, if you need a health-friendly countertop, you should consider buying quartz. With it, you can get both quality and hygiene in your kitchen.
Apart from being sanitary, quartz countertops are also Eco-friendly. It's made of natural minerals that are fully recyclable. So, if you're looking for a top countertop and still hoping to avoid hurting the environment, quartz comes in handy.
Cons
Quartz isn't exactly invulnerable to bacteria. You'll still need to maintain minimum hygiene to be fully protected.
Other important considerations
Buying a quartz countertop for your kitchen isn't all fun. Apart from being aware of these above considerations, you still need to weigh other things. They include:
1. Budget
You'll need to consider your budget when purchasing a quartz countertop. In fact, this will determine whether you can buy one or not and what type you are buying.
So, identify how much you're willing to let go of to get a quartz countertop. Afterward, you'll need to check out the cost of installation and ensure it fits into your budget.
2. Quality
This will depend on how much money you intend to spend on getting a countertop. Naturally, high-quality quartz countertops are more expensive than those with low quality.
In line with your budget, pick a quality that fits into your needs.
3. Volume
You'll need to ascertain just how much quartz you'll be needing. Measure the surface area where you want to put the quartz to determine this.
However, you might need to call a professional.
4. Functionality
You'll need to consider how your countertops will be used day in and day out. While quartz is an excellent choice for residential kitchens, it's not apt for commercial kitchens with high traffic.
You should also consider the type of sink that you'll be using for your kitchen. For instance, quartz might not be the best option for integrated sinks.
As such, ensure your intended use is suitable for a quartz countertop.
Final Thoughts
Although quartz brings elegance to your kitchen, it's heavier and denser than natural stones. Hence, it has more installation consideration if it's to have proper structural support.
Similarly, it always needs professional installation. So, if you're looking to have a feel of self-installation, quartz might not be the best choice.
So, before buying, ensure you consider all these factors and be sure you're choosing smartly.
RSK Marble & Granite has a huge selection of quartz countertops to choice from.  Our showroom is located in the Boston area.  Please give us a call at 978-447-1001
or fill out our custom quote form to help you get started.