In the past few years, quartz has become the best choice for many chefs and homeowners around the world.
Other popular choices like granite and marble, which used to be the foremost choices, are now being bucked by many homeowners for the man-made countertops material.
A major reason for this is the fact that quartz is an engineered stone. That is, it is not natural like the popular stone materials like marble, granite, and so on. 
It is man-made; manufactured by the quartz making companies who source for quartz. In the production, they mash it, and then combine it with polymers and polyester resins (about 5 to 10 percent) and then mold into countertops.
The major reason quartz has become so popular among professionals and homeowners is because of the many enormous benefits it offers.
Not only is this engineered stone beautiful and elegant, but it is also durable and long-lasting. If properly maintained, it should last long and still retain its bright sheen and colors.
Features of Quartz That Make it Popular
Durability, elegance, non-porosity are some of the major features homeowners look out for in countertops materials.
The fact that quartz possesses these qualities has been the major reason it has remained in the spotlight as one of the best alternatives to natural stone countertops materials.
1.| Style and Elegance
One of those amazing features is elegance. Homeowners always want a kitchen countertop that adds color and elegance to their kitchen design.
This is why their choice has always been quartz. The glassy and seamless appearance makes it more aesthetically appealing than other countertops material.
Since quartz is an engineered countertops material, it is easy for manufacturers to remove patterns that may have a negative touch on beauty.
They can also make personalized designs, depending on the buyers' requests, to add to the beauty and brighten the colorations.
No matter the style and design of your kitchen, the quartz countertops you install will always shine through and also elevate the elegant atmosphere that you may have been established in your kitchen already before installation.
2.| Variety
In addition to the elegance that quartz countertops deliver, they also offer a variety of beautiful colors and patterns you can choose from.
In the process of manufacturing quartz countertops, pigments are usually added. This allows homeowners to choose from a range of colors and patterns.
Unlike natural stones with limited color varieties and patterns, quartz countertops can well be designed to have more personalized patterns to properly blend into your kitchen style and design.
3.| Non-porosity
Unlike natural stones, quartz countertops are not overly porous. They are made with resins that don't give much space in the texture of the countertops for bacteria, dirt, liquids, and so on to live and grow. 
Quartz, also, doesn't require sealants. Since they are resistant to dirt and liquids, they can last a homeowner for years, depending on how regular the maintenance and cleaning tasks are conducted on its surface.
4.| Durability
When you think of the features of the most suitable countertops material you can get for your kitchen, durability tops the list. Interestingly, quartz checks this feature.
This material is very durable. It is highly resistant to scratches and every sharp impact. 
People love a kitchen countertop that's heat resistant. This may be another reason for its current fame amongst builders and homeowners.
It can withstand relatively high temperatures.
Users are, however, strictly advised to completely avoid placing hot objects directly on its surface. Instead of just placing a hot pot or pan on your countertops, you can use trivets.
Users are also advised to completely avoid using toxic and acidic cleaning agents that can cause the surface to lose their smoothness and elegance over time.
But if you are looking to invest your money for good, quartz is the best material to go for. It stands the test of time and doesn't wear or break as a result of long use.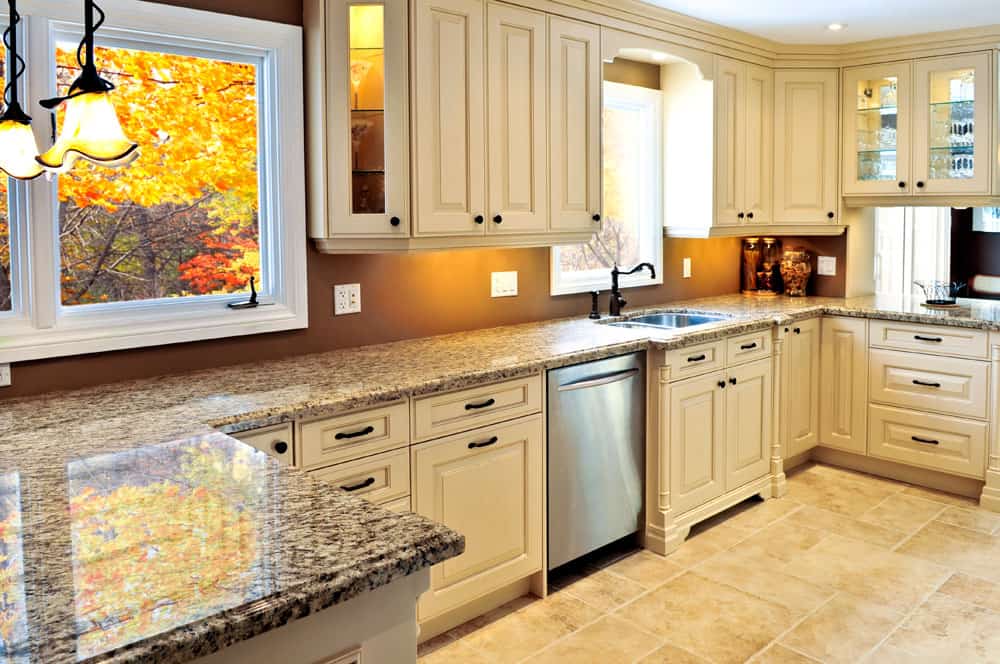 5.| Affordability
Unlike marble and granite countertops, you can install quartz in your kitchen and still have enough money in the pocket.
Quartz is not only affordable, in comparison with these natural stone materials, it is also worth its weight in gold. It offers a range of amazing benefits that people would always love to have in their homes.
6.| Low Maintenance
One of the things people complain about is the high maintenance rates of some stone kitchen countertops materials. Granite, marble, and other materials usually require energy-consuming cleaning routines every now and then.
However, with quartz, maintenance is at a low rate or cost. It doesn't even require tedious cleaning and maintenance. A simple wipe will do the magic of keeping the surface of your countertops clean and sparkling every time.
People who are physically challenged will find the quartz countertops the best fit for them too.
7.| Sustainable and Eco-friendly
Many people don't know this, but quartz countertops are eco-friendly too. Quartz is chiefly made up of natural materials that can be easily recycled to avoid harming the environment.
This sustainability that quartz offers is also another reason it has become really popular amongst homeowners.
8.| Environmentally Safe
If you're thinking of something safe and hygienic for you and your family, quartz is the best option you can go for.
Quartz countertops do not retain bacteria or other microorganisms that can negatively affect the body. They don't stain or chip easily.
You don't only get to have a beautiful countertop installed in your kitchen, but also one that's non-toxic and completely safe for your children too.
9
.|
Value
Quartz will also give you additional profit on your investment. People have a special interest in quartz and would be happy to pay more for it when you decide to resell your property.
Final Thoughts
There are certain kitchen countertops features most homeowners usually consider before they go ahead to make their orders.
Many of these features are present in quartz too. These are the main factors responsible for the popularity that it has gained over the years.  
Let the experts at RSK Granite & Marble help guide to the perfect quartz countertop.  Call us today at 978-447-1001 or fill out out online quote form here