I've always found granite countertops attractive. And this is thanks to the wide variety of unique options that it brings.
One variety that continues to attract buzz is the River White granite. And why wouldn't it? It's a beautiful sight to behold. 
So, are you looking for a new and beautiful variety? Or are you wondering what all the buzz is about?
In this article, I'll tell you all about the River White granite.
What Is River White Granite?
This granite variety is a stunning and beautiful stone that you'll find only in India. That doesn't mean you can't get it in your home in America. However, it originates solely from a region within India.
It comes with a white background that enjoys linear veins. These slabs are large and can fit into a wide variety of applications in your kitchen.
In-Depth Description of the Color of River White Granite
You shouldn't be shocked by the color of this option. Well, this is because, just like its name, it's white.
However, what you're concerned about is just how white the River White granite is. Well, it comes in a clean, crispy white color that's also the stone's bedrock.
Light gray lines then beautify it. These lines are hardly darker than the color of smoke in the air. They are also thin and infrequent, providing a soft look to this granite.
Still, it doesn't end there. It comes with dark red deposits (minerals) that provide even more beauty. It covers a wide area of almost all River White slabs. 
It can then take various colors ranging from dark red to burgundy.
You should know that these mineral deposits may either come in clusters or spaciously. Typically, these red deposits can take up as much as 7 percent of the overall surface. And each deposit hardly comes beyond 4cm in diameter, although on an average of 1 to 2cm.
Still, regardless of how it comes, it brings so much beauty.
What Cabinets Work Well with River White Granite
Fitting a River White granite into your kitchen shouldn't be a problem. And this is because it goes with most cabinets as long as it allows its stunning red spots to stay visible.
However, a River White granite will combine well with a white cabinet. This is because it will provide an excellent surface for the red spots to emerge and become more visible. Believe me, it brings a particular magnificent look that you'll need to see yourself.
Also, getting a black cabinet for use with your River White granite isn't a bad idea. This is because dark also provides a simple look. And thanks to the numerous amounts of red spots on your granite, it'll still pop.
So, yes, black works like magic. You can also count on the deposit of dark burgundy on your River White granite to complement your black cabinet.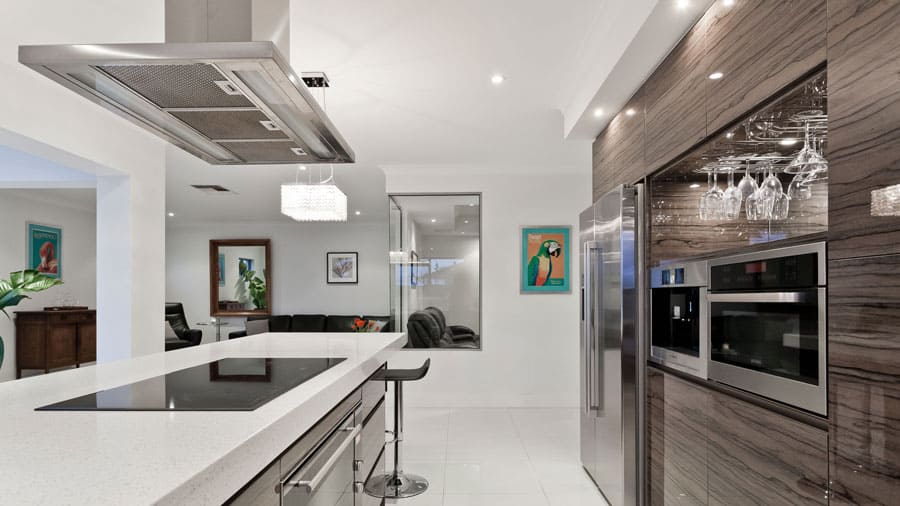 Pros and Cons of River White Granite
So, yes, when it comes to beauty, the River White granite is quite a pick. You'll find yourself wowing over and over again.
Still, you'll need to have more in mind when making a choice. So, here are the pros and cons that come with the River White granite.
Pros
Stunning Beauty
I cannot overemphasize this. When you go for River White granite, you're sure to get a beautiful kitchen. Thanks to its red mineral deposits and refined look, it leaves you stunned each time.
Bright & Spacious Atmosphere
One thing you'll enjoy is a sophisticated white look. And just in case you didn't know, the color white ensures your room looks all bigger and spacious.
The great thing about this is that your kitchen is one place where you don't want to feel cooped up. And with the River White granite, whether your kitchen is small or big, you can feel the joy of a big kitchen.
Great Compatibility
Like we already mentioned, the River White granite will fit into most areas. You only need to remember that it's majorly white, which is neutral.
Even more, you can combine it with stunning effects with other colors. All you'll need to do is look out for its incredible white and red mixture while you pick your cabinet color.
Cost-Effective
For something this beautiful, you might almost believe it's unaffordable. Well, the good news is that you're mistaken. The River White granite is quite affordable.
You'll find it priced within mid-range. As such, you can get a slab of 1.5 inches between $300 and $500. Great right?
Increases the Value of Your Home
You'll find the River White granite a great pick when you try to value your home. Well, the thing is that thanks to its beauty, it's incredibly desirable. As such, people will pay more when your house contains it.
Cons
High Maintenance Requirement
If you decide to go for the River White granite, one thing you must prepare for is its high maintenance requirement.
First, it's white, meaning it's quite susceptible to stains and scratches. And when it happens, it's usually quite visible.
Also, it's porous, meaning stains can easily etch onto it.
As such, with this option, you'll need to spend considerable time monitoring it. And, of course, cleaning it in case of spills.
Hard to Seal
Another problem you'll encounter with the River White granite is troubles while sealing. You will most likely need to seal your River White granite if you have any intention to make it last. After all, it's porous.
However, sealing also comes with troubles as it's quite challenging. You'll need to exercise care and caution.
Final Thoughts
Choosing granite for your countertop is always a great choice. Well, you can make it even better by selecting the River White granite. It provides a stunning and magnificent look that you'll surely enjoy.
Well, I've provided more insight as you make a pick. So read up, and have fun choosing.
Here at RSK Granite & Marble, we can help you find the best choice for your next home project.  You can reach our expert staff at 978-447-1001 or by contact us here.
Related Questions
Does River White Granite Stain Easily?
Like other white granite, the river white granite isn't immune from stains. It can get stained from heat and liquids and will be even more visible due to its uniform color.
Is There A White Granite That Looks Like Marble?
If you're looking to avoid the troubles of marble but enjoy its beauty, various white granites work perfectly. You'll find the Glacier White granite, Bianco Romano granite, and Casa Blanca granite all looking like the white Carrara marble.
Is White Granite Hard to Maintain?
Yes, it's quite hard to maintain as it's quite porous and requires you to seal it regularly. Even more, it's more challenging to seal this granite compared to other granite.