For a sleek and modern appeal in the houses, homeowners invest in different natural stones. There are a variety of stone countertops options available in the market.
Specifically, granite is one of the most beautiful and versatile natural stones. It comes in various shades and designs.
For people who want a stunning aesthetic and a strong positive vibe in their homes, silver cloud granite is the most favored stone out of various types of granite among designers.
We are going to highlight the pros and cons along with the ideas that work well with silver cloud granite.
What Is Silver Cloud Granite?
Silver cloud granite is also known as Viscount White granite or white ice granite. This natural stone has a smooth grey texture with fine white lines. This popular stone is mainly quarried from India.
It is a versatile stone with greater strength and durability which makes the stone a perfect choice for homeowners.
The detailing on this versatile granite stone is characterized by a wavy texture in grey and white shade that gives a sense of amity.
Technically, the mineral deposits in the stone give a unique light grey shade that resembles an icy bedrock.
Additionally, this natural stone also contains tiny black mineral deposits and quartz crystals. It seems these mineral deposits are peppered over the grey surface of the stone.
Overall, it looks mesmerizing when the stone is placed on the kitchen countertop where the minerals glisten against the natural light and augment the mood.
This remarkable stone has a number of different benefits with some downfalls as well that are discussed comprehensively for the viewers' assistance.
Pros And Cons of Silver Cloud Granite
Pros
Durability
As compared to other natural stones, silver cloud granite is found to be one of the most durable surfaces. It is reliable and does not get etches easily.
This strong granite lasts longer and creates value for money.
Versatility
The color and texture of the stone make it versatile. It can be paired with any home décor or furniture.
You can even match it with both lighter or darker underneath cabinets.
Texture and Sheen
This popular stone does not lose its spark in comparison to various other options like marble or concrete.
You will be amazed by the long-lasting shine of the surface that gives a luxurious appeal.
Scratch and Heat Resistance
Silver cloud granite is heat resistant. You can easily get it installed in contemporary kitchens. It can withstand the extreme temperature generated by the ovens.
Additionally, the stone is also resistant to stains and scratches. The surface of this stone is very easy to clean.
Cons
Resealing Hassle
There is always an issue of seepage for granite stones as the surface is absorbent. You are required to reseal your natural stone countertop every 6 to 12 months.
It becomes a hassle for homeowners to schedule resealing every year.
Porous
Silver cloud granite is porous and is more prone to pigments and stains. The frequent seeping can result in discoloration of the stone thereby tarnishing its entire glamorous look.
Annual resealing would be helpful to avoid streaking issues.
Sensitivity to various chemicals
The surface of this popular stone is extremely sensitive to acidic liquids. Such substances can damage the sheen of the surface and affect sealant.
You are required to avoid using harsh cleaning agents as well.
Heavy
Silver cloud granite is an extremely heavy stone. It becomes difficult to transport the stone.As always, there is a greater risk of damage while installing if you don't know what you are doing.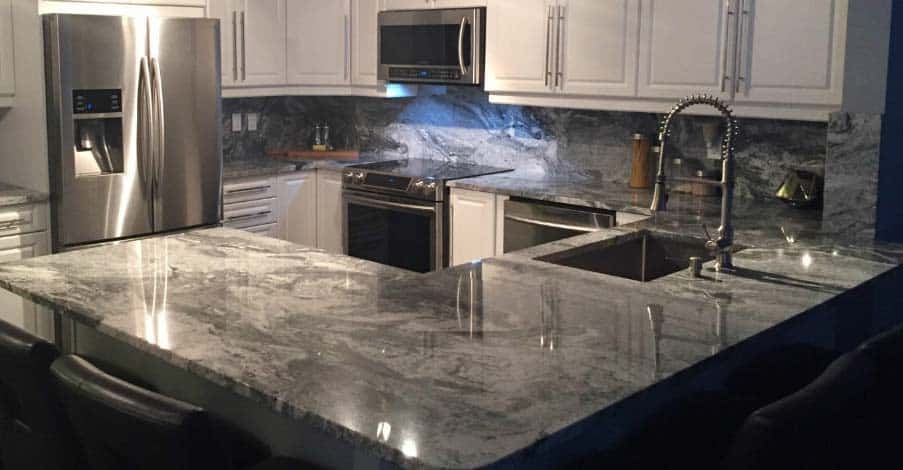 What Does Silver Cloud Granite Work Well With?
As discussed earlier, silver cloud granite is a versatile stone. It blends well with any type of décor or interior design.
Some designing ideas that work well with this remarkable stone include:
Contrasting Dark Cabinets
Although the silver cloud countertop goes with both light and dark shaded cabinets, however, it looks splendid when matched with espresso cabinets or black underneath cabinetry.
The contrasting look gives a luxurious feel. You can even add silver detailing to the dark cabinets to make them look beyond perfect.
Mosaic Backsplash
Silver cloud granite is such an appealing stone. It pairs simply with a wide array of backsplashes.
If your preference is for tiles, it would work exceptionally with tumbled mosaic. Specifically, you can use mosaic tiles with gem-colored accents.
Staircase with Wooden Railing
As well all know, granite has a wide range of applications. In order to get the best out of it, you can install silver cloud granite on the staircase pairing it up with a light shaded wooden railing.
You will be amazed by the entire look of the house.
Final Thoughts
In short, silver cloud granite is a strong, durable, and versatile construction material. This natural stone appeals to homeowners and interior designers particularly due to the subtle grey texture on it.
If you are one of those who prefer this light-shaded stone, please contact our experts at RSK Marble and Granite. We are available on call at 978-447-1000 and even online here.