Many people know of the different disadvantages they can encounter with solid surface materials and would prefer to purchase and install stone countertops like quartz and other man-made countertops in their kitchen.
If you're one of those people, don't worry, we got you covered! In our aim to help you in your decision-making process, we're going to be looking at all the things you need to know about the solid surface and quartz countertops in this article.
There's something interesting about choosing the material you want in your kitchen. The beauty of it all is you get to look through the available options and also gather important information about your choice(s).
In addition to that, you also get to know the pros and cons of all the available choices you can make and select the best suit for you and your kitchen design.
This article will help you all the way and provide you with the necessary information you need before you finally go-ahead to purchase that kitchen countertop you so much desire.
Solid Surface Countertops
Solid surface countertops are a very common type of kitchen countertops that might have become popular as a result of the way they're produced. They're also common because of the similarity they have in appearance with the quartz countertops.
This material is manufactured using mineral dust and acrylics or polyester-based plastics. These are heated until they melt and then molded into kitchen countertops.
They have a thinner build and a more bolstered edge that makes them appear thicker and stronger than quartz.
Solid surface is quite similar to quartz countertops in terms of their patterning and coloration but different, however, with their color variety and often have a dull sheen. 
Solid surface countertops also have fewer patterns and more color varieties you can choose from, which makes them an interesting choice.
One quite interesting feature of solid surface countertops is that they only require low maintenance. They are not porous.
So, cleaning them will be seamless and very easy because they don't store or retain mess and dirt.
With just a simple swipe, you can have the surface of your countertops looking clean and fresh as new again.
Because of the non-porous nature of solid surface countertops, they do not need finishing at all like natural stone materials.
They are also less expensive compared to natural stone countertops. A full installation of this material could cost you between $2100 to $3500.
Solid surface countertops have been proven to be rather susceptible to scratches and cuts. They are not heat resistant and could discolor, crack, and warp when you place hot objects directly on their surface.
This is why the manufacturers of this material usually advise that chefs and homeowners use trivets instead of placing pots and pans over their surface directly.
You can sand the surface for the scratches and cuts that may arise from placing hot objects directly on the countertops to renew the material.
However, it's best to avoid placing any hot material on the surface as this could destroy the good appearance the countertops have as at the time of purchase.
This makes them also lose their sheen and smoothness over time.
Generally, solid surface countertops don't have visible seams and must be molded according to your kitchen specifications and design before installation.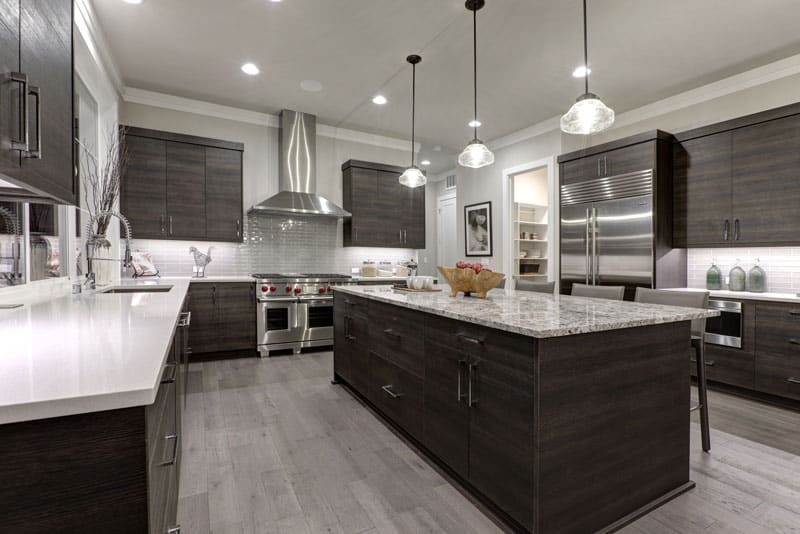 Quartz Countertops
Quartz countertops are also man-made (usually referred to as "engineered stone") but are basically made up of ground quartz. They also contain binding resin and a few recycled materials like marble and glass.
Quartz countertops are very durable. They can withstand intense heat and high as 204°C. Quartz is also resistant to scratch and cuts.
This material is extremely beautiful. It has a smooth appearance with bright patterns and colors that properly blend with any kitchen design and style.
You have the option of choosing from a wide variety of colors as well as unique patterns and designs.
Many homeowners even go as far as combining quartz with other stone materials in their kitchen because it fits well with any color and design you may want in your kitchen.
The seams of quartz countertops are obvious and covered but not annoyingly visible.
One of the disadvantages of natural stone materials is the porous nature they have. But with quartz, you're water-resistance safe.
It is also effortless to maintain your quartz countertops. With clean, dry cloths to wipe and warm soapy water/detergent mixtures to clean the surface, you can keep your countertops looking sparkling fresh all day long.
Depending on the solid texture of your countertops, you mightn't even need sealants to protect the surface as the resins in the material make it extremely difficult for the quartz to store dirt and absorb liquids like natural stones.
However, in terms of cost, quartz countertops are a higher investment. This is as a result of the premium features and brightly attractive colors they deliver to your kitchen design and arrangement.
Why Should I Choose Quartz Countertops Over Solid Surface Countertops?
For someone who has enough money to spend, quartz is a better option than a solid surface. They offer more interesting benefits than solid surface countertops.
Firstly, the solid surface is more susceptible to warping, cracking, and scratching when hot objects are placed on it. They may even lose their smoothness over time if they're not properly taken care of.
However, quartz countertops are more durable. The material is heat-resistant, non-porous, and would last way longer than solid surface countertops if maintained properly.
As mentioned earlier, quartz can withstand intense heat. Also, they don't store up dirt, grime, and liquids.
Secondly, quartz countertops are also easy to maintain too. They're natural and would be able to deliver you that rustic atmosphere that you desire in your kitchen. The different colors and patterns quartz come in makes them a suitable addition for every kind of kitchen, whether industrial or home.
Need more information on quartz countertops? Contact an expert at RSK Marble and Granite professional now.  You can reach us at 978-447-1001 or online by click here.