Creating an invigorating feel is what people aim for in their bathrooms. The hygiene along with the overall look make the morning refreshed and energetic. In this regard, stone bathroom countertops are thriving and gaining significant attention from people.
Are you one of those who search for new ideas for bathroom countertops? Do you want a modern yet alluring look for your bathroom? We are here to share some relevant information.
You may go through the article while paying a visit to interior designers. This will be helpful for you in choosing the right thing for your aesthetic bathroom.
What is a Natural Stone Countertop?
Natural stone is made by compression and intense thermal energy. This makes the stone strong, beautiful, and appealing to be used in home remodeling.
Natural stone countertops are perfect for both kitchens and bathrooms. The different designs and colors available make it the right choice as a countertop option for those who prefer a modern appearance.
Natural stones for countertops are available in different types including:
Granite
Granite is an igneous rock that is strong and durable. It is found in different forms and colors. Interior designers find it a perfect choice for bathrooms and kitchens.
Marble
It is a crystalized type of stone produced by intense heat and pressure. Its shiny polish, variant colors, subtle veining. and sweeping lines create a beautiful texture that gives an elegant look.
Soapstone
It is a form of talc that comes in grey and green shades. It has a very soft feel as if you are rubbing a dry soap. Soapstone is found to be a perfect choice for those who want a vintage and classy appearance.
These are some of the more well known natural stones that come in a variety of colors. You can use them in bathroom vanities with no fear of damage that laminate countertops may encounter.
Pros and Cons of Popular Stone Bathroom Countertop Materials
Pros
Natural stone for bathroom countertops are considered one of the most premium and popular countertop materials. It gives a luxurious appeal to the bathrooms & accents any bathroom vanity.
There is a wide variety for you to choose from. It is easier to match the stone with bathroom accessories and vanity cabinets.
Stone bathroom countertops are strong and durable. You do not have to worry about extreme heat or water damaging it.
It is easy for you to clean the stone countertop with soft fabric. It is stain-resistant and easy to maintain.
Cons
It has been observed that the natural stones require regular sealing. Unlike a quartz countertop, you need to plan sealing once a year to enhance the life span of the stone.
You need to be cautious enough while using bathroom cleaners or acids as these materials can end up discoloring the stone. In this way, the overall look will be tarnished.
You are restricted to use specific surface cleaners as suggested by the professionals. Otherwise, you may face difficulty in maintaining the luster and natural shine.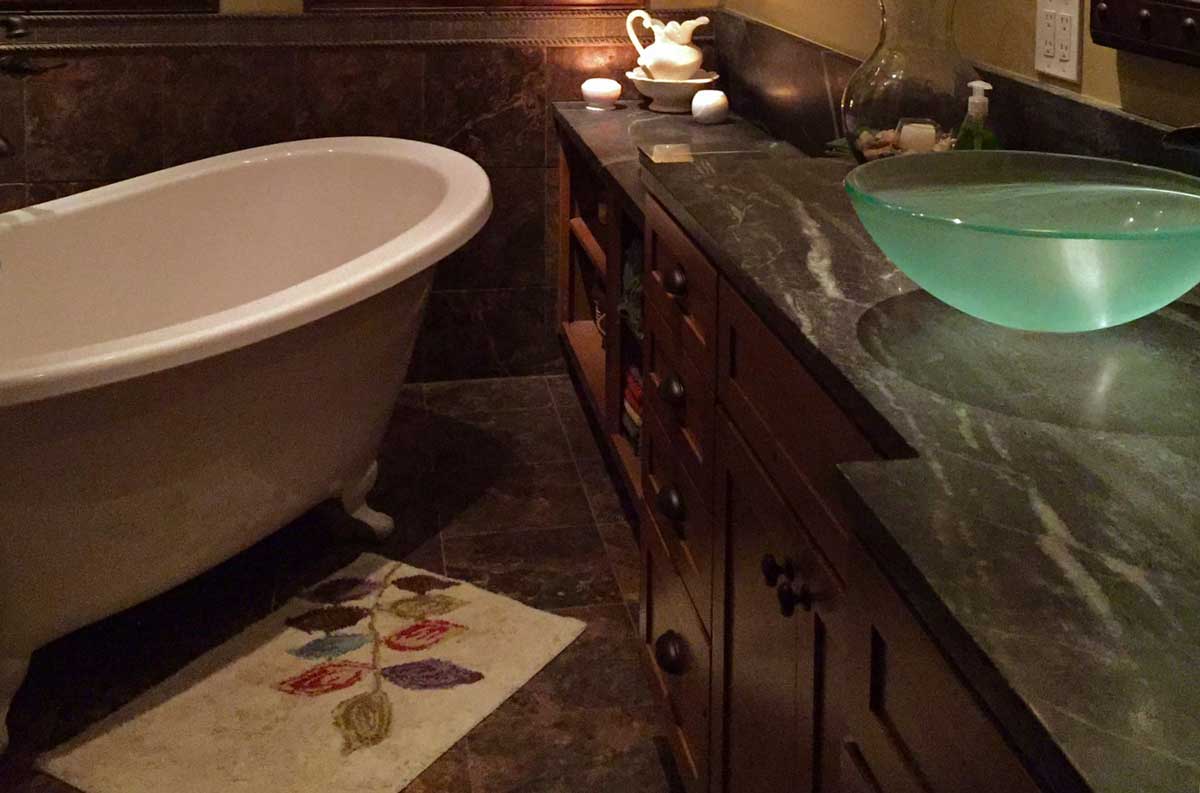 How to Choose a Natural Stone Surface for Your Bathroom?
A countertop is a substantial part of the house. Choosing the right material for counter surfaces is a crucial decision. It can impact both, the practical function and the aesthetics.
A well-known natural stone of your choice for the bathroom surfaces will enhance your mood and the look of the entire area.
There are some essential features that need to be considered while investing in a natural stone surface for your bathroom.
Above all, you should have a clear picture of the design or the look you want to have in the bathroom. You can choose the material based on your preference. Some important aspects are:
Beauty
The beauty of the natural stones adds value to the investment. The Intrinsic pattern and variant colors create an array of exquisiteness. If this is your main preference, you can opt for marble.
Durability
Since bathroom vanities need to be robust and durable, a granite countertop seems the right choice. The flecked appearance and toughness make it the most suitable choice for those who seek durability in the long run.
Resistance
Natural stone surfaces need to be heat and weather-resistant. In this regard, marble surfaces in the bathrooms are more suitable as compared to other stones. You need to make the decision very carefully.
Maintenance
Every stone demand continuous maintenance. You cannot simply neglect the regular cleaning after installation. However, granite is found to be the stone that requires high maintenance.
Brightness
There are people who prefer brightness in the bathrooms. If you are one of those, granite and soapstone are the right material. You will be amazed by the aesthetic they create in the bathroom.
Why Quartz is Our Preferred Stone for Your Bathroom?
Quartz is an engineered stone and not necessarily a natural stone.  It is comprised of quartz and other polymers which is what gives it edge.  It ability to retain a shine and not have to be constantly maintained.
When thinking about the countertops for bathrooms and kitchens, homeowners usually think of granite. However, Quartz is stealing the market for the last decade.
This is due to its long-lasting and durable nature as compared to other natural stones. There are various benefits of Quartz that make it a preferred stone for your bathroom.
It can be engineered in an array of colors. You get the opportunity to match the surface with the aesthetic of the bathroom accessories and vanity design.
It is a versatile stone. The texture gets blended with any design and shade. Overall, it gives a uniform feel and looks.
This is stronger than any other stone. You can easily place any metal-bottomed item with no fear of damage.
Quartz is the most preferred stone for the bathroom as it is resistant to chips, scratches, and stains.
The maintenance of this stone is comparatively easy. It does not require wax coating or sealant. Moreover, you can easily clean the surface with soft fabric.
Final Thoughts
If you want to have a bathroom with a uniform and modern look, a natural stone countertop is the best option. Such stones come in various types and shades that easily blend with different bathroom accessories and vanity designs.
You would not regret the decision of investing in the right natural stone bathroom countertop.
For more professional help, you can contact Boston's Countertop. Get in touch with the bathroom countertop experts at 978-447-1001.
Related Questions
What is Highly polished Marble?
Highly polished marble gives a bathroom an instant air of elegance.
What Can You Do About Stone Stains?
The good news, though, is that you can take preventative measures; staining need not be a problem if the stone is treated with a penetrating silicone sealer that is maintained regularly.
What stone is best for bathroom countertops?
As a homeowner, you may want to choose natural stone countertop material for your next bathroom project. Keep in mind that it requires a lot of maintenance and is susceptible to potential damage from water.
It doesn't mean you have to give up the beautiful patterns and colors of an elegant stone. With cultured stone materials like a Quartz countertop, you'll get the same lovely appearance without any of the work or potential damage!
If you're not sure about the durability of cultured stone, keep in mind that it's been used to line the canals and waterfalls at the Bellagio in Las Vegas since 1998. Your bathroom remodeling project isn't complete without this addition.