Granite is an elegant and one of the most sophisticated materials for your countertops either in the kitchen or bathroom.
The strength, beauty, and resilience of this natural stone persuade the homeowners to get it installed in their houses.
The stone surface in the kitchen specifically needs to be impervious and strong in order to withstand heat and food spillage.
People fret about cleaning and maintenance of their granite countertops. Thereby, for your assistance, we are going to highlight the rights and wrongs of cleaning stones while avoiding liquids like vinegar.
Using Vinegar to Clean
It's not a new fad to clean surfaces with vinegar. It is an ancient way of removing greasy surfaces.
There are plenty of cleaning hacks available by using vinegar. It has a magical cleaning power and eventually gives a shine to the surface.
Vinegar is said to be a great and very effective tool for removing tough stains and unbearable odor.
It is worth noting that the acidic property in vinegar makes it a powerful cleaning liquid. The acidity in the vinegar can even dissolve the sticky residue.
However, it is equally important to understand the suitability of this cleaning agent for various surfaces.
Just because it is a fanatic cleaning tool does not mean you spread it all over the house. The acidity in vinegar can actually damage various areas including wooden furniture and natural stones.
You need to develop a greater understanding of the places where it is strictly prohibited to use vinegar to avoid damage.
The Danger of Using Vinegar on Your Granite Countertops
It is not recommended to use vinegar on granite surfaces for cleaning. Granite is a naturally strong stone. It is perfect to be used in both residential and commercial areas.
The stone is resistant to heat and can withstand high temperatures however, it has its kryptonite with acid.
Vinegar along with other acidic substances are strictly prohibited to be used on natural stone countertops.
Whenever a granite surface is exposed to vinegar or acidic cleaner, etching starts happening making the entire surface dull and damaged.
Basically, the stone starts corrosion and at the end, the surface loses its sheen and natural beauty. Vinegar can also damage the sealant on granite.
The corroded surface of the granite stone leaves a dull mark that looks very dreadful and rough. You would definitely not like a rough and smeared surface in your home after investing a lot in remodeling.
This is the reason there are some specific stain removal granite products recommended by the professions that are safe for these natural stones.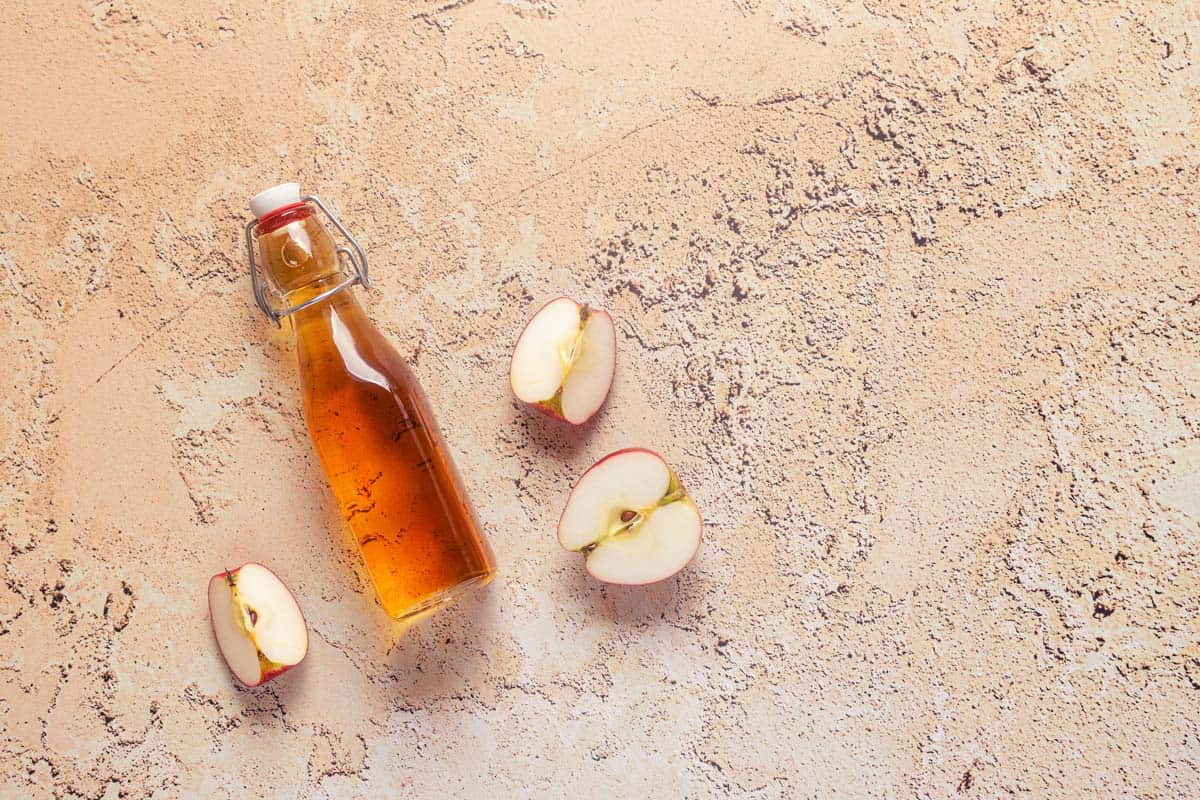 Safer Ways to Clean Your Granite Countertops
Cleaning your granite kitchen countertops is easy. The smooth granite surface easily leaves the stains with a damp cloth.
It is recommended to clean granite countertops on a daily basis so that there is no room for the stains to get permanent.
You can simply use soft cotton fabric or microfiber cloth with warm water and a few drops of dish soap or soapy water. Clean the food residue or any debris right away daily.
Additionally, there are some recommended slab cleaners that are not harsh on the granite slab and are suggested by professionals.
Spray any of those cleaning agents directly onto the stab and rub the rubble. The eye-catching, irresistible shine on the surface after that will amaze you. Yes, it's that simple.
You only have to avoid using harsh acidic liquids like bleach or vinegar and other cleaners on granite countertops.
How to Remove Vinegar Stains from Granite Countertops
Vinegar on a granite countertop can bring long-lasting damage if it is not treated immediately.
Following is a step-by-step guide to removing vinegar stains from granite countertops.
Step 1
Blot away any residues of the vinegar that linger on the granite surface. Make sure you do it right after the vinegar is spilled.
Step 2
Spread a little amount of baking soda directly on the surface of the granite.
Step 3
Wipe away the baking soda gently by using a soft cleaning cloth. Please avoid scrubbing it too hard as you will end up damaging the surface.
Step 4
Rinse the slab with normal water using a soft towel. You are suggested to use water only for rinsing. It will help in neutralizing the pH of the vinegar and will prevent further damage.
Step 5
Gently clean the surface to remove any remaining baking soda.
Please note that baking soda is a slightly abrasive substance. It is also a disinfectant thereby carefully clean, all the residues of baking soda to ensure nothing is left on the surface that can scratch it.
Final Thoughts
Concisely, vinegar is a powerful cleaning agent but, it is not at all suitable for granite countertops. Vinegar on granite can corrode the surface.
You can clean the granite slabs simply with a damp cloth and a dish soap. In case you find any vinegar stains, follow the aforementioned guide.
Or you can also contact our experts at RSK Marble and Granite at 978-447-1000. We are also available online for a quick quote or questions here about your next countertop project.