Are you in a quest to remodel your house? Are you looking for the best options that can give a sophisticated look to your home?
You have a lot to decide and a lot of work ahead of you.
There are so many options such as granite and quartz for modern kitchen countertops and bathroom vanities.
However, the question is what's more expensive granite or quartz? Other than the cost estimation, it is equally important to understand the difference between both along with their pros and cons.
This would be helpful in making the right choice for home remodeling.
Differences In Costs Between Granite & Quartz
Granite is found to be the most popular stone for the countertops. If you are looking for an aesthetic look, this stone is a perfect choice. The costs have a pretty broad range depending on the particular one you want.
However, this estimation depends on a number of different factors such as the type of granite (as they are available in different types), the quantity of the stone, modified cutouts, or the specific shade. The cost of the granite is different for alternate colors.
You can choose any color in combination with the furniture or décor items.
In contrast, Quartz is no less than granite. It gives a gorgeous appearance to the entire house. Quartz doesn't necessarily cost more than granite. It just depends on what manufacturer of quartz you choose.  Give us a call and let us show how affordable quartz options can be.
Nevertheless, similar to the granite, the price estimation is dependent on varying factors including mosaic, color combination, quantity, and different cutouts. But before making a buying decision, you need to focus on the distinct features of both the stones rather than price assessment solely.
Both the stones have different properties that make them unique and worth investing in.
How Is Granite Different From Quartz?
Choosing the right stone for the countertops is a difficult task. You need to understand different factors of comparison. The difference between granite and quartz is also assessed on different factors including the general appearance and composition, maintenance, and durability.
The general appearance of granite is deliberated by the natural hue of the stone. It is mined from untainted stones quarried mainly from Brazil. Granite comes in different shades making it the right choice for a modern house.
In comparison, the appearance of the quartz is consistent. It also comes in different shades that blend well with home decoration. Quartz is an engineered stone which is manufactured by up to 90% of natural mineral and 10% of polyresin.
Granite is found to be a durable stone as it is heat and shock-resistant. However, it is a porous material that gives room for stains if not managed properly. Quartz is stronger than granite thus more durable. It is not porous in nature thereby, it is nearly indestructible.
Granite stones should be cleaned with warm soapy water with soft fabric on daily basis. The stone should be resealed once a year to ensure long life.
Whereas, quartz surface does not need resealing. However, it should also be cleaned regularly like a granite cleaning pattern.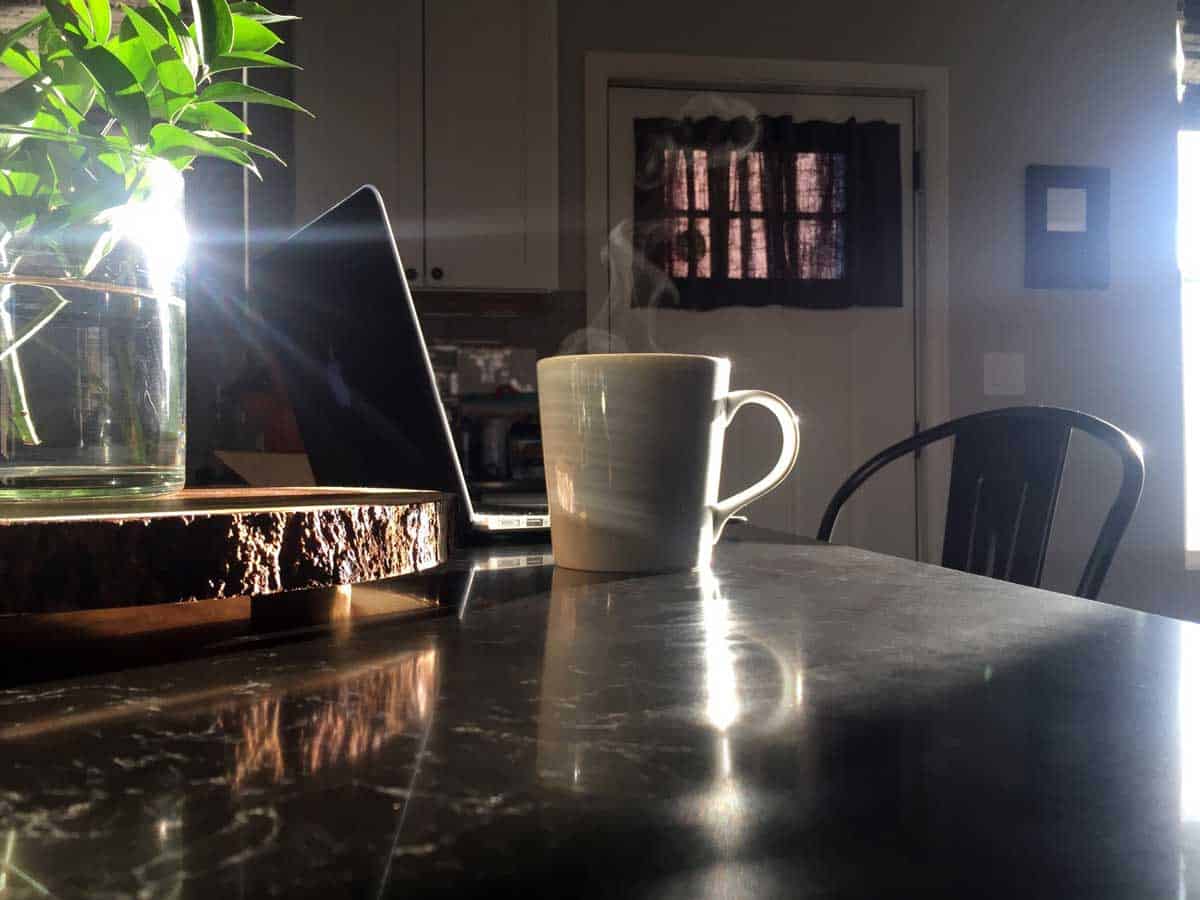 Pros/Cons of Granite Countertops
Pros
There are a wide variety of shades of granite that leverage the homeowners to grab the one that matches with their home decoration and the choice of furniture.
It can be used at different locations and adds beauty to the overall look such as kitchen, bathrooms, living area. For outdoors, it can be used in garage poolside with its unique property of heat and weather resistance.
The maintenance of the stone is easy if it is cleaned regularly with warm water and soft cotton fabric.
It gives a modernized look to the house with its unique background and artistic appearance.
The monochrome effect of the granite enhances the brightness in the living space.
Cons
Granite stones are naturally absorbent. If your granite slab is not sealed properly, it will absorb oil, juices, and other liquids leaving behind stains that would be difficult to remove. Improperly sealed stone gives space to the bacteria. You need to get resealing done once a year to avoid such issues.
Though granite stones are strong and durable, however, if a heavy item is dropped on the corners, it could end up cracking the slab which can tarnish the overall look.
Placing the heavy granite requires extra support to the cabinets or shelves underneath.
Your preferred size of granite countertop would probably need more than one slab and require joining seams that are difficult to cover.
Pros/Cons of Quartz Countertops
Pros
Quartz is comparatively a harder and an engineered stone. Its durability is more trustworthy as compared to the granite countertop.
This is a man-made stone thereby when needed for a large space, you do not get seam issues. The length can be customized to any size with no joints. It is the most abundant stone available.
Quartz is manufactured in a number of different patterns and shades. This gives a chance to opt for the right choice either from the monotone or variant colors.
It is a non-porous, heat, and stain-resistant stone that can stand any temperate in the kitchen or even in outdoor settings.
The maintenance of quartz is quite easy and it does not require resealing, unlike granite countertops.
It is a versatile stone that fits easily in different areas like bars, fireplaces, bathrooms, poolside, and kitchen countertops.
Cons
If you want a budget-friendly home remodeling, quartz is not the right choice for you. Besides the durability and appearance, it is expensive as compared to granite.
Quartz is more difficult to install as it is extremely heavy. The consumers are also suggested ensuring extra support for the underneath area to avoid any potential damage.
Though it is a durable and fascinating stone, however, it cannot match the beauty and texture of natural stone like granite. Nevertheless, beauty lies in the eyes of the beholders, many people prefer granite to quartz when comparing the overall look and appearance.
Although quartz can be used at different indoor and outdoor locations, it is not long-lasting in an outdoor setting. The continuous UV exposure can fade the original color with time.
Final Thoughts
You can get the best countertops based on your preferred factor either price and strength or natural beauty. It has been established that granite is less in price and is more beautiful whereas, quartz is comparatively costly but harder and more durable.
You can make the right choice while considering the budget and the best match to the entire living place.
Keep in touch for more information. You can contact Boston's Countertop for professional assistance. You can reach them at 978-447-1001
Related Questions
What is the best countertop for your money?
The value of your purchase is always in the eyes of the beholder.  You do have many more options when it comes to quartz.
Which is better granite or quartz?
Quartz is better than granite as it is harder and more durable.