In history, one of the best-used variety of countertops is soapstone. Why it qualifies to be on the list of best countertops of the century is because of its very attractive and delicate features. We will help you figure where to buy soapstone countertops and what questiosn to ask.
And that's not all! 
Its creamy and ashy appearance also makes it one of the best fits for every kitchen type and design.
But where would you be able to get the best soapstone countertops you can add to your home's design and arrangement? 
Well, that's just up to you. Getting the best place to purchase your choice presupposes that you've carried out a lot of research to know what you want exactly.
In addition, aside from the really smooth appearance, it shows and the perfect addition it can make to your kitchen, soapstone countertops are also easily maintainable. In fact, they do not need to be sealed or covered for their charming exterior to be perfectly preserved.
As a result of the natural constituents that make up the quarried stone (quite similar to a rock), it doesn't stain or damage easily and can last you years and years, as long as you properly use and maintain them.
And, to whet your appetite, below are some of the things you should know before purchasing soapstone countertops…
The Things You Need to Know Before Buying Soapstone Countertops from Any Supplier?
What Is Soapstone?
Soapstone, also identified as steatite, is a distinct and delicate type of natural stone that has been one of the common materials sculptors and fabricators use in their work for years.
It is not called "soapstone" for nothing. This quarried stone contains talc which gives it a soapy feel on its surface. 
Although relatively, this material is softer than granite and marble, which have higher quartz constituents, it is also hard and thick for fabricating countertops. 
They contain a sufficient amount of quartz that makes them strong enough, and even thicker than marble and granites, which is why they're easier to wipe and clean.
Because of its softness, soapstone can easily be made into an intricate design you may want. 
There are two different types of soapstone countertops, depending on the powder constituents; artistic or high powder, and architectural or low powder. 
The architectural type contains a reduced amount of talc, making them harder and a more appropriate option for countertops. Artistic, on the other hand, has more talc contents that make them softer and easily moldable.
Whichever one you decide to choose, you can rest assured that they would stand the test of time and the work you decide to use them to do in your kitchen.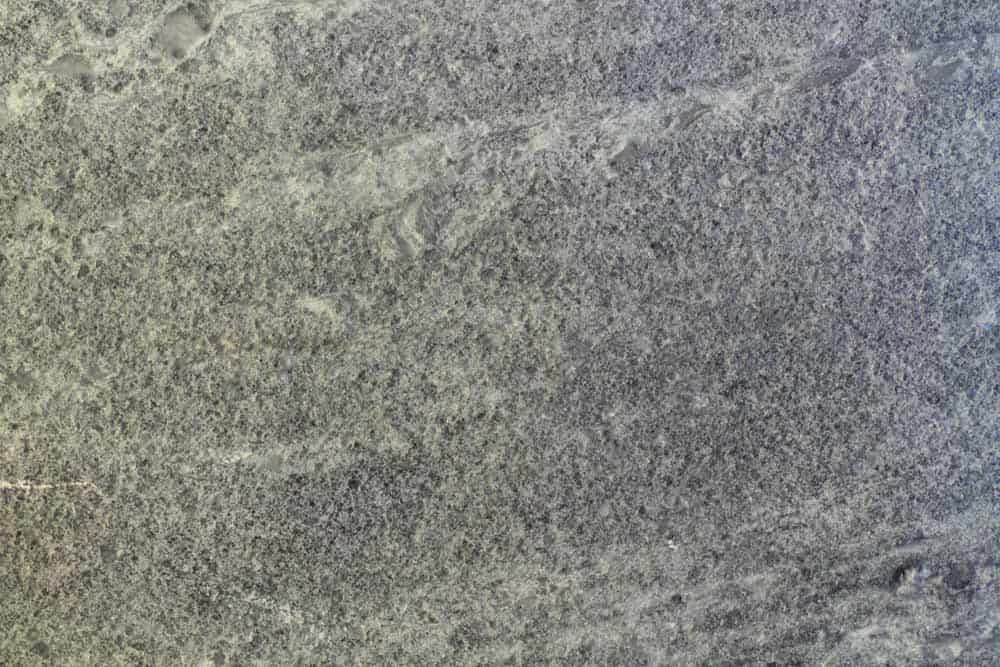 Why Should I Buy Soapstone Countertops?
1 | Fine Features: This particular type of kitchen countertops is really smooth and attractive. Because of the softness, you are free to fabricate into any design that suits you and is perfect for your kitchen. The creamy feel it shows also blends well with any color and would be a perfect fit for any kitchen design and arrangement.
Although, after some time, it may darken, it still retains its beauty and blend.
2 | Stains Less: Soapstone also stain less. They are very easy to clean and maintain. They are also highly dense. This compactness is what doesn't allow bacteria to settle and grow easily as it is with many other porous countertop materials.
The thickness also makes it easy for water not to settle inside it. Though, when water forms on the surface, it'll darken. However, this is only temporary. Once you wipe the water off, your countertop will again regain its blending appearance and charm
3 | Safe: It is also safe. As mentioned before, this material is very thick. No untraceable surface for bacteria to grow. With this particular material, your kitchen is even safer and better for cooking.
4 | Soapstone is also strong unlike other countertop types, . It can withstand acidity. Even if you use acidic products, that contain vinegar or lemon on it for cleaning, it won't get damaged easily.
It also doesn't need any sealant to protect its surface from damage.
5 | Easily maintainable: Soapstone can also be maintained easily. Cleaning is not as stressful as it is with other stone countertops. There's no special cleaning method as such. Just wipe with a soft cloth and you have your countertop back, shining and bright as a new one.
6 | Heat Resistant: it can withstand warmth. This is one major reason it has been the stone countertops choice for chefs in the country.
Cons
What you may find uninteresting about soapstone is their limitation in colors. You can only get a variety of gray shades.

Soapstone can also be molded in small slabs. Long slabs, if molded, can break and crack easily. No soapstone should be longer than about 7 feet. So, you'll need a sizeable amount of slabs to make your countertops if you have a really large kitchen.

Soapstone, with time, builds up patina which, for some, can be quite attractive.  This stone material is not as hard as granite, quartz, and marble, and may scratch and chip faster than other stone types. You are advised to avoid cutting or directly placing sharp and hot objects on its surface if you want to enjoy it for a long time

Soapstone can be expensive and can cost you from 60 to about 150 dollars. Pricing also depends on location and other salient factors.
Final Thoughts
If you're considering purchasing a countertop for your kitchen and would love to install one that stands strong all day, all night, with little or no maintenance at all, soapstone will be the right choice for you.
With soapstone, you don't only have durability, you also have a smooth and bright texture that would keep visitors intrigued in your kitchen designs and arrangements.
But, purchasing one can be difficult. When you think about it, it's not because soapstone is hard to find but because it is really hard to get the best quality; not even when there are different outlets out there, that one is not sure which is genuine and professional.
All thanks to RSK Marble and Granite, it's now even easier for you to get your soapstone countertops fixed and it the right way. 
RSK Marble and Granite is a professional outlet that makes sure clients get the best of countertop services, whether in residential or industrial constructions.
A full-time support service that ensures smooth business transactions with clients is also guaranteed.