Planning to design/renovate your house? There must be a lot of things going on in your mind with respect to designs, colors, materials, and so on.
In recent years, people want both luxury and comfort. They believe in a peaceful house that looks tremendously beautiful yet cozy.
In case you are thinking about the perfect stone option for your countertop, let's get this right out in the open.  The fact that granite is the popular choice among many homeowners.
It has varying shades and colors. The different types of granite allure people to invest in it.
Out of all, the White G granite countertop is in the boom these days. The white-colored slab reflects peace and enlightens mood. Here you will get every detail about White granite.
What Is White G Granite?
Granite is a very popular natural stone. The design element of granite gives a style statement that is loved by many homeowners.
White G granite is a beautiful white stone that is quarried in Brazil. It has a white background containing natural amethyst with light gray and taupe minerals throughout the surface.
The tiny speckles like texture on a plain white base elevate the charm of the stone and make it the perfect choice for kitchen and vanities.
Other than this, White G granite is perfect to be used in both outdoor and indoor settings. Specifically, it is good for window sills, stairs, wall capping, pools and fountains, mosaic, floor and wall, and above all countertops.
It can be processed into tumbled, sandblasted, rock faced, sanded, sawn cut, and polished.
These different designs enhance the beauty of the area where it is installed. More specifically, the stone is a durable option for residential and commercial areas.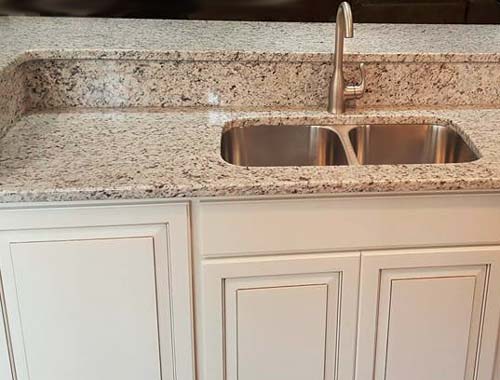 Pros And Cons of White G Granite
Natural stones are durable and versatile and give a luxurious feel to the home. It has numerous benefits along with some drawbacks for homeowners.
Let's highlight the different pros and cons of White G granite.
Pros
Durable & Long Lasting
All granite countertop stones are durable. The feature of the strength of White G granite makes it the right choice for both interior and exterior installation projects.
This beautiful stone gives long-term results for homeowners due to its hardness and strength.
Versatile
White G granite is a versatile stone. It blends well easily with any type of home décor and accessories.
Irrespective of the choices of people for vanities or kitchen, white G granite contributes to the look you want.
Easy to Clean
The cleaning of this natural stone is very easy for homeowners. As a daily cleaning routine, you can wipe the dirt or any residue with wet fabric or normal soapy water.
However, you need to avoid using harsh chemicals that can destroy the surface. Highly acidic liquids and bleach are strictly prohibited to use on the surface.
Cons
Resealing May Be Needed After Time
Granite is a porous surface that allows stains or seepage to reside. For this reason, resealing of the surface becomes essential.
You have to schedule annual resealing for your white G granite in order to avoid seepage issues that destroy the look of the kitchen slab and end up wasting your money.
Stain Appearance
Since white G granite is a light-colored stone, the stains become so visible on the surface.
You would not like even minor finger marks that are so visible on the surface of your kitchen countertop.
You also need to be cautious enough while placing hot pans over the surface as burnt marks would be quite discernible.
Heavy
White G granite is a very heavy stone. It makes the entire installation process very difficult with a greater risk of breakage.
If you are following DIY installation, you need to be very vigilant.  Here at RSK Granite & Marble, we take the load of your back with our installation.
What Does White G Granite Work Well With?
As discussed earlier, white G granite is a versatile stone, it looks splendid wherever you get installed in the house.
Specifically, in outdoor settings like pools and fountains, it gives a luxurious look. White G granite works well with some of the following specifications.
Staircase Surrounds
White G granite works well with wooden staircase surrounds. The stone covering the entire stairs paired with a wooden surround looks fanatic.
It makes the place look more attractive and classier.
Countertops
White color on countertops make the area look bigger and brighter. It works well with both light and dark shaded underneath cabinets.
You can pair it up with an all-white theme as well.
Flooring
White granite flooring in the living area look absolutely stunning. It works well with large windows, light curtains, and a corner seating area.
This is a complete luxurious appearance of the area.
Final Thoughts
White G granite is the best option for both in-house and commercial settings. The strength of the stone appeals to both designers and homeowners.
It has numerous inevitable benefits that grab the attention of the people. If you want to get it installed, feel free to contact Boston's expert stone countertop specialists. You can reach us at 978-447-1001 or online here.