What exactly is quartz?
Homeowners have a wide array of choices between a variety of elegant stone materials. Although each stone material has its own pros and cons, quartz countertops will add style and luxury to your project.  The quartz used to make countertops is not completely a natural material. Quartz countertops are manufactured using a mixture of ground quartz and a small amount of polymer resins.
The end result is an amazingly durable sleek-looking surface with a vast array of styles to choose from..
Why is quartz a good choice for countertops?
Here are a few compelling reasons why Quartz countertops are an excellent option for your kitchen countertops:
1. Quartz Offers Limitless Design Potential
When it comes to your home and its general appearance, you probably have an idea of what you want. The good news is that quartz can be customized to fit your design choices easily.
All natural stones display a radiant beauty unlike other materials, but you are somewhat limited by what's available. That's what makes quartz so unique. Engineered quartz can be customized to meet your own design standards.
You can choose a quartz that looks like a natural slab. You can also choose a solid color.
During the quartz manufacturing process a pigment is often added to the resin. This allows for some slight variability when have an exact color in mind for the surface.  This process allows for a greater number of choices and customization for the quartz material.
2. Quartz is a Low Maintenance Product
Most stone surfaces require some additional maintenance such as sealants to keep up its luster.  Some people don't want to deal with any additional maintenance or upkeep or simply forget to do it when it is required.
Quartz is hard to beat when it comes to a low-maintenance surface though. It is not a porous material and does not require any additional sealing.
For many homeowners, this puts quartz ahead of natural stone. Quartz does require you to use stone-safe cleaning products. However, you don't have to keep up with the sealing maintenance.
The good news about keeping up with quartz countertops is that you can find natural stone cleaners easily.  It's also a good idea to use a granite cleaning pad on this surface. Normal cleaning products most likely won't damage quartz.
It is still recommended to help extend the life of your quartz countertops by using more specific stone cleaning products.
3. Quartz is Surprisingly Durable
Many people think that quartz is not durable when they learn that it is a manufactured material. It may surprise you to learn that quartz is actually harder than granite.
You should still treat this countertop with caution just like you would any other material. Quartz can have some discoloration when exposed to sunlight.  Quartz countertops are also susceptible to damage by excess heat. This means that you should avoid putting your hot pots & pans directly on its surface.
Another benefit of its non-porous nature is that it's easier to keep bacteria free. When you have a porous surface, bacteria can be absorbed into the surface of the countertops.
Quartz does not have this problem so you can be more confident in the cleanliness of your surfaces.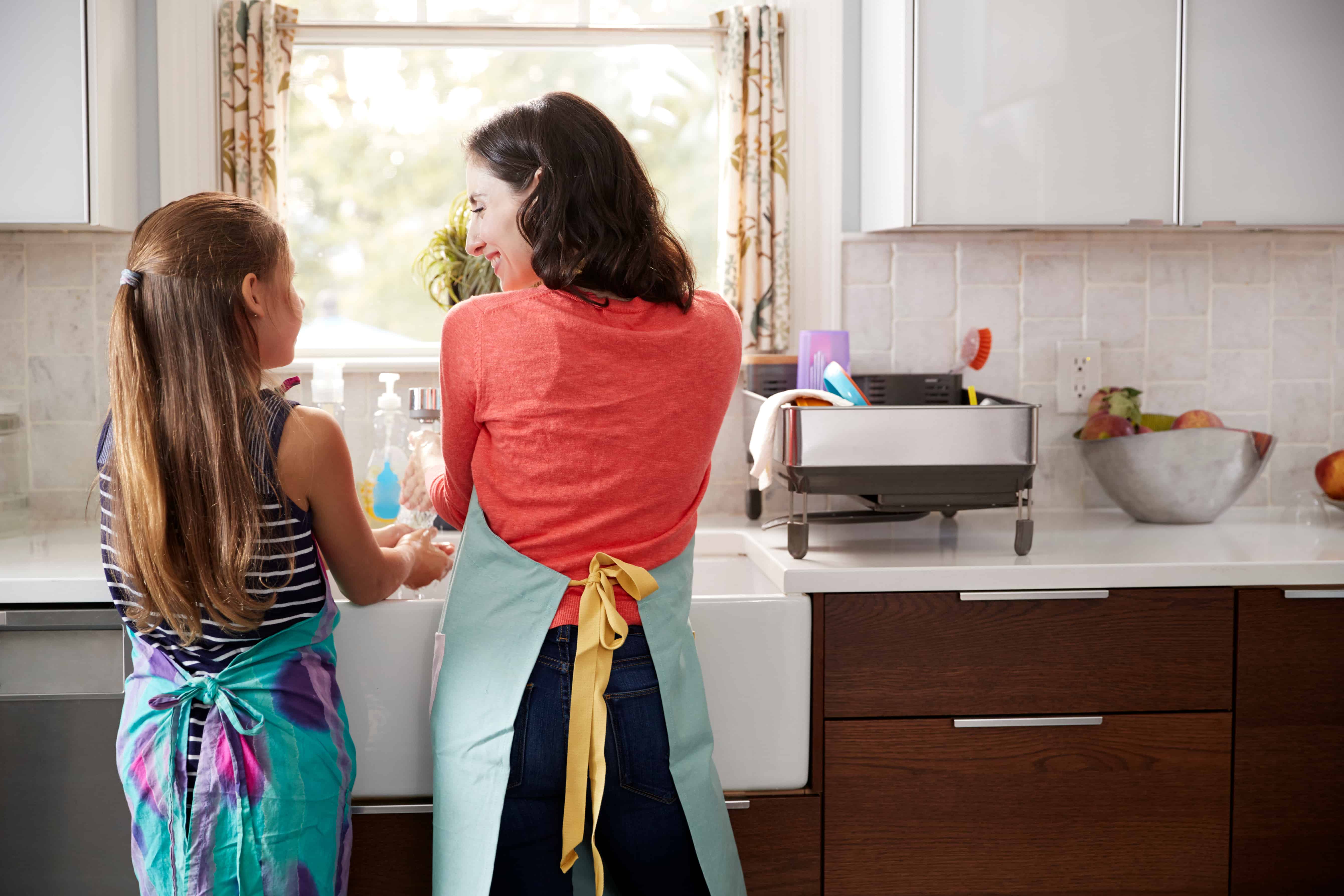 4. Quartz is Environmentally Friendly
Quartz is an environmentally friendly option since it is a natural material. The amount of resources that are needed to bring it to your kitchen are surprisingly low.  You may even want to go the extra mile and use a regionally manufactured quartz stone and local fabricators such a RSK Granite & Marble.
Since quartz is a heavy material, using local manufacturers will decrease the distance that it needs to be transported.
A widely used stone option such as granite has to be quarried which requires a significant amount of energy. Most quality Granite choices are often shipped in from another country.  Quartz is readily available in most areas of the country, thereby requiring fewer resources to bring it to your home.
5. Quartz Can Be an Economical Option
Kitchen countertops are available at a wide range of prices. The best benefit is that quartz is typically one of the least expensive options when it comes to the entire process of bringing it into your home.
Quartz may last longer than other types of natural stone since it is one of the most durable materials.
The cost for quartz is going to vary depending on the quality and the style of edging that you choose. However, if you choose a more simple design, you can save money in the process while still getting a great material.
The only downside for this type of countertop is that quartz is one of the heavier materials you can use for countertops. You will have to use a professional installer to ensure that the space is sound.
You may be able to install other stone material countertops yourself but you should choose a professional to avoid any structural damage to your cabinets.  In some cases, they may need to be reinforced to hold up to the weight of the quartz. However, even with this cost, quartz offers great value over time.
6. Quartz is Great for Homeowners Concerned about Selling
You may not have any immediate plans to move, but most people will sell their home at some point. No one lives in the same place forever.  Whether due to a job change, a growing family, or moving for retirement. You should always consider the sellability of your home when making any changes.
Since you want the value of your home to increase or at least stay consistent with the market, keeping up with improvements that add value is a primary concern for most people.  Quartz is a great choice for anyone who may sell their home since it offers the best chance of recouping your investment.
Kitchens and bathrooms are the equity drivers in a home. People love seeing a beautiful kitchen or bathroom and quartz is the best option for it.  You can install quartz countertops with confidence knowing that they will still look great regardless of when you sell the house.
Final Thoughts in Selecting Quartz
These are some of the many reasons why quartz makes a great choice for countertops. Not only is it a durable material, it's also attractive and won't require much maintenance over time.
When considering how you want your space to look and function, consider what quartz can add to the home when making a decision. This will help you decide whether quartz countertops are the right choice for your space.
Talking to an expert about buying marble countertops can put your mind at ease. Often, experts can bring up the questions and considerations that might have never crossed your mind.
Speaking with a professional like those at RSK Marble & Granite can answer all of your questions and more. Visit them in Wilmington, MA, for all of your marble countertop questions and needs.