So, are you looking for new white granite countertops in the design that best suits your needs, taste, and the remainder of your home decor.
The odds are that, because of their durability, easy maintenance, and appearance, you will make granite the number one choice –the best choice among modern homeowners. 
It is possible, however, that you have haven't decided on the specific type of white granite since this stunning natural stone comes in many structures and designs. 
White granite has now become the best choice for kitchen countertop in recent years. This is no surprise given that white granite has many benefits and appealing features. 
Each one has its unique characteristics and various advantages, so you must carefully explore your choices to make an essential decision for your home decoration.
Benefits of White Granite Countertops
Spacious and Luminous Atmosphere
The clean and technically advanced appearance of white granite makes a room brighter and more prominent. 
It is therefore only reasonable that white granite countertops are suitable for smaller spaces because they offer a more polished and more open feel to the small area. 
The white color gives the room a warm, airy, and inviting atmosphere.
Even though your kitchen is massive enough, the appearance and feel of the environment will expand further with the inclusion of white granite countertops. 
Particularly with darker flooring or cooking cabinets, a stuffy and closed atmosphere may exist in the space unless you add light color tones like white granite countertops.
Stunning Appearance
White granite countertops, which vary from sparkling snow white to translucent or vivid gold, render the kitchen more enchanting and adorable. 
While it is challenging to have "pure" white granite slabs because of its structure, the elegance of white granite resides in the spots and variations which bring comfort to your home decoration. 
Such slight differences and startling similarities make white granite in every home seem so sophisticated and luxurious.
Amazing Compatibility of White Granite Countertops
White granite countertops are very complimentary. White matches almost any color, so it blends into your tastes and preferences, irrespective of if you're searching for sharp contrast (such as white and black). 
White countertops arrive in a large assortment and shades of colors (from snow white to toned down off-white colors), which enable them to operate effectively in all kitchen designs. 
The shade of white granite can easily match the color of their kitchen cabinets, furniture, and floors.
Durability of Granite
Granite is one of the most robust natural stones and makes lasting surfaces that probably are not affected by cutting, scraping, or other everyday kitchen activities. It is solid. 
Additionally, granite is stain-resistant when adequately sealed and absorbs regular wear and tear. 
White granite, however, has a further benefit in contrast with other granite forms–it conceals faults and defects (light colors, mainly when the stone is designed with colorful spots, display less excessive usage than darker colors). 
Also less visible on white granite countertops, are minor surface cracks, water stains, particles, and fingerprints.
Best White Granite Countertops
While there are many choices for countertops, we found these to be some of the best.  Beauty is in the eyes of the beholder, so find your unique white granite.   
Here are some of the more popular white granite stones:
River White Granite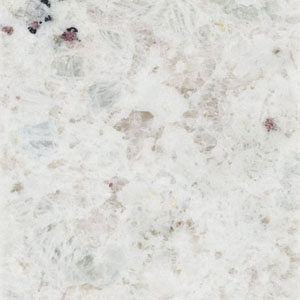 River White granite is dotted with tiny, dark burgundy spots and has low variations of gray and white veining. 
This durable granite countertop has white as its primary color, while its secondary colors are blue, gray, and cream.  Each label of this stunning white granite appears unique in look and original design.
White Ice Granite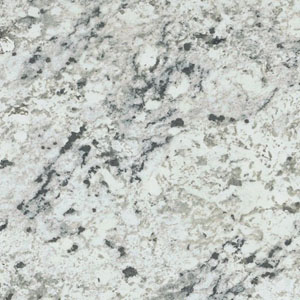 White Ice granite is the most refreshing choice for your bathroom and kitchen countertops, with its snowy glow and dark hues.  
White Ice is exceptionally flexible, yet it still shines inside spaces, thereby representing its stylish appearance. White ice is quarried in Brazil in limited amounts and, therefore, highly desirable.
Dallas White Granite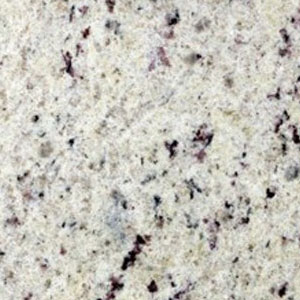 Dallas White Granite is mined in Brazil. This white granite may have some spots of oxidation and some faint veining or dark-light grays, brown, golden cream, or lavender tones clusters. 
It is advisable to seal to prolong its durability because it is a natural stone product. White Dallas Granite and Branco Dallas Granite are other brands in the sector. 
The robust natural stone is perfect for creating complex structures such as granite countertops, bath tops, accent walls, floors, backsplashes, and other decorative features.
Colonial White Granite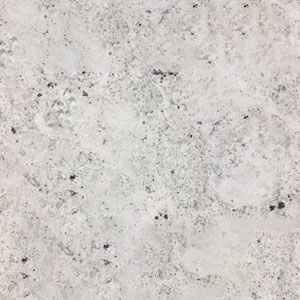 Colonial white granite is typically preferred after Cashmere granite as the most economical choice. With its whitish color, picking the cabinets, ceramics, and also backsplash is easier. 
Compared to highly-priced natural stones, the beauty of this granite does not diminish. You can see that colonial white granite shines differently under different light conditions after installation.  
It would be better to place a few lights under the cabinet in the night. Colonial white granite is widely searched for. It is extracted in a tiny area of India, and minimal amounts. 
The finish on its white base is very soft and sweet. It is notable for being the latest Kashmir White, the most popular Indian granite. It's exquisite and renowned. 
It emerges from India, where it is dug from the fifth layer of granite quarries underneath the soil. The color will be unique with frequent sealing.
The origin of the granite illustrates why its look naturally offers sophisticated beauty and elegance. Including this one, India is renowned for its exotic granites.
Alaska White Granite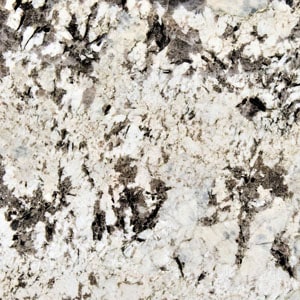 Alaska White granite is an outstanding stone which works perfectly with various color designs and schemes, with its light background coloring and warm shades throughout. 
The flexible stone is perfect indoors or outdoors and is excellent for walls, floors, countertops, etc. While the granite choice is one of the most costly, its versatility, durability, and elegance render it valuable.
Generally, Alaska White granite is typically a light-colored stone with dark minerals running all over. 
Alaska white granite slabs, however, can differ significantly in looks, and some pieces of this granite are far more appealing than others. Alaska White granite's most attractive pieces have a light-filled setting that combines silver and white colors. 
Such slabs have suitable neutral hues, which range from light neutral to dark brown, black, and grey, all evenly distributed in a pleasurable fashion.
Final Thoughts on Selecting a White Granite Countertop
We have many granite samples in our showroom to help you the look you are going for.  White countertops offer a classic look that will complement many materials in your home or office.
If you want to learn more about these types of countertops, try talking to some of the professionals at RSK Marble & Granite.
These experts have been in the countertop business for over 15 years. Located in Wilmington, MA these pros service Boston and most of Massachusetts for all your granite countertop needs.
Frequently Asked Questions
Is White Granite more Expensive?

White granites are more expensive because they are less abundant in nature and more difficult to find.

Where does White Granite come from?

While the majority of white granites are quarried in Brazil, Colonial White joins a small few that come from India.