Home remodeling can be intimidating. It can get more daunting if you have to plan the renovation projects alone.
The best way to get through construction planning is through professional assistance.
This would benefit you in a number of different ways including the essential details of construction materials that are durable and long-lasting.
Let's discuss Viscount White. It is a popular Granite that is quarried from India. If you want to get the best and modern kitchen design, this article covering viscount white granite is a one-stop solution.
What is Viscount White Granite?
Viscount White Granite is a popular stone quarried mainly from Madanapalle in India. It is a mixture of black, gray, and white colors making a beautiful swirl like texture.
This stone gives a creamy soft look that makes it more popular among designers. It is a durable granite and gives a bright look to the house.
It is commonly known by some other names including Silver Cloud Granite, Madanapalli White, Mandana Pali, and so on. This is due to its texture and the region of origin.
While planning to invest in this stone, you need to acknowledge that it varies largely from slab to slab. The differences can be seen in colors and textures.
You are recommended to inquire about the suitability of variant imprints with respect to the area of implantation.
Why Pick Viscount White Granite?
There are a number of different characteristics that make the Viscount White a beautiful Granite option. It is popular among designers and homeowners.
You will be amazed by its distinct properties that persuade people to pick White Granite counters.
Let us highlight the unique properties of this stone for white granite buyers.
Strength and hardness
Viscount White Granite is a hard stone with a score of 7 on the Mohs hardness scale.
This indicates that this stone is the perfect choice for people who prefer one-time investment for the long term.
Heat Resistant
The most powerful property of this stone is its heat resistant nature. This makes it suitable for both indoor and outdoor kitchen settings.
Specifically, it is to be noted that it can withstand extreme climatic extremities. You can get both resilience and beauty by investing in Viscount Granite.
Versatile
Due to its color and creamy texture, Viscount white easily bends with different home accessories and furniture.
Thereby, you can easily install it in any place of your choice including the kitchen counters, bathroom, and living area.
Durable
It has the least water absorption property that enhances its durability.
If it is sealed properly, you will not have to worry about water leakage or any other damage.
However, you need to be cautious enough while using cleaning agents. Acids can destroy the color and texture of the stone.
You can clean the surface with a damp cloth using regular household cleaners.
Economic
It has been observed that Viscount White Granite is an economical option for home remodeling as compared to other stones and marbles.
It is a complete package with beauty and price feasibility that gives long-term results.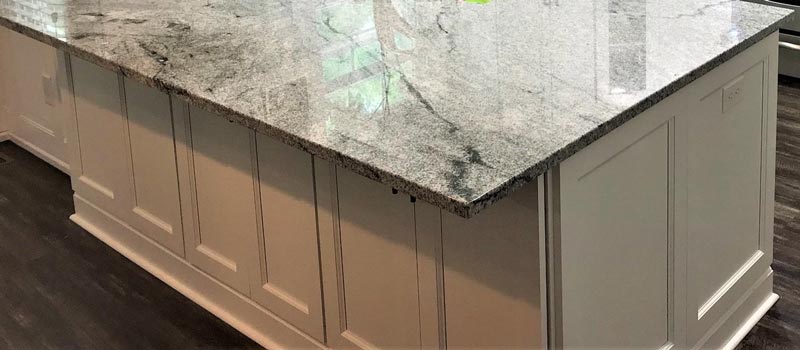 Viscount White Granite Project Inspiration Guide
This natural stone is perfect for a wide variety of design applications. The unique color, texture, and durability make it attractive to be installed in different places.
While moving forward with home renovation projects, this guide will benefit you in getting the modern and classy look to the house.
Kitchen Countertops
Viscount White Granite is found to be a perfect choice for kitchen tops.
Its heat resistance and anti-stain properties are the most desirable aspects. Specifically, women of the house are very satisfied with the strength and maintenance of this stone.
Fireplace Surrounds
This versatile stone is remarkably the best-suited option for fireplace surroundings.
It is a hard material with a greater ability to withstand extreme heat. Above all, it gives a beautiful and classy appearance to the fireplace area.

Bathroom Vanities
Viscount White Granite is incredibly durable and can resist scratching and chipping. It looks perfect on vanity top
Moreover, it is easy to clean and maintain the luscious of the stone. Thereby, it is a viable option for bathroom vanity tops.
Backsplashes
Granite countertop with matching viscount backsplash is a great way to go.
If you want to have a fresh and shiny look for your kitchen, Viscount White Granite is a reliable way that will never go out of style.
Final Thoughts
There are wide variety of granite designs and granite colors. Out of all, Viscount White Granite is a hard and durable stone. It is a one-time investment for homeowners.
Invest in this stone to get a perfect white kitchen or vanity and stand out among others. This will create a luxurious look for the house.
If you are in need of any professional assistance, Boston's Countertop experts will guide you in the best way.
You can contact our experts at 978-447-1001.
Related Questions
Is there white granite that looks like marble?
Glacier White Granite has an appearance that resembles marble.
What is the most popular white granite?
Alaska White Granite is the most popular stone. It comes with white background along with black, gray, and brown specks.