Granite countertops are both sturdy and beautiful which is why granite is such a popular choice for homeowners.  You really need to know how to care for granite countertops to prolong your investment.
Granite care is quite different from other countertop materials because granite is a natural stone that can be stained and deface with time. 
To preserve the dramatic look of granite at its best and brightest, some maintenance is needed.
Relax — it's not going to take long and you're going to be a pro at granite countertop maintenance.
RSK Marble & Granite has experts who can always answer your question the best way, help fix your countertop any time.
Daily Granite Countertop Cleaning
To clean the countertop regularly, use a lint-free cloth or paper towel and a specially formulated granite cleaning product, and dry the surface with a clean cloth or paper towel. 
Do not use local abrasive cleaners that may weaken the granite protective sealant.
Weekly Cleaning of your Countertop
Remove (or move away) all objects on the counter and use the granite cleaner to clean all the dust and debris accumulated between gadgets, containers, etc. on the entire surface, including the edges. 
This also causes the stone to be refined and helps maintain its overall luster.
Periodically (weekly or monthly as you like) a temporary granite polish can be used to improve the perfect shine of natural stone or granite care.
Various stone care products call themselves "polishes," but they have completely different purposes. A cosmetic polish can improve the look a little but will not fix the problem. And since it is not meant to be everlasting, it will fade out with daily use and washing.
Yearly Granite Cleaning
Sealing is a routine granite care task that cannot be neglected. There's a simple test you can do to figure out if you need to seal the countertops again. 
Sprinkle a little water on top of the countertop surface and see if the water settles and flows freely on the countertop in little bead-like forms. 
Re-seal the countertop if the water is no longer beading up on the surface. Make sure to run this experiment on the places that are most likely to be used.
Spillages
In the kitchen, there may be a daily occurrence of spills on the countertop, and the faster you clean them up, the less potential damage to your counters. 
Blot the spill with a soft towel or paper towel as soon as possible, then wash the spot/area with a quality granite cleaner and hard-dry with a clean towel. 
Always remember it's blotting, not wiping since wiping will disperse the leak.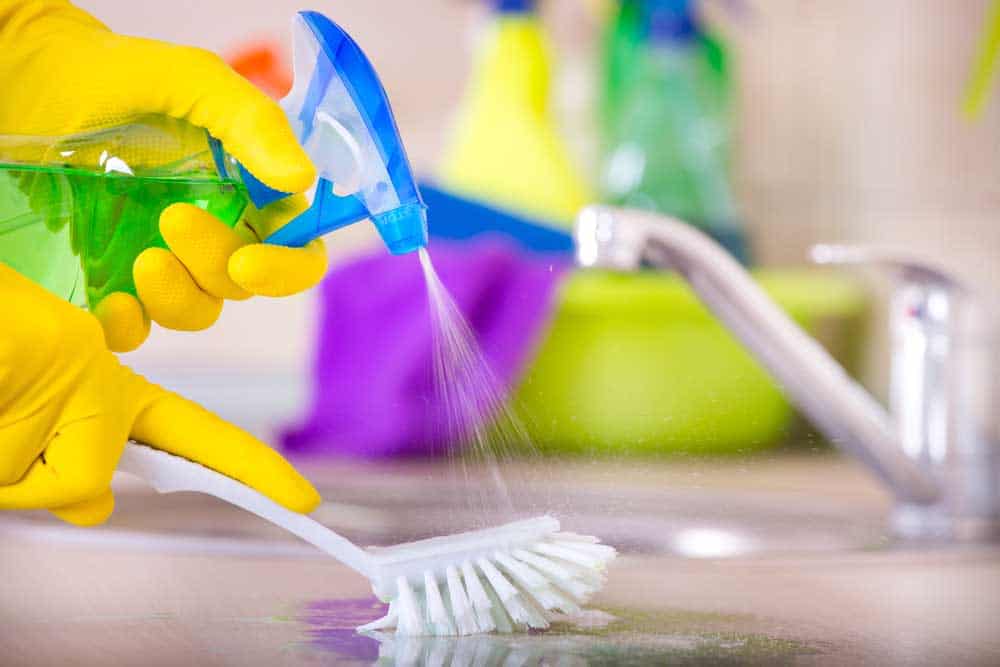 Heat on Your Countertop
Granite is a very durable material. While it may not be damaged by setting a hot pot or pan on it immediately, it is better to use a trivet under it, particularly if you have to place a warm pan down for more than a few seconds. 
Although hard as stone, it can be weakened or even broken by extreme temperature changes Use something between the hot pan and the counter surface to avoid the problem.
Regular Sealing of Your Countertop
Remember to seal them often with a granite sealer like Granite Gold Sealer to cover your granite countertops from the dust accumulation or staining. 
Many people seal their counters to a year every six months, so you can't over-seal stone. If your granite is dark, it will be denser, less absorbent, and less prone to rust than light-colored granite 
While this may need less sealing than light stone, it still needs to be sealed regularly so that it can withstand regular spills and stains
Polish the Countertop
The first point you will know is that a chemical application, sealing or cleaning does not come from either the shine or "polish" on granite countertops or any other rock.
At the factory or quarry where the granite slabs are cut and stored, the granite "finish" surface is formed. Intensive scraping and rubbing methods are used by big machines to clean the surface so that it becomes smooth or polished.
The resultant dazzling finish is called a "polished" finish because it is "polished" to perfection and not because a "granite polish" (product) was applied.
Stain Removal
The common method of granite cleaning (spray and scrub with granite cleaner) is not going to work since there are stains inside the stone under the surface.
The granite color will give you a general idea of the possibility of the stain of given granite stone.
The key to removing a granite stain is first to learn which substance caused the stain and then to compare it to the right chemical product to remove the stain while making the poultice.
Chip Repairs
Granite countertops can produce pits and chips if small bits of minerals are loosened or knocked out by an impact. It occurs most often around the sink.
Some granite never gets dented, while others can easily chip and crack. And, in your granite countertop, you may never see a hole, or you may have a lot over the years.
Repairing the granite chip is often done by filling the hole with an epoxy that matches the stone color. This works but is sometimes noticeable. 
For an almost invisible patch, a better method is to cover the holes or chips with clear acrylic.
Crack Repairs
It's never fun to find a crack in your granite countertop, but it doesn't always mean disaster. Repairing granite crack is not an easy task, but it depends on the crack form. 
Hairline cracks left alone, will not cause trouble, and will not get worse.
Separated cracks require repair, but if the fix is not performed properly, it will still be very noticeable. A skilled expert in stone repair may fix a crack and finish the granite, rendering the patched crack invisible.
Final Thoughts
A more effective method of countertop granite care is simply to avoid damage which is easier to do now that you know how to care for a granite countertop. 
But also, it's good to know that it can typically be replaced and fixed if any damage occurs, such as a scratch, break, or crack.
Ultimately, when you adopt the regular, weekly, quarterly or annual schedule for cleaning granite countertops, you can never run into problems and can easily keep your counters brilliant and beautiful.
So whenever you are planning to buy a granite countertop or stone of any kind, RSK Marble & Granite is the best place to be. 
They have quality stones which could give you a satisfactory look in any part of your home.
RSK Marble & Granite has over fifteen years of experience in fabricating and installing countertops. Their superb experts are always there to give you attention.