Granite is one of the best choices if you're looking for countertops that will last you the time you may wish to have it in your kitchen. Did you know that you can clean granite countertops with natural products?
We will give you the tips and suggestions to help you maintain your countertops.
Granite countertops has been the first choice of many homeowners for years and this is not entirely strange. 
These countertops are extremely durable and can stand the test of time as long as it has proper sealants in place to safeguard it from dirt, liquids, and bacteria. 
Just like many countertop materials, granite is not, as a result of long use, immune to tear and wear, even with proper sealing. 
But, you can actually keep it strong all the time. 
It only requires minor maintenance routines that you can easily carry out, in just a few minutes using great natural products you can make on your own.
In addition, granite is also a great choice for its heat resistance feature. 
Not only does granite have a quite sturdy frame and exterior, but it also has a beautiful appearance that adds to the comfortable and charming feel of your kitchen design.
So, to keep that appearance in to last forever, you'll need regular maintenance, just as mentioned above. 
Regular cleaning, using the right products, reduces the growth of stains, grimes and bacteria and, invariably, keeps it neat all the time. 
But what are the right products you can use? We'll be looking at that in the next section of this article. 
Natural Products You Can Use
As mentioned, granite is not immune to wear, cracks, breaks, and chips. But if you want to use it for as long as you want, these can all be prevented. 
The first way is by regularly cleaning and wiping its surface. 
And this is not entirely difficult because granite countertop doesn't require any rigorous cleaning routine. With the right cleaning materials, you have absolutely no problem. 
Secondly, using the right products will also extend its lifespan. You can get special cleaning products in the market. 
The best ones you can use are natural products and you can be certain that they won't damage the surface of your granite countertop. 
We will also teach you the proper ways clean granite countertops with natural products and materials listed below.
There are so many products in the market nowadays that one is not entirely sure which would be the right option for your cleaning needs. 
This is why it is better to use natural products that are absolutely easy to get and won't cause damage on the surface of your countertop. 
Below is a list of materials you'll need for your DIY natural cleaning product. 
Don't fret! Steps on how to use them will also be provided…
Materials and Objects you'll need include: 
Water  (1 to 2 cups)

Rubbing Alcohol (½ cup)

Liquid Dish Soap (3 or 4 drops)

Essential Oil (5 to 10 drops)

Soft Cloths (1 for cleaning and 1 for wiping)

Small or Average-sized Spray Bottle (1)
Instructions
Mix all in the Spray Bottle. Shake well to combine, and your natural and safe homemade granite countertop cleaning product is ready. 
You're advised to avoid any acidic products with high pHs like lemon citrus and the likes. 
These can affect your countertop's sealant and make it vulnerable to breaks, chips, and cracks. 
This is why pH neutral products like the essential oil are suggested. It adds sweet fragrance and, at the same time, wipes your countertop's surface clean.
Usage
Wipe the surface with one of the clean, soft cloths you have. 
Generously spray your safe homemade cleaner on your granite countertop. 
Wipe clean with the other cloth and your countertop's back to life. 
Spray that particular region again you, if you still notice any problem areas afterward. 
Vigorously scrub with the cloth and wipe immediately with another clean cloth. The dirt, if left to dry can cause streaks and dots on your countertop. 
After usage, if you still have some leftover, label the container and store it in a cool, dry place for your next usage. 
Make sure to also store where your kids won't be able to reach it.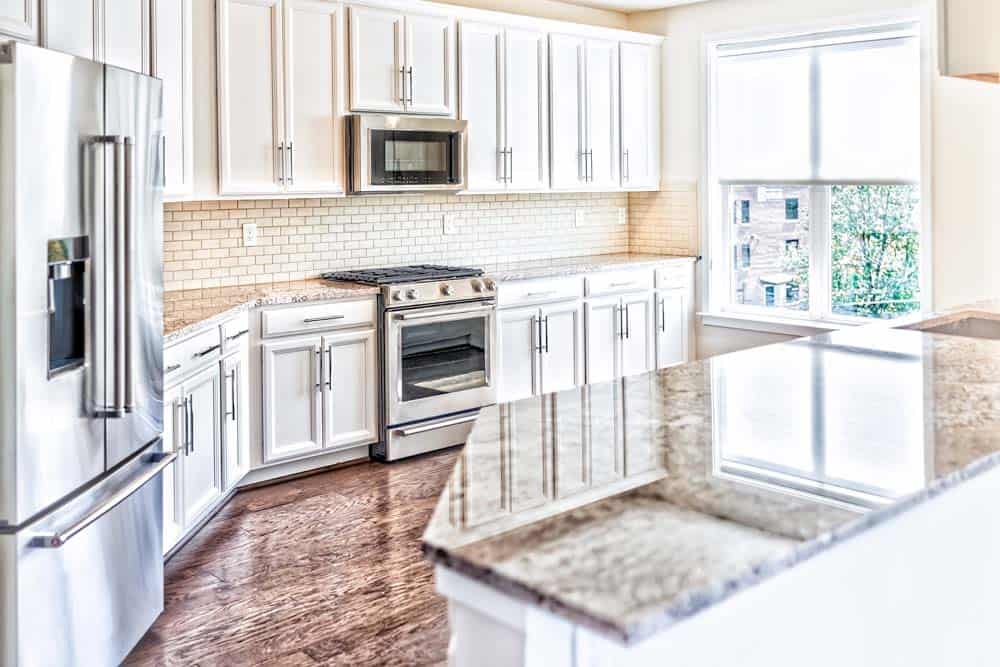 Caring for Your Granite
Aside from the regular cleaning routine, you'd need to carry out on it, there are also other essential cares you should always take to preserve your countertop. 
These keep your granite look as good as new, even after long use. 
Don't all any spills to last on the surface. Wipe your countertop dry immediately to prevent dots and dark streaks 

Truly, granite is heat resistant. However, this doesn't mean you should directly place hot kitchen utensils on it. Instead, make use of pot holders or trivets. Do this even for cold items too.

 Use coasters also before placing your mugs and plates. It helps to provide your countertop with the additional protection it'll need from cuts and scratches. 

Also, make use of cutting boards. Do not cut anything directly on the surface with your knife. The knife's sharp edge can affect its surface over time. 

Your sealants need to be also renewed whenever necessary. This also ensures that it lasts for as long as you want it.
Things You Shouldn't Dare to Use in Cleaning Your Countertop
As simple and straightforward as cleaning your countertop may be, it also requires special care and attention not to get it wrong and damage your granite. 
Granite is a strong material, no doubt. However, there are certain materials or cleaning products you must completely avoid if you want to keep it in great shape for a long time. 

Avoid using your regular home cleaning products. Bleach and other bathroom and toilet cleaner that are capable of instantly damaging your countertop.

Do not let liquid stay on the surface for a long time. 

Also avoid harmful cleaning products, especially ones with high-level pH contents.
To Wrap It up
Cleaning your countertop is important. To keep it clean and fresh for long, regular proper maintenance is inevitable. 
Learning how to clean your granite countertops with natural products is really simple. It won't even take up your precious time. 
However, more important than regular cleaning is the proper installation for it to fit your kitchen design. 
Still considering installing granite and would love to get an experienced professional to help you with that? 
Contact the experts at RSK Marble & Granite.  The best point of call for your countertop needs. 
Not only will you enjoy a wealth of experience in the installation and fabrication of the best stone material countertops. You'll also enjoy personal advice on your choice and how to go about maintaining it. 
You can also get the best and safest cleaning materials from RSK Marble & Granite.