Granite is a hard igneous rock that can be cut into a variety of shapes.  Granite makes a great choice for countertops because of its structural properties. Granite countertops can be installed on any type of cabinet as long as they're cut to fit the size and stable in place.
Knowing how to install granite countertops is a challenge.  Installing granite countertops can cause significant damage to the counters and the granite itself  if not done correctly. 
You need to make sure to follow the appropriate steps in order to avoid any problems.  It is definitely recommended to have professionals install your countertops, but you can also choose to do this yourself. 
This guide can help you understand the process, even when using a professional service to install your granite countertops.  This is meant to give you an overview of the process. Each countertop installation is unique, so having an expert installer is always recommended.
Plan the Space for Granite
You will need to determine the size and shape of granite needed before you can choose the granite.  It is a good idea to use a craft paper or cardboard to create a template that will be used by the fabricator who cuts your granite countertop. 
We recommend to use craft paper or cardboard on top of the cabinet and trace the size of the existing countertop.  You may need to take measurements instead if you are starting from scratch with your granite countertop project or don't have existing countertops.
Trace around the existing countertop and cut away any excess material to make an exact template. Be sure to mark any spots where cuts will be needed such as the sink.  It is important to get the measurements correct, so take your time with this step and get this right.
We can't stress this enough.  Measuring for your granite countertops is one of the most important steps in the process.  Double check all measurements and avoid rushing through the process. You know the old saying, "Measure twice and cut once."
You should also measure the countertops and compare it to your traced outline. This will help ensure that you don't have any errors. Since cut granite can't be put back together, you'll be saving money by taking your time.
Another important measurement is with the overhang size you want for your granite countertops.  A standard measurement is 1.5 inches beyond the cabinets. You may need to install steel braces to support it if you choose a longer overhand. Adjust the template to add this overhang.
Finally, choose the type of granite you want. Granite is available in a wide range of colors and designs. Each design is unique so you may even be able to choose the exact slab you want, provided that it's the appropriate size for the cabinets. Select a piece from the storeroom or you can often choose a general design online as well.
Preparing for the Granite Countertop Installation
You need to ensure that the space for your granite countertops is ready. Make sure that the entrance and pathway are clear to allow the team to bring in the granite without causing any damage. Cover nearby furniture and remove anything from the space that could be a tripping hazard.
Any existing countertops should be removed completely during this stage. You will also need to remove sinks and cooktops so only the cabinets are present. 
The professional installation team should also remove the existing countertops at this stage if you choose to have our experts install the granite countertops. However, it is also a good idea to communicate with them prior to this stage to ensure that removing the existing countertops will also be handled.
As a DIY installing your own countertops, you want to prepare for the granite countertop by putting down plywood for the granite to rest on.  This plywood should have the same measurements as the template. 
Attach the plywood to the cabinets and insert screws upwards to secure it. It is also recommended to waterproof to the plywood. A waterproofing membrane can be applied just like a paint and will take about 8-12 hours to dry in normal conditions. This will keep plywood from swelling due to moisture.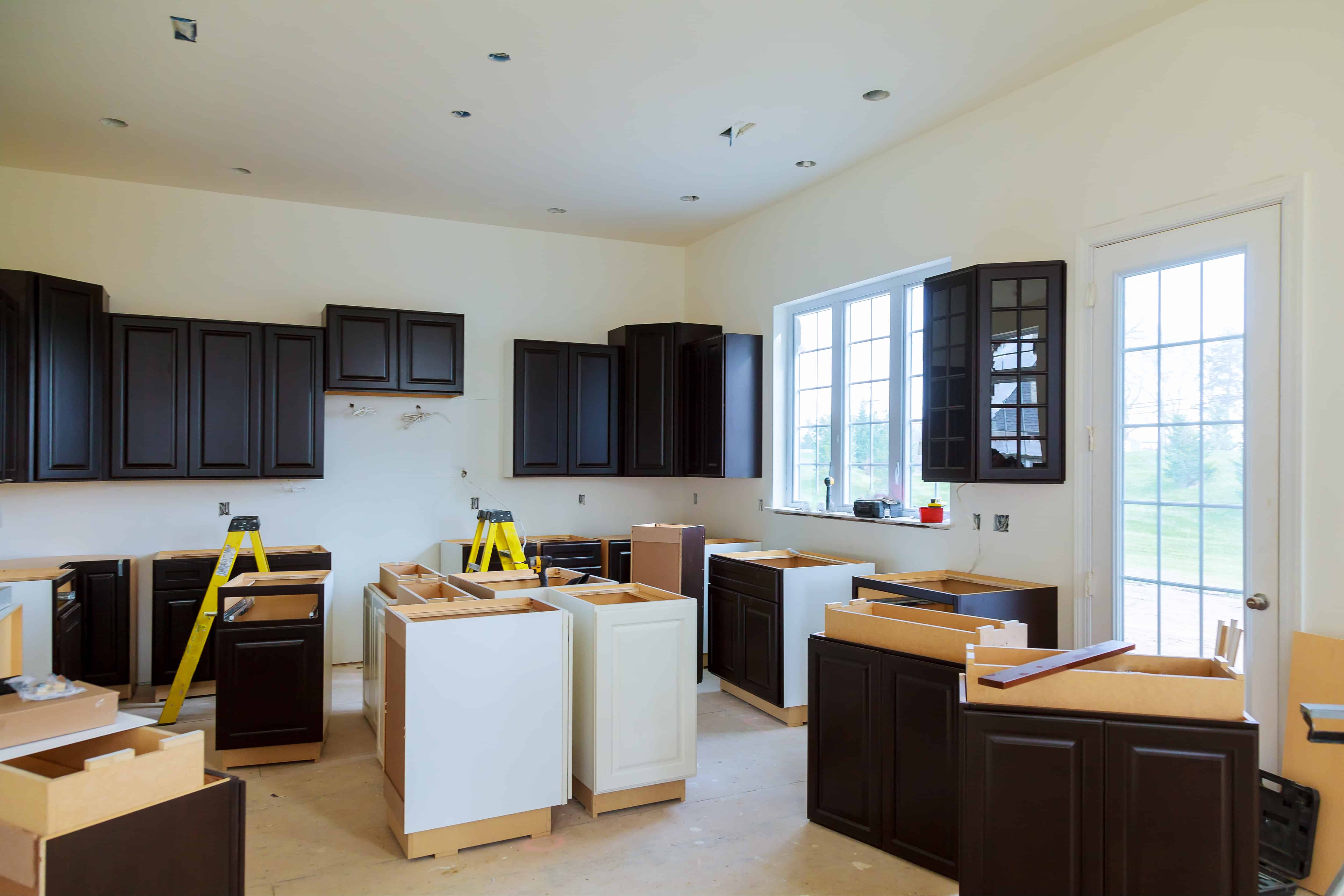 During the Granite Countertop Installation Process
The installation process should be the fastest part of installing granite countertops, provided that the previous steps have been followed. 
Lay the granite pieces in place. For any pieces of granite, epoxy the seams to cement the granite together if needed. Many granite countertops are only one piece so this step may not be needed. 
Use a razor blade to skim off any excess epoxy after it has dried if you needed to cement the granite countertop seams. Next, secure the granite slab to the cabinets with attachment blocks known as bondo blocks. This will keep the granite from moving around or shifting during normal usage.
Additional cuts may be necessary if you have a special cooktop or sink holes.  Cutting the granite countertop can be done with a wet saw by yourself or the professional installation team. 
Use the measurements taken to make the appropriate cuts in the granite. This step can be a challenge if you're not familiar with cutting granite.  Iit may be best to use a professional for this step.
Install the Sink and Cooktop
The next steps are to install any sinks or cooktops needed after the granite countertops are secure in place.  Place the sink in the cut hole and ensure that it fits properly. Use a bead of caulk around the edge of the sink where it rests on the granite. 
It is also a good idea to apply a bead caulk around the underside of the sink. If you have an under-mount sink, which is more common, use the rail or clip system for keeping the sink under the granite countertop.
Finish the Granite Countertop
The final steps are removing any caulk, epoxy, and dust. After this has been done, clean the counters. It's recommended to seal granite as well. 
This granite countertop sealing can be done by yourself or a professional. This entire process can vary in time, depending on the size and the complexity of the job. 
For a small countertop that's fairly simple, expect 2-3 hours total. However, large or more complex areas make take 6-7 hours from start to finish. This is a process that shouldn't be rushed so plan for a longer period of time.
Enjoy Your New Granite Countertops
After you've gone through this entire process, your granite countertops are ready to use right away. They are incredibly durable although always follow the cleaning instructions for granite. 
With good care, granite can last you a lifetime and maintain it is appearance as well. Installing granite countertops is a challenging process and it's often best to get a professional team for this process. 
However, regardless of who's doing the work, these are the basic steps that will be used to install your granite countertops.
If you want to learn more about the process of installing granite countertops, try talking to some of the professionals at RSK Marble & Granite. These experts have been in the countertop business for over 15 years. Located in Wilmington, MA these pros service Boston and most of Massachusetts for all your granite countertop needs.