Measuring a granite countertop is necessary in order to transform your kitchen or bathroom space into your dream room. 
We will go over the steps on how to measure for granite countertops to be certain you get the accurate details you need for your new countertops.
For this reason, it is important that you properly estimate how much countertop space your kitchen can provide.
With the right granite countertop measurement, you can design your kitchen in a way that allows easy movements. 
It also prevents you from over budgeting or under budgeting for your granite countertops. 
With optimized kitchen space you and your family can easily move around when cooking meals, eating or doing homework. 
Measuring a granite countertop might seem a little tricky, especially if it is your first time, but these steps below will guide you on the best way to go about it. 
Steps To Measure For Granite Countertops 
You don't need much, but gather the following for measuring granite countertops.
Tape Measure

Pen & Paper

Calculator
Step One
Make a sketch of the countertops on your paper. While you can use any kind of paper for this process, a graph sheet is the best choice. 
Try to get the right measurements by scale to get you a good visualization.
Step Two
The next step is to measure the length of your countertops with your tape measure.
Include measurements of your island area and the base cabinets until you cover all the parts you want covered by the granite.
Ensure that your measurement is accurate. Take measurements more than once until you are sure that you have the right digits.
The old adage, "Measure twice and cut once" applies here.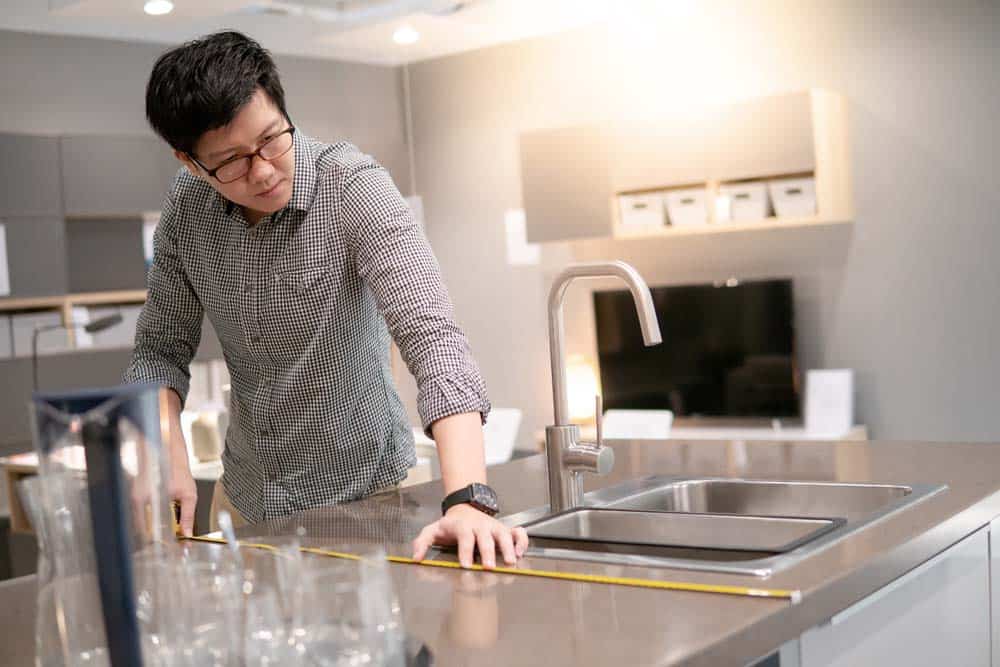 Step Three
A countertops standard width is about 25.5 to 26 inches. Multiply the estimated length of your countertop by 26.
Note that the average measurement of the backsplash is 4 inches. This can help you get the right granite figure the backsplash needs.
Multiply the length of your of your granite countertops by 4.
For example: The length of your 1st existing countertop is 125" and width is 25" or 125" x 25".  This would give you 3125" square inches
The length of the 2nd existing countertop is 62.5" and width is 25" or 62.5" x 25".  This would give you 1562.5" square inches
Step Four
Sum up the total of all the digits. The result will be the total estimated inches of the required granite.
For example: 1st countertop + 2nd countertop. 3125" + 1562.5" = 4687.5 square inches
Step Five
The next step will be to convert the inches to square feet. To do this, divide the number by 144. Whatever digit you get is the square feet of granite you need for the job. 
For example: 4687.5 divided by 144 = 32.55 square feet
Step Six
Just to be certain that your calculations are correct, repeat the process.
If your results are the same, then you can proceed to purchasing your granite countertops.
If they are not the same, repeat the process until you are sure that you have the right figures.
Check out this video here for a visual guide:

Benefits Of Buying Granite Countertops
Choosing Granite countertops for your home has a lot of benefits. They include:
1 | Durable Strong Countertops
One of the major characteristics of a granite countertop is strength. After diamonds, granite is the next hardest material. 
This makes it very suitable for the kitchen. When cooking, pots and pans tend to fall on countertops.
Sometimes you might even choose to chop your onions and other vegetables on your countertop. 
None of these activities can leave scratches or chips on a granite countertop because of its strength. The strength of the countertop assures durability.
2 | Affordable Options
Despite its durability, granite countertops are affordable. Anyone can afford to put it in their kitchens. 
And the best part is, they last long.
So if you save to get one for your kitchen, you will not have to bother about buying another countertop for years.
3 | Limited Mainteance
Granite countertops are porous. This means they will absorb moisture which will eventually weaken it if left untreated.
The good news is that granite countertops can be sealed easily to help protect it. 
Granite countertops require sealing only once a year to keep them resistant to water and heat. You don't need to seal it monthly as it is with some countertops.
Apart from sealing, you can maintain it by wiping it down with a clean cloth, soap and water. 
If there are food particles on the countertop, simply scrape it off with a plastic scraper. 
LEARN MORE: Right Way on How to Seal Granite Countertops
4 | Granite Countertops Are Attractive & Luxurious
The countertop is one of the first things people notice when they walk into a kitchen. It also sets the tone for your kitchen. 
For this reason, it should be attractive enough. Granite countertops are attractive looking countertops that come in different colors, shapes and sizes.
When they are cleaned frequently & polish, they look even better.  Your dream kitchen will sparkle and look elegant.
Your dream kitchen will be warm and inviting for your family and friend gatherings.
5 | Many Unique Countertop Options
As mentioned earlier, granite countertops come in different unique colors and sizes. With a granite countertop you can upgrade not just the look, but also the feel of a kitchen.
You can choose unique countertops to enhance your kitchen's décor.
Granite Countertops Measurement Experts
If you are unsure of how to measure for granite countertops, it is advisable that you hire experts.
This can prevent you from making a wrong estimation. Contact us at RSK Marble & Granite for your granite countertop measurement. 
RSK Marble & Granite is a stone material installer, fabricator and provider. Part of our specialty includes measuring for granite countertops. 
Our experts will ensure that your kitchen countertops are measured accurately.  We also do an extra step by making a template of your countertops before we fabricate them.
This extra step ensures we have the right measurements and it fits your space.
Aside from providing you with accurate measurement for your granite countertop, we also sell quality granite countertops and expertly install them.
With over fifteen years of experience in the kitchen countertop business, RSK Marble & Granite are at your service. 
You can find us at Wilmington, MA area or call us at (978) 447-1001.