Moon White Granite Countertop Elegance
Home remodeling is always a matter of great interest. Specifically, women of the house are always in the quest to enhance the elegance of the house.
One such product includes granite stone. It is found to be one of the best options for countertops. Granite for flooring also remains in the trend. The wide variety of granite colors entices homeowners and designers.
For people who prefer bright yet a modern appeal, a moon white granite countertop is a perfect choice. It adds beauty to the place wherever it is installed.
If you are one of those who want to enhance the look of their living space, the content below is your one-stop solution.
What is Moon White Granite?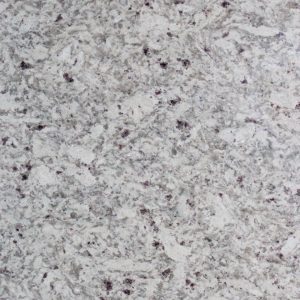 A granite slab with a white texture catches the eye easily. Similarly, moon white granite or moonlight granite is a natural stone with exceptional beauty and elegance.
This strong granite is quarried mainly from Indian Granite market. The surface of this natural stone contains glistens and tiny speckles that are grey in color.
Classic granite has beautiful bright ivory swirls making it the most appealing stone.
White granite stone is a hard rock which makes it suitable for both commercial and residential purposes. Specifically, people prefer it using at staircases, gardens, kitchens, and bathrooms.
The element of beauty with strength makes it the perfect choice for those who prefer long-term investment.
Why Choose Moon White Granite?
Granite is a popular stone with a wide variety of designs and shades available in the market. It has a unique set of benefits making it the best choice.
Some of the distinct features of moon white granite include:
Beauty and Elegance
This finely grained stone adds a luxurious look to the place it is installed. Tiny gray speckles all over the surface are considered as a symbol of real moon beauty.
It has a unique texture that looks elegant and urges people to invest in it.
Strength and Resilience
Moon white granite is a hard stone. The strength of the stone makes it perfect for even open places like the backyard, poolside, and garage.
It has a temperature-resistant property and can withstand climatic extremities. Therefore, both homeowners and designers prefer choosing this stone.
Versatility
The wide variety of granite stones are all versatile in nature. Similarly, Moon white granite also blends well with home interiors.
You can easily match it up with furniture and home décor items of any color. It also looks stunning in the bathroom vanity with wooden cabinets.
Easy Maintenance
The maintenance of this light color granite is easy. This is the most preferred feature as homeowners are mainly concerned with the aftercare factor.
You can clean the surface daily with soft fabric using normal or soapy water. However, you need to avoid using harsh chemicals that can damage the luster of the surface.
Economical
It is a medium-priced popular white granite. White moon granite option is affordable yet classy that gives a modern appeal to the house.
Moon White Granite Project Inspiration Guide
As you all know, granite is a natural stone that can be used for all residential and commercial projects.
The unique swirls on moon white look sophisticated at various areas in your home including backsplashes, countertops, bathroom vanities, lobby, poolside, and so on.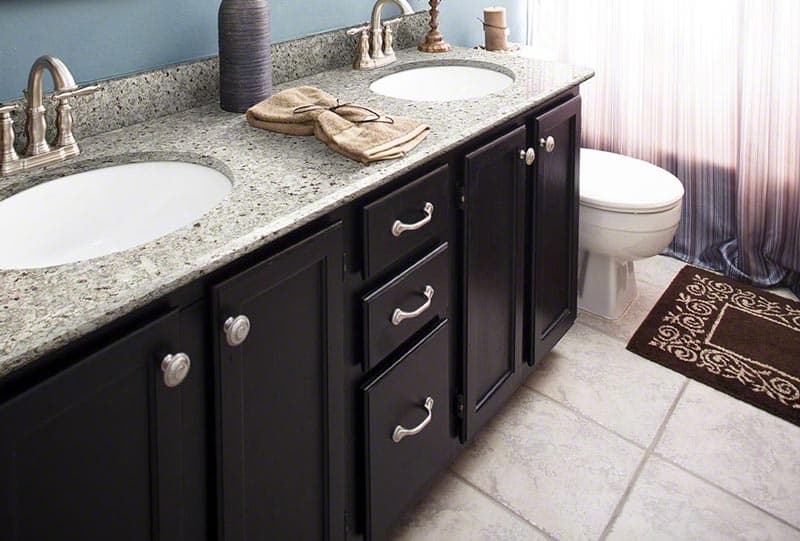 Bathroom Vanities
The beautiful white texture on this granite looks incredible on the vanity top. It gives a luxurious appeal that enhances the beauty of the entire bathroom.
Better yet, it looks perfect with vanity accessories and cabinets.
Kitchen Countertops
The intricate swirl detailing on the stone when placed on the kitchen countertop blends well with light-colored cabinets particularly white cabinets.
It is the best choice for kitchen countertops. In addition, it is safer to use it casually in the kitchen with a normal daily cleaning routine.
Backsplashes
Since the stone is light in color, you can place it in kitchen backsplashes as well.
You can match this long-lasting kitchen backsplash with wooden cabinets and drawers. It gives a modern appeal.
Fireplace Surrounds
This beautiful granite when placed in fireplace surrounds gives a cozy feel on chilly winter nights.
You may feel relaxed while sitting near the place with such a gorgeous looking surrounding with white granite tiles.
Staircase
People also prefer using moon white granite for the staircase as it reflects luxury and beauty all together.
You would love the round staircase with a swirl like texture on it.
Final Thoughts
Succinctly, moon white granite is a durable stone. Mainly quarried from India, it is a hard stone that benefits people in remodeling their houses.
This stone is the best choice for you if you want to have a bright appearance in the house.
For more professional assistance,  Boston's countertop experts are there for you. You can get in touch with our experts at 978-447-1001.
Related Questions
What color is moon white granite?
The base color of moon white granite is creamy ivory with grey and brown speckles on it.
What level is moon white granite?
Moon White Granite is a level 3 stone.