Granite, a natural stone so astounding that its beauty elevates a place ten times more. There are a ton of outdoor granite varieties available in the market, each standing out distinctly with different granite patterns and color schemes.
From white, black, and grey shades to red, dark brown, and amber shades: Granite offers plenty of choices. No wonder that it is one of the most loved natural stones by interior designers. Granite surfaces are robust, resilient, and repel most minor surface issues.
Natural granite stones are a viable choice for outdoor use, such as in patios, outdoor kitchen countertops, and other outdoor structures like fireplace surrounds.
With our 15+ years of experience in this industry, you can be certain that granite is absolutely the most lucrative and fruitful investment for a home.
Why Granite Countertops Are a Popular Choice For Outdoor
Granite is one of the natural stones that are not only durable but also low maintenance. The life of granite is very long, and if one takes proper care, it will last ages.
Especially for outdoor spaces, granite countertop are the top choice of interior decorators and architects. Granite counters look fabulous whether you want them for a backyard bar or an outdoor kitchen.
Due to the heat-resistant quality of granite, they are perfect for outdoor use. A mild granite cleaner or a mild dishwasher soap is enough to clean the stone and keep it young — one of the reasons why granite countertops are a popular choice.
With so many granite varieties, dark granite to light ones, you can change the ambiance of your outdoor space any way you like.
Though, you do need to seal granite so that it doesn't wear out with time. On average,  applications of granite sealer once a year will be enough to increase the life span of your stone.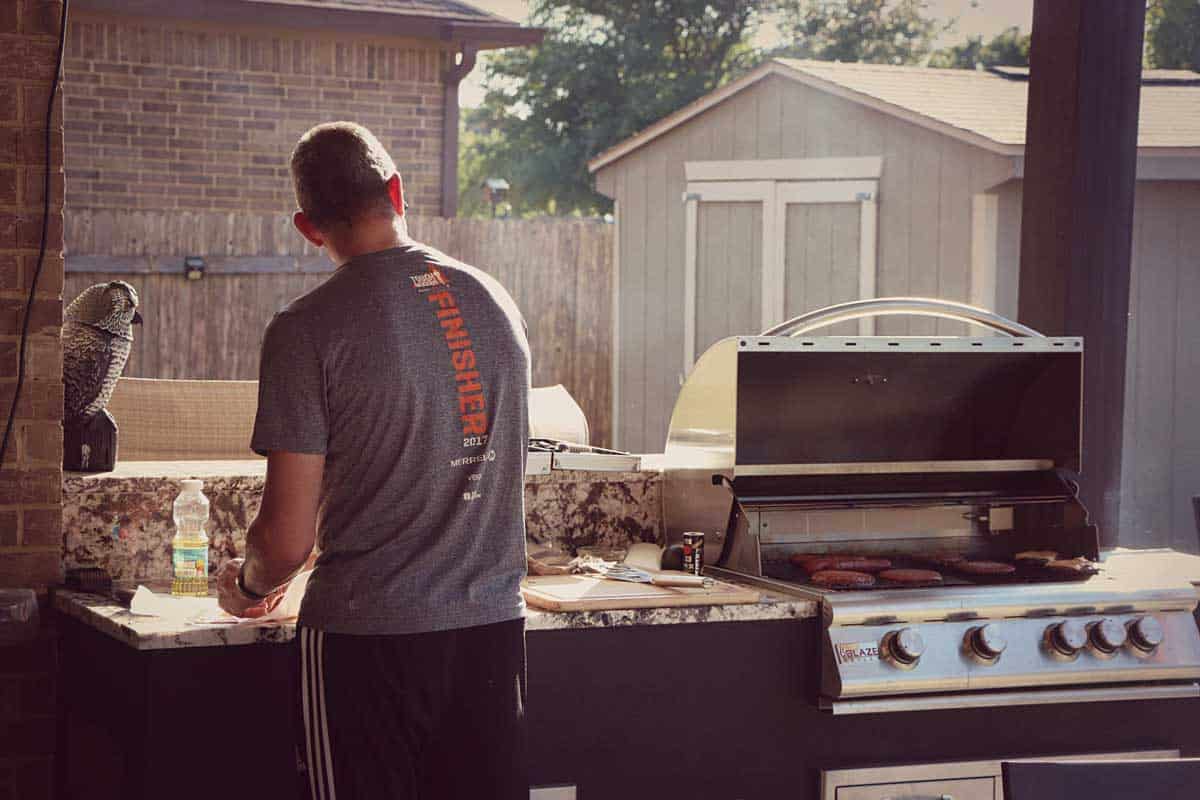 Granite Outdoor Kitchen Ideas
Many would agree that there is no better way to spend Sundays than cooking outdoor in the company of your family and friends, and this is why outdoor kitchens and backyard bars have become quite an integral part of homes these days — something that is very much in trend.
Whether you are looking to create an outdoor kitchen, a patio, a sitting area, or looking for a way to use that extra space in your backyard, using natural elements can make an area lying waste functional wonderfully.
Granite works as a natural element adding that earthy feel and positively elevating your space. Depending on the color tones you choose, granite as a decorative element can considerably bring out the character of your outdoor space.
Whether granite tiles are used on walls or floors or whether you use them for a stone fire pit, it leaves you with a million different options.
Best Use Of This Marvelous Natural Beauty
Granite is heat resistant, and for those looking to add that glamorous element of stone fire pits near their grand pools, granite is the best choice: No cracks, no burn stains, and no hassle whatsoever.
Granite countertops for outdoor kitchen spaces are one of the most recommended options. Granite is stain-proof, so you will not have to worry about any marks provided that you take care of while cooking and wipe off any spills and keep the stone clean by using a soft fiber cloth and mild granite cleaner. Soapy water will be just fine as well. Granite is very easy to clean, and therefore, the most popular choice of homeowners.
Patio and bars! A house with a bar and patio is like a dream come true, with family hanging around and getting together after a long day of work. To make the place stand out, what better way can be than using natural stones to make a place weather-resistant so that you don't have to spend your dollars repairing it every year, as in the case of the woodwork.
Stone can bring out the character of a place any way you like o put it precisely. Following some precautions, while using stones for its maintenance, these beauties can make a home feel cozy, warm, and elegant.
Granite Outdoor Temperature Endurance
People often ask me if natural stones can endure the outside heat and extreme weather conditions. Natural stones are pretty firm against temperature conditions. Granite is heat resistant which is why it is an apt choice for kitchen countertops and outdoor spaces.
Whether cold or hot climate, granite can easily endure the heat and withstand climatic changes. It is quite durable where the weather has little to no effect.
So whether you are living in a place that faces harsh weather conditions or somewhere sunny, you don't have to worry about those granite tiles and countertops.
Get the advice of an expert when installing granite and follow the maintenance process; the stone will last you a lifetime. Because of granite's strong character, it becomes a valuable asset of a home, adding to its resale value.
Sealing Granite for Outdoor Use
Seal or not to seal granite is one of the most controversial topics. Granite is porous, so it does need some sort of protective layer on it so that it can withstand the abuse it might be prone to, for instance, spilling of sodas, knife cuts, and more.
For granite countertops, irrespective of whether for indoor or outdoor use, sealing stands absolutely necessary. Not because to make it look fabulous but to assure that there will be no damage to it over time.
Everyday weather conditions and food stains can take a toll on natural stones and often cause irreparable damage if there is a lack of a protective layer, which is why sealing the stone is highly recommended by granite experts.
Premium quality granite sealers assure that the stone is durable and resilient enough to withstand abuse, weather, and moisture.
Final Thoughts
Outdoor granite countertops are going to be one of your best investments for your home, saving you a lot of trouble in the future. Natural stones do require care, but granite is one such stone that doesn't cause many problems.
Simple water is enough to keep it clean, and if there are stains, using soapy water will do the trick. You don't require harsh chemicals at all, and if you use them, you might risk and expose the stone to great damage.
Once you seal your granite, follow an expert's advice, you are good to go.
Boston's granite expert can guide you through different granite countertops and the maintenance process so that your stone stays young for as long as possible.
You can contact them at 978-447-1001 and all the assistance you need.
Related Questions
What are the Benefits of an Outdoor Kitchen?
Whether you like to entertain large groups of people or just enjoy spending time in the great outdoors, an outdoor kitchen not only extends your family's living space, but it also adds value to your home.
How do I clean my granite counters?
Otherwise for general cleaning, you should be able to hose off your granite countertops and then use a non-abrasive detergent to remove surface dust and dirt that builds up from pollen, food spills, and other bits of general outdoor grime.
How do you know if the granite is in good condition?
If you believe your granite has been sealed in the past but you're not sure of its current state, do a simple water test: pour a small amount of water onto the counter surface and observe.
How do I choose a sealer?
Be sure to choose a sealer that is water-resistant, since your outdoor kitchen will be exposed to the elements.