Whenever there is a plan for home reconstruction, people prefer the best material that can last longer.
When it is about countertops, it is equally important to invest in the stone that is hard and durable with appropriate thickness.
Granite is one of the natural stones that enhance the beauty of the house. It has a variety of options in terms of color, texture, and even thickness.
Thicker countertops prevent the stone from damages. If you are in the quest of figuring out the options for countertop thickness, this article is your helping hand.
It will help you in making the right decision on countertop thickness.
What Are the Granite Options for Thickness?
The thickness of the countertop is an indicator of the strength and long-term durability. Countertop stones come in varying thickness options.
You are free to choose the relevant thickness as per the desired area of installation. Granite also has different thickness options.
The most popular Granite thickness is 3 cm, or you can say 1- ¼" followed by 2 cm or ¾". It depends on the area you are planning to install the Granite slab.
Unlike other different types of stones, Granite is found in the most natural condition. This indicates that once broken, you cannot build it back.
It is important to check the thickness of natural stone before preparing for cutting and installation. Thicker Granite is more strong and durable.
Granite also comes in less than 2 cm thickness i.e., 1 cm or 1.2 cm. People usually go for this much thinner cut for backsplashes only.
There is 20-40% difference in the price of the Granite slab with respect to the thickness. This could be one reason people chose the varying thickness of Granite countertops.
However, in order to avoid collapsing and breaking off the stone, it is appropriate to opt for the best thickness of the Granite countertop as a one-time investment.
What Is the Best Thickness for Granite Countertops?
The industry standard for Granite thickness revolves around 3 cm mainly. The professionals believe that a 3 cm Granite countertop is better than the one with 2 cm thickness.
Previous industry standard was in the favor of a 2 cm thick Granite countertop. However, with the passage of time, people have developed a more luxurious preference.
A Granite countertop with 3 cm to 4 cm thickness is believed to be the strongest and durable slab as compared to thinner stone countertop. It also gives a fuller and a sumptuous look.
Nevertheless, the countertop with this thickness requires a proper support underneath. It is essential to install the slab with plywood substrate to ensure flexibility and strength.
It is to be noted that the appropriate thickness of the granite countertop may vary for different areas. Specifically, for kitchen slabs, a countertop with 3 cm is the best.
Whereas, for backsplash, a 2 cm thickness works well with no threat of breakage. Considering bathroom vanities, the industry standard thickness i.e., 3 cm is considered as the best option.
In short, other than looks, the durability and strength of the stone are equally important. You need to be aware of the relevant thickness to get the long-term results.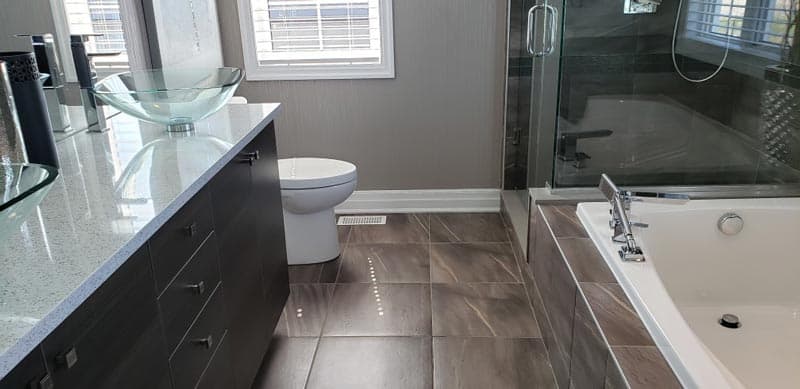 Things to Consider When Selecting Your Granite
There are a wide variety of options when you are about to choose stones for your bathroom, kitchen, or outdoor areas.
If you want to invest in Granite slab, there are even more options to make the perfect choice that blends with other home accessories.
Following are some points to consider when selecting Granite.
Color
There are varying options for colors in Granite. It is suggested to opt for the color that matches with kitchen cabinets and furniture items.
Granite usually comes in beige, white, black, brown, green, and so on.
Pattern
Other than color, you should also consider the pattern of the Granite slab while investing in it.
Different patterns give different looks. Such as speckled Granite slab gives a dramatically unique effect.
If you want a minimalistic look, you can select plain textured stone with solid colors.
Surface
Some of the home decor items look best with shiny surfaces whereas others combine well with leather type surfaces.
You have both the options in Granite stone, thereby it is suggested to choose wisely.
Final Thoughts
The inferences reveal that the thickness of the stone is inevitable. It determines the durability and strength of the slab that can last longer.
Moreover, Granite slabs come in varying choices. You are free to choose from a wide array of options that are perfect for your house.
For more such information, you can contact RSK Marble & Granite as the premier Boston's Countertop experts. You can reach us at (978) 447-1001.
Related Questions
How thick is a standard countertop?
The standard countertop is 3 cm thick. It enhances the strength and durability of the slab.
What does Level 1 granite mean?
Level 1 i.e., entry level Granite is considered as a commercial grade stone. It has a very simple design with standard colors.