Quartz countertops look amazing. It is perfect to be installed in the kitchen or even in bathroom vanities.
It comes in varying patterns and shades that match with home décor or certain interior designs.
The surface of quartz countertops are made with engineered stone. A mixture of durable resins and natural quartz is used for exceptional designs.
With the emerging threat of various viruses, disinfecting and vigorous cleaning are essential for the health and safety of the family.
The following article is a comprehensive countertop care guide regarding the best ways to clean and disinfect quartz countertops for COVID-19 and other germs.
How to Disinfect Quartz Countertops For COVID-19 & Other Germs?
There are various products catalogs circulating in the market that promise in killing various viruses along with COVID-19. These products ensure effective coronavirus home cleaning.
However, such solutions contain vinegar or concentrated bleach along with other acidic ingredients that are not at all suitable for natural stone countertops.
It is strictly prohibited to expose the quartz surface to any of the acidic substances or citrus liquids as these harmful chemicals can damage the surface and make it dull and rough.
Disinfecting your countertop once a day is recommended by professionals. Nevertheless, you are suggested not to use common household cleaning products with unknown acidic ingredients.
Specifically, isopropyl alcohol or rubbing alcohol is mainly recommended for the purpose of disinfection.
You can use any spray bottle to make the solution. Fill the bottle with warm water. Four tablespoons of isopropyl alcohol and one drop of mild dish soap are added to every 8 ounces of water.
Gently shake the bottle to mix the solution while avoiding excess lather. This effective disinfectant solution is now ready to disinfect quartz countertops.
To disinfect your beautiful quartz countertop for COVID-19 and other germs, a step-by-step process is discussed for the assistance of the readers.
You can simply follow these steps to ensure protection against viruses.
Step 1 – Preparing The Space
Remove any appliances or utensils from the slab to get easy access to the entire area. People usually have different electrical appliances as well as décor items on their countertops.
Step 2 – Removing Residues
With the help of a dry cloth, sweep the leftover crumbs from the slab or even from sinks before stepping towards the wiping process.
This would be helpful in protecting the countertops against scratches.
Step 3 – Spray Onto The Surface
Spray the slab with the solution discussed above. Allow it to stay onto the surface for about 1 minute to get the desired results.
You need to make sure that the entire countertop surface is covered generously with the solution.
Step 4 – Scrubbing The Counters
Now, after 60 seconds, scrub the countertops with soft cotton fabric or microfibre clean cloth.
You can apply more cleaning mixture if needed to wipe off any stubborn debris or sticky spot.
Step 5 – Wipe The Surface
When you are done with the scrubbing, rinse the cleaning cloth with clean water and wipe any remaining solution.
Now dry your countertop with a soft clean towel.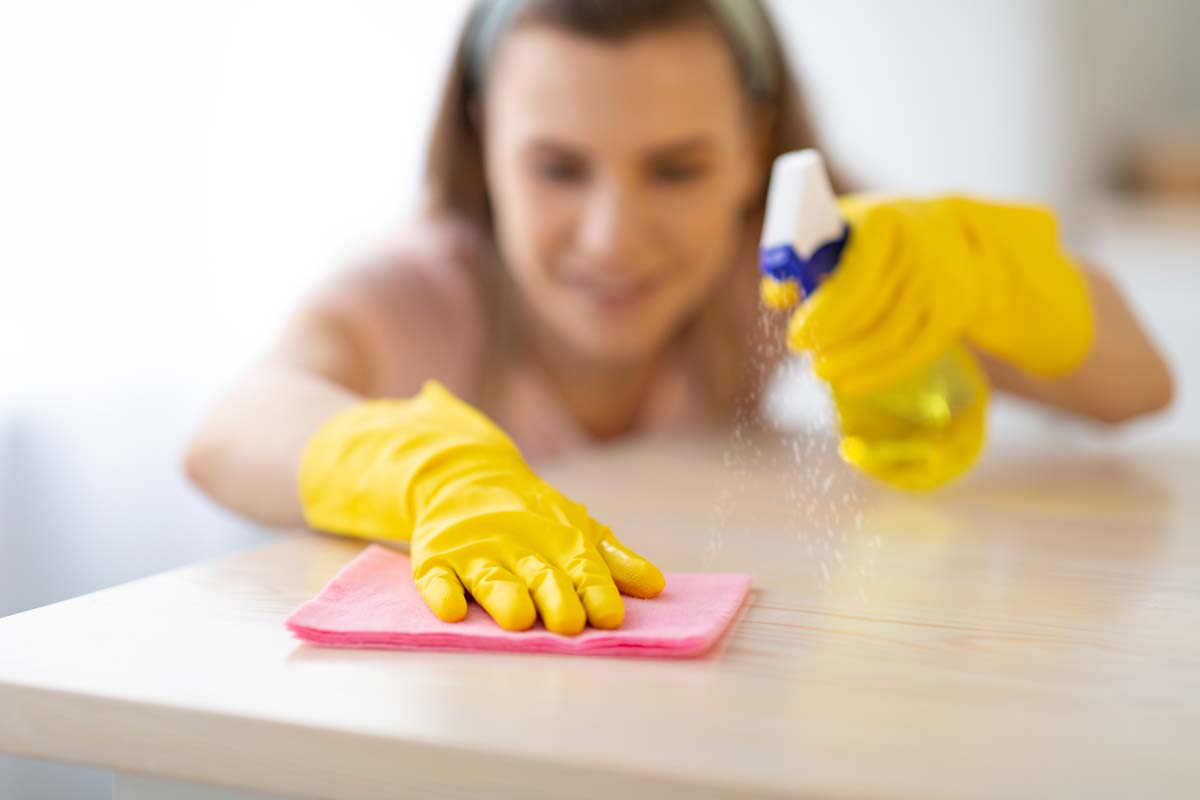 Best Ways to Clean Quartz Countertops
The beauty and shine of the surface should be maintained in order for it to last longer. For this purpose, daily cleaning regimes and keen attention to spills will eventually satisfy the daily requirement of stone maintenance.
More specifically, the best way to clean the quartz countertop is to use a microfiber damp cloth or nonabrasive sponge with normal soapy water.
You can gently rub the surface to get the best results. Please be cautious enough to use a soft rag or less abrasive sponge to avoid scratch marks.
How To Remove Tough Stains from Quartz Countertops?
Tough stains on countertops look extremely dreadful and alarming for any ground for bacteria residing on them.
Such hard stains also impact the look of the entire area. This is why it is recommended to clean the countertop surface on daily basis.
Any residues or spills that are cleaned right away are the best way of preventing the slabs from tough stains. It becomes really difficult to clean heavy stains.
Moreover, it is also harmful to the life of the stone as for cleaning these stains, you will use some liquids or cleaning agents other than normal soap mix.
The use of any harsh liquid can result in a dull and damaged surface which you will never like.
However, if by chance any stains are left on the countertop surface and have become tough to clean, you need to be very careful while applying any cleaning sprays.
There are different viable options for you. Firstly, there are some specific quartz cleaners recommended by professionals.
Simply apply the solution onto the slab and clean it with soft fabric or as directed by the company. The directions to use are always mentioned on the packaging.
Secondly, you can use isopropyl rubbing alcohol. The solution discussed above for disinfection can also help homeowners to clean the countertops.
This is because rubbing alcohol has the property of dissolving grease or sticky residues quite easily. It will also disinfect the slab; you don't have to make extra efforts for it.
Thirdly, you can also use glass cleaners to wipe off stubborn stains. Simply spray the liquid onto the slab and rub properly.
However, please note that there is a contradiction regarding the use of glass cleaners on the quartz surface. Some professionals consider it safe whereas others are strictly against it.
In this regard, you are advised to contact your service providers from where you get your quartz installed. If they allow you to use it, you may go ahead.
By following these hacks, you can get over the issue of tough stains that look terrible and are equally unhygienic.
Final Thoughts
In the end, it is worth mentioning that quartz is one of the most beautiful stones available for homeowners.
You need to be vigilant for the cleaning process and disinfection. Specifically, you should use recommended liquids for the purpose of cleaning.
If you are in need of more professional assistance in the Boston area with your quartz countertops, RSK Marble and Granite is just a call away. You can contact them at 978-447-1000.
You can also contact us here for a quote.